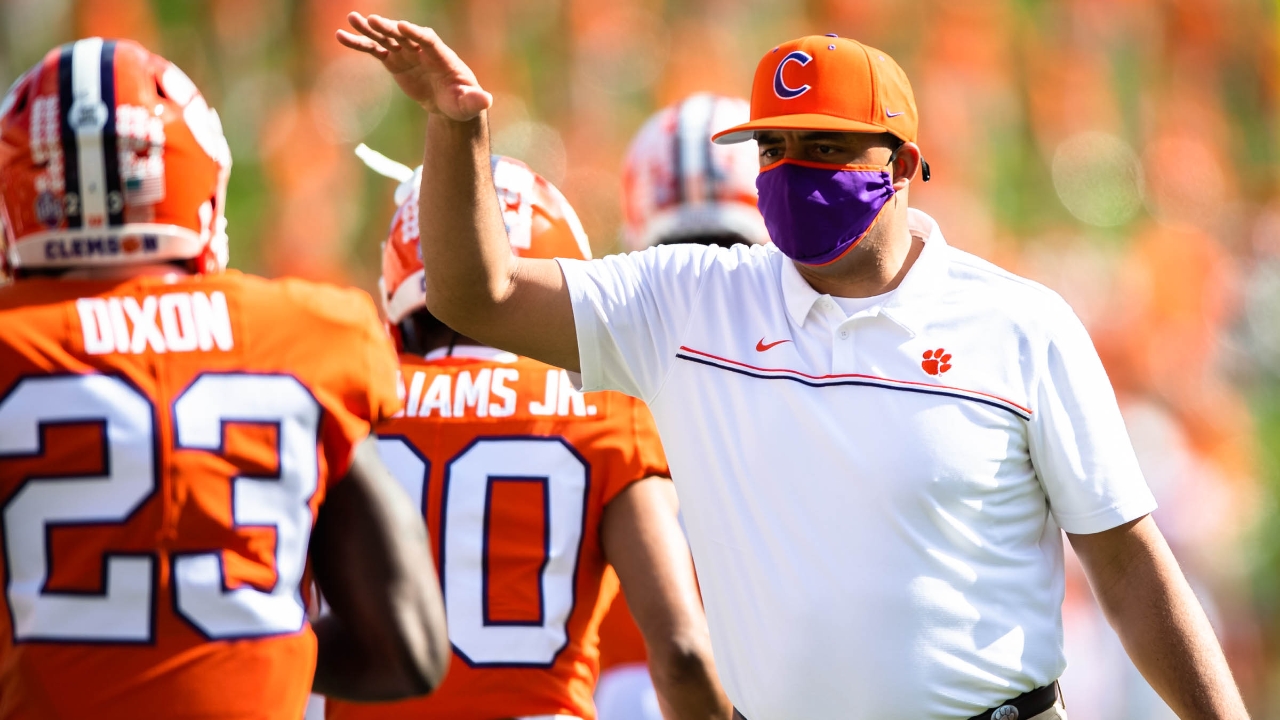 Photo by Courtesy of ACC Media Portal
Clemson Football
Tony Elliott: "We are not entitled to roll the ball out there and win"
---

Feel the difference - The MOST DIGITAL CONTENT covering your CLEMSON TIGERS! Avoid clickbait and sites bloated with advertising!
---
We just wrapped up with Coach Elliott a few minutes ago, here's what he had to say about the performance today. We will add a few more notes later.
Tony Elliott
On the lack of shots downfield early:
"I think it was a combination of both, I thought we were a little bit off downfield, missed a couple of plays, they were doing a good job of making us convert some things and throwing a low percentage throws us but I think we were off just a little bit. And so we just had to kind of regroup and figure out what's the best way to attack what they're doing defensively."
On any carryover concerns:
"No, sir. I mean, it's all about us. So we talked about it all the time our standard is set. We know what the standard is. Today we didn't quite play up to that standard. We'll go back we'll watch the film and it won't be as bad as you think. There'll be some things that you thought were good that you still need to clean up. So it's really about us going back, going back, and just stay recommitting to the process. Our guys have done a great job up to this point. Things have been, I wouldn't say easy for them, but kind of smooth and so from my perspective and my mindset, man, I welcome the adversity because it's an opportunity for us to, you know, to humble ourselves and say, 'Look, nobody's going to lay down for us. We got to stay committed. We can't shortcut anything and we got to bring the right mindset and energy every single day in practice in every single game, or you're gonna have days like this.'"
On the message to his guys:
"This is a great opportunity for us to learn. And the message that I had to our guys is, look, we're not entitled to roll the ball out there and win. Nobody's just gonna lay down for us. And we're not entitled to think that just because we went through the process and it's ultimately going to work out, we got to go out and we got to finish the work, finish the process on the field so that we can play our best game and our guys will respond. But it's a great opportunity when you're able to not play your best, right? And be able to find a way to win and still be able to win by a good margin."
On Kobe Pace:
"I think that we have all been impressed with the ball in his hands. The biggest thing is just owning the whole plan."
Says that when people commit to stopping the run (with different fronts) it's going to be tough to move people at this level.
Travis Etienne
On why he went to the locker room:
Says he had to get an IV because he was cramping up today.
On his cramps:
Says he has to eat more than Frosted Flakes before he gets out there again. Maybe work in some eggs and sausage.
On any Heisman hype from the Clemson Football social media account:
"I'm just out here trying to win games for the team."
Never miss the latest news from Clemson Sports Talk!
Join our free email list