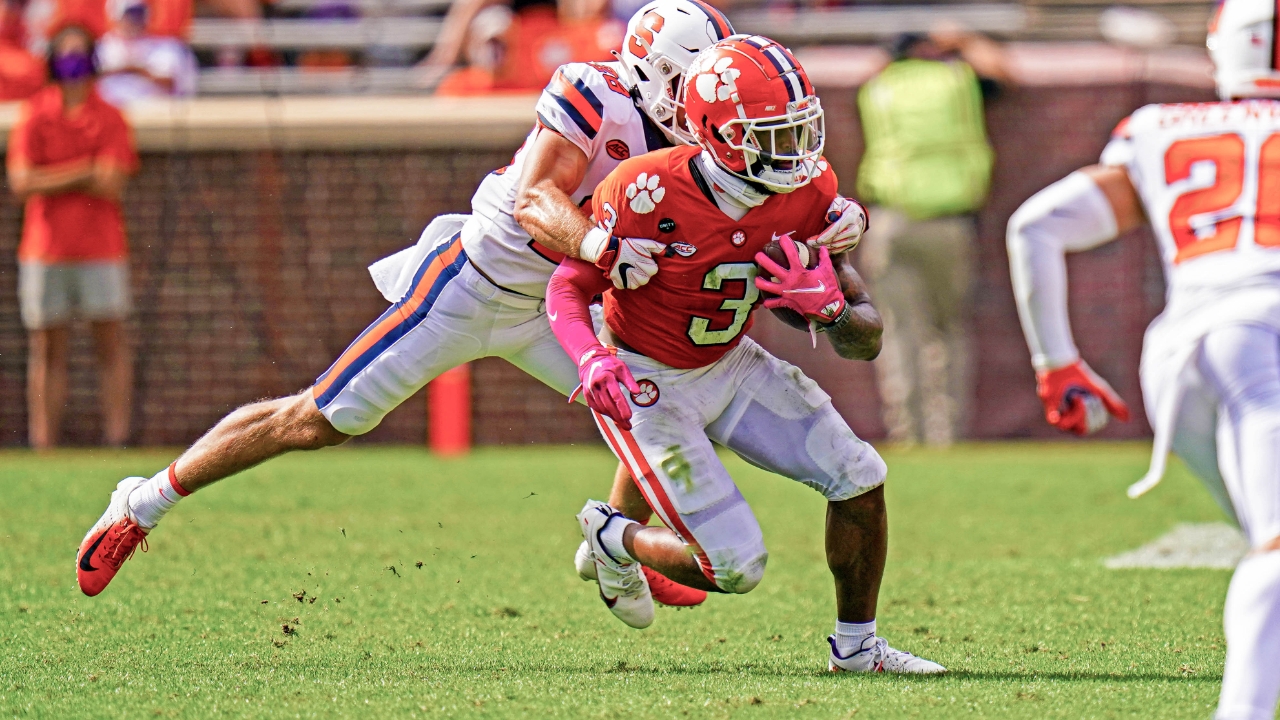 Photo by Courtesy of ACC Media Portal
Clemson Football
With the Win: No. 1 Clemson 47, Syracuse 21
---
Clemson has now opened a season 6-0 for the 16th time in school history, joining the 1900, 1928, 1929, 1930, 1948, 1981, 1987, 2000, 2011, 2013, 2015, 2016, 2017, 2018 and 2019 seasons. Clemson's six-year streak of 6-0 starts is the longest active streak in the country.
Clemson improved to 18-2 all-time when ranked No. 1 by the Associated Press. Clemson has never lost a regular season game as the nation's top-ranked team.
Clemson won its 26th consecutive home game to extend its school record for the longest home winning streak in school history. Of the 119 players on Clemson's 2020 roster, 110 have never experienced a home loss in their Clemson careers. Nine fifth-year seniors on Clemson's 2020 roster were on the 2016 team that recovered from a home loss to Pitt by winning the national championship that season.
Clemson (26 straight home wins) now takes sole possession of the school record for its longest home unbeaten streak. The previous record had been set when Clemson went unbeaten in 25 straight games at Memorial Stadium from 1980-84, posting 23 wins and two ties under Danny Ford in that span.
Though 2020 is technically being played sans divisions, Clemson defeated a traditional ACC Atlantic Division opponent for the 16th straight time and for the 36th time in its last 37 opportunities.
Clemson won its 27th consecutive game against an ACC opponent, including postseason play. The 27-game winning streak against conference opponents pulls Clemson within one game of the 2012-15 Florida State Seminoles (28) for the second-longest streak in ACC history.
Clemson has now won 35 consecutive regular season games, the longest such streak in ACC annals, tying the 2008-10 Boise State Broncos (35) for the longest such streak in ESPN Stats & Info data back to 2005.
Clemson won its 38th consecutive non-bowl game, passing the 1992-96 Nebraska Cornhuskers for sole possession of the third-longest streak in the AP Poll era. Clemson's 38 consecutive wins in non-bowl games includes 35 regular season games and three conference championship games.
Clemson improved to 25-1 in October games in the College Football Playoff era (since 2014).
Clemson pushed its winning streak in Saturday games to 49 to extend the longest Saturday winning streak in FBS history.
Clemson has now won 78 of its last 83 games overall dating to 2014.
Clemson has won 48 of its last 50 games against ACC teams.
Clemson has now won 84 of its last 86 games when leading at halftime, including each of its last 47 such games.
Clemson improved to 106-2 since 2011 when leading after three quarters.
Clemson is now 56-1 when scoring first since 2015.
Clemson now has a 104-2 record when totaling more first downs than its opponent since 2011.
Clemson is now 62-3 when winning the turnover margin since 2011.
Clemson is now 45-1 at home since 2014, the best winning percentage in the country.
Clemson has now won 86 straight games when holding teams under 23 points (dates to 2010).
Clemson improved to 7-2 all-time against Syracuse.
Clemson remained undefeated at home against Syracuse. The win improved Clemson to 4-0 against Syracuse at Memorial Stadium.
Never miss the latest news from Clemson Sports Talk!
Join our free email list