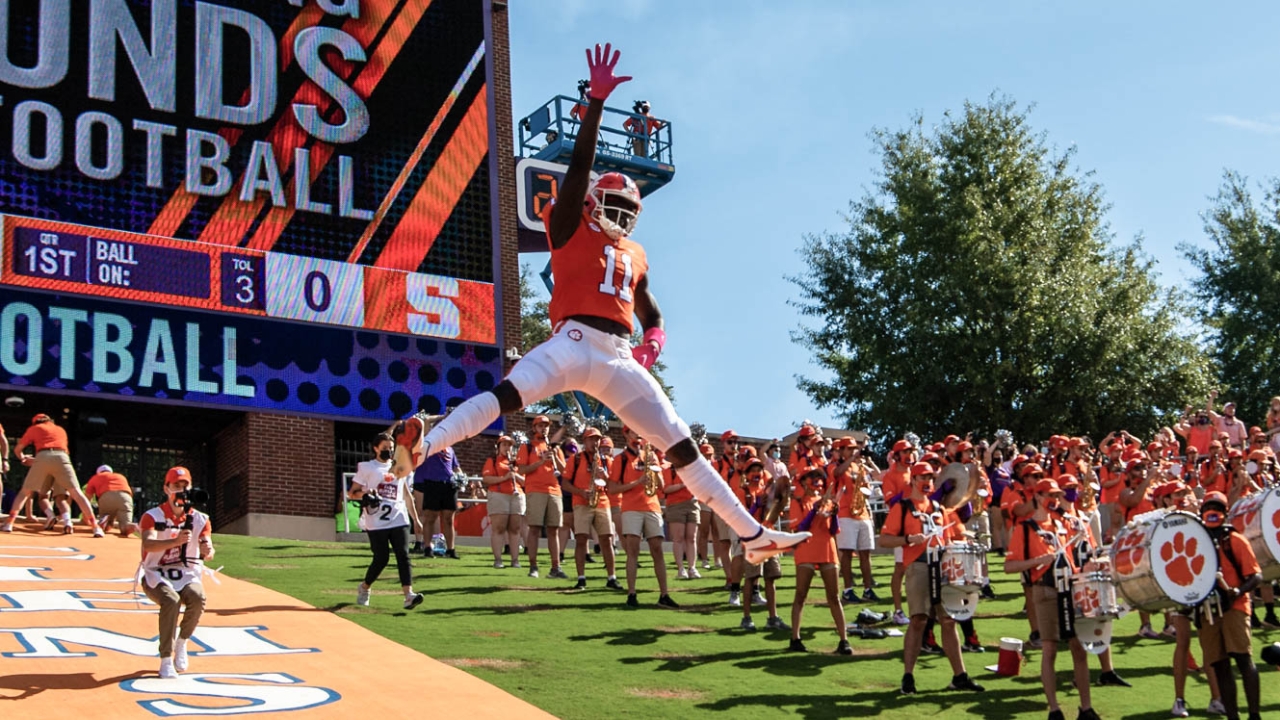 Photo by Courtesy of ACC Media Portal
Clemson Football
"It takes a village to raise a child": Ajou Ajou loves Clemson, and Clemson loves him back
---

Feel the difference - The MOST DIGITAL CONTENT covering your CLEMSON TIGERS! Avoid clickbait and sites bloated with advertising!
---
CLEMSON, S.C. - Riding with his family through the scenic backroads that lead into Clemson, Ajou Ajou fell in love with his newfound home for the first time.
Ajou, a first-generation Canadian wide receiver, was going into his senior year in high school at the time. The three-star recruit was yet to make his commitment, but it was on that summer visit to a Tiger football camp that Ajou made up his curious mind.
Clemson's similarities to his hometown of Brooks, Alberta, were too striking for Ajou to ignore. His heart had led him to where he knew he needed to be.
"We took the back roads [into Clemson]," said Ajou. "So just country and farms. And it was like, 'Wow, it's kind of looking like Brooks, my hometown.' I heard the population here was 14,000. And Brooks' population is 14,000. You really can't make this up; I was just connecting the dots."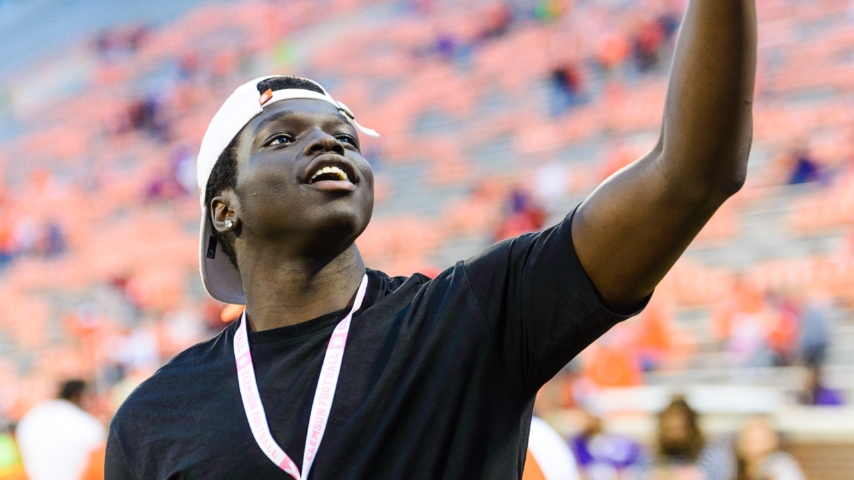 Clemson Sports Talk
Ajou immediately noticed the warmth and hospitality shown to him by everyone in Clemson.
"I came here, and everyone was nice. Everyone just wants to see you grow and win. It's kind of like Brooks in a sense. It takes a village to raise a child."
Following that initial visit, Ajou was ready to speak the right words and sign whatever dotted lines needed signing to call himself a Clemson Tiger. And having studied Ajou's on-field skill set, Dabo Swinney coveted Ajou's possible commitment the same. But Swinney, seeing the eagerness in the Canadian prospect, asked Ajou to wait.
"The moment he offered me, I wanted to say, 'Yeah, I'm committed," explained Ajou. "But he's the one who said, 'I don't want you to commit now. Go look at your options; You're still new to this.'"
It wasn't easy for Swinney to request Ajou's patience, however. The 12-year head coach knew he wanted to see Ajou line up in orange, as Swinney had been fascinated with the 6-foot-4 receiver since the first time he laid eyes on him.
"The first time I saw him in camp, going into his senior year, I said 'This will be one of the funnest guys I've had a chance to coach,'" remarked Swinney.
It wasn't until that senior year that Ajou moved down from Canada to Clearwater, Fla. to play football in the States. Swinney loved seeing Ajou's passion for the game, growing up with a craving for football in a country not known for priding itself on pigskin prominence.
"What I love about [Ajou] is watching his [high school] tape," said Swinney. "He played a long time in Canada. You watch any of his tapes, and there's three feet of snow. And he's out there, he's tough, he loves football. I mean, you've got to love football to play in three feet of snow, and that's your norm."
Despite the high regard in which the Tigers' head coach held Ajou, the Canadian prospect obliged with Swinney's request for patience.
He held off on his commitment, but that didn't mean he would do any more searching.
"I already knew," he said. "I definitely already knew that I was coming here."
The small-town of Clemson had tugged on his heartstrings and refused to let go. The rest of his potential suitors had flown off his radar as Ajou had already made up his mind.
And on July 27, 2019 — just under two months after his initial visit to Clemson — the high-school standout officially announced his commitment to become a Tiger. He signed for Clemson on Dec. 18, 2019.
15 wild months later, Ajou is enjoying a successful true-freshman campaign. His time at Clemson so far, he says, has been something of a dream-come-true. After his first career touchdown on Oct. 17, Ajou needed to pinch himself to make sure he wasn't dreaming after all.
"They called the play, and I was like, 'Oh. This is coming to me,'" said Ajou with a smile. "I catch the ball, and it's like 'This is really happening.' I just got so much adrenaline in me. Everything was like tunnel vision, getting to the end zone."
Ajou then bounced left and right, reenacting via Zoom some of the moves he put on during his 35-yard trek to the end zone.
"I finally get [into the end zone], and I just hear the crowd erupt. And I'm like, 'No way this just happened.' I'd been wanting this to happen my entire life."
It wasn't a dream. Ajou had scored his first collegiate touchdown, and in turn, caught the attention of the college football world.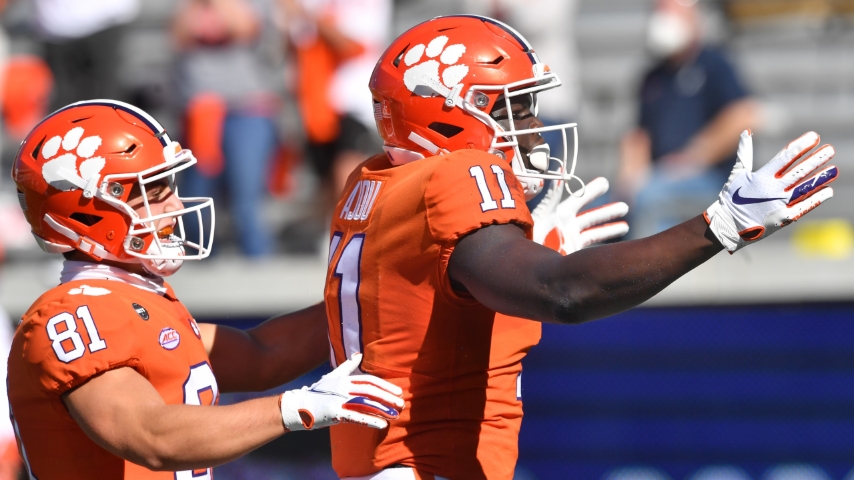 Clemson Sports Talk
Along with Oklahoma State running back, Chuba Hubbard — another Alberta native — Canadian skill players' presence in American football has continued to grow.
For Ajou, it was Hubbard's impact in Stillwater that inspired him to blaze a college football path of his own.
"I remember I was at home in Edmonton, and I'm watching Chuba get his first touchdown," Ajou said. "I was like, 'Wow. One day, I'm going to be there. They're going to be talking about me like they talk about him"
At the 2019 Senior Bowl, the two finally met. Hubbard offered words of encouragement to Ajou that the Tigers' receiver still holds close.
"We were talking at the Senior Bowl, and he was like, 'Hey, man. Just stay working and don't worry. You've got big things coming for you.' And he kind of just spoke it into existence."
Back home in Canada, Ajou is making new fans by the day. In what was undoubtedly a first for Clemson football — and perhaps college football altogether — at least a dozen Canadian journalists joined the receiver's Monday media availability.
Up north, it's not as easy for Canadians to comprehend just why Ajou fell in love with Clemson. The Tigers' unparalleled success on the field certainly paints a picture, but not nearly as vivid as the one Ajou admires every day. Instead of explaining what makes Clemson so great, Ajou realized Tiger Town was a place that had to be experienced first-hand.
So, keeping with his friendly and welcoming nature, he flashed a euphoric grin and extended an invitation to his media peers back home.
"You guys have got to come visit after this Corona stuff," Ajou told them. "I'm telling you, this place is amazing. I haven't played in front of [Memorial Stadium's usual capacity] 80,000 fans, but just playing in front of 19,000, I'm like 'Wow, this is crazy.'"
Ajou spoke highly of Clemson's "school first" mindset, emphasizing forming leaders off-the-field, not just superstars on it.
"You're a student before an athlete. I really like that."
In a moment consistent with Ajou's character, he won even more admiration from those watching back home. A likely future-star living within the moment, Ajou still maintained his calling card of humility and politeness.
But just because Ajou represents himself and his home country in such a well-mannered way, that doesn't mean the freshman is afraid to have a little fun. Ajou is known to be the last player to run down the hill at home games, often flying high and kicking both legs in the air in jubilation.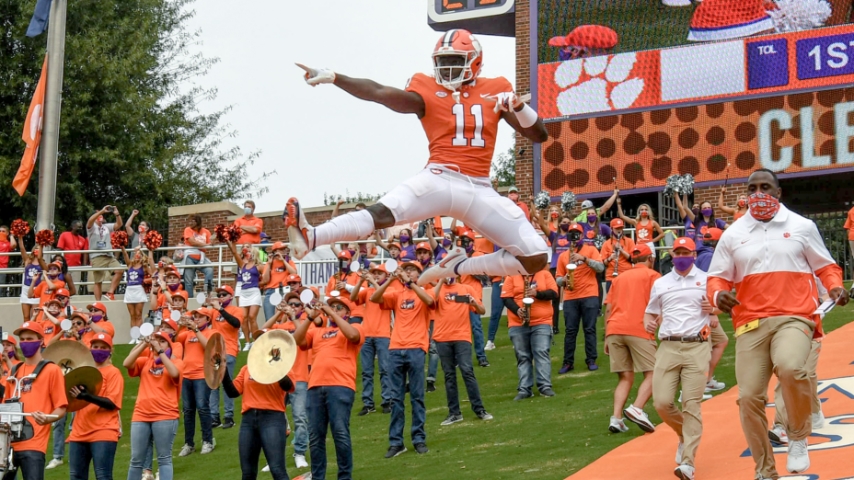 Courtesy of ACC Media Portal
Ajou wasn't shy when asked about his moves, either. Not the jukes and cuts he beats defenders with on the football field, but the moves he likes to show off in front of his teammates behind-the-scenes. The freshman, laughing, showed no hesitancy in pronouncing himself the "best dancer" in the Tiger locker room.
Ajou attributes his dancing skills to his hometown, where he says he consistently danced in elementary school talent shows growing up.
"That's just kind of what we did in Brooks," he said. "We danced. All day, every day. When I was a kid, I used to pop, lock and drop. I guess it kind of took off from there."
That sort of happy-go-lucky personality of Ajou is known to light up any room. Circumstantially, he finds himself often in the wide receivers room, and Ajou's fellow pass-catching teammates can't get enough of him.
"He's a great person," said Ajou's classmate, freshman receiver E.J. Williams. "He's super down-to-earth. He's a free-spirited person; He's going to dance whenever he gets a chance… You're not going to ever catch him in a sad moment. He's just always a happy person. Great person to be around."
And as Ajou continues to make his presence felt both athletically and personally, he's not worried about what the future holds for him. Dabo Swinney has often touted Ajou as the next top-receiver in Clemson, prompting questions about his future professional aspirations. But for Ajou, it's all about living in the now, taking each day as it comes, and being the best player he can be.
"Wherever God takes me, He's got a plan. I've just got to stay on the right path."
Never miss the latest news from Clemson Sports Talk!
Join our free email list
PRESENTED BY