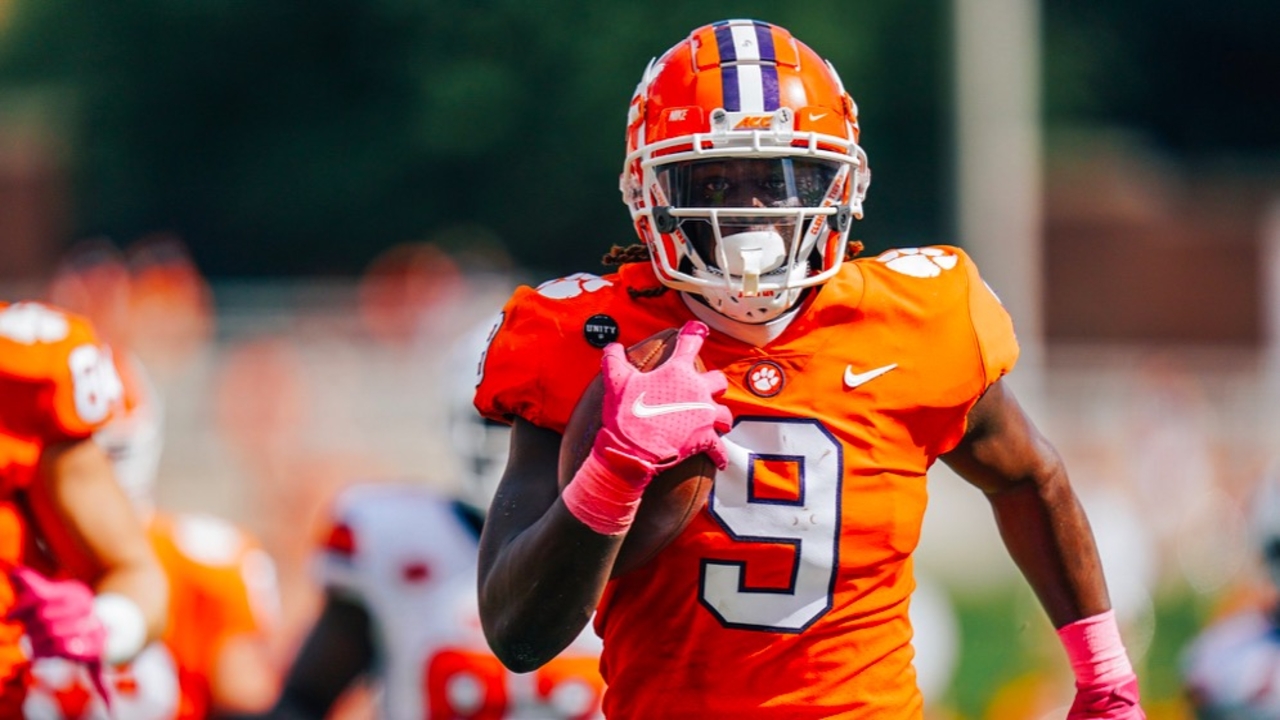 Photo by Twitter: @ClemsonFB
Clemson Football
Keys to Victory: No. 1 Clemson vs. Boston College
---

Feel the difference - The MOST DIGITAL CONTENT covering your CLEMSON TIGERS! Avoid clickbait and sites bloated with advertising!
---
Each week we give you a look at the history of the game, three keys to success, plus Swanny's prediction.
The Match-Up:
No. 1 Clemson (6-0 overall, 5-0 ACC) vs. Boston College (4-2 overall, 3-2 ACC)
Clemson vs. Boston College 2019
Series History:
Overall: Clemson leads 18-9-2
at Clemson: Clemson leads 8-3-1
at Boston College: Clemson leads 9-6-1
Neutral: Clemson leads 1-0 (1941 Cotton Bowl - Dallas)
Last Meeting: Clemson won 59-7 (2019)
Last Boston College win: 16-10 (2010)
Streak: Clemson has won 9 straight in the series
---

Stat of the Week:
Clemson enters the game having not trailed in regular-season play since the final minute of the second quarter of its game against North Carolina on Sept. 28, 2019. The Tigers have not trailed at any point in its last 13 regular-season games (final seven games in 2019 and the first six in 2020). Clemson has played 810:33 of regular-season game action since it last trailed.
Chasing History:
Running back Travis Etienne, already has a collection of Clemson records and ACC records in hand. He enters today's contest just 43 yards shy from becoming the ACC's all-time leading rusher and breaking the record held by NC State's Ted Brown (4,602 from 1975-78).
Key 1: Give D.J. time to settle in
Yes, D.J. Uiagalelei was a highly-touted five-star recruit coming out of high school. And yes, the coaching staff seems to be grooming him as the next star quarterback in Clemson. So he's absolutely used to pressure and used to being needed in big moments.
But Uiagulelei isn't used to this.
It's likely he might come out of the gates looking a bit shaky, and that's okay. After all, he's 19 years old and getting his first-ever start behind center. Although Uiagalelei knew this situation to be a possibility in the hidden corners of his mind, he never could have seen this coming.
To start the game, it's on the offensive line to protect the freshman signal-caller in the pocket. Uiagalelei is certainly capable of being a mobile threat, but it's important to let him get comfortable throwing the ball first.
Give him time to make his reads, set his feet and deliver timely, accurate passes. Because once Uiagalelei gets his confidence about him and settles in, there's no telling what the young prodigy is capable of doing.
Key 2: Operate through Etienne
Needless to say, Travis Etienne is going to be featured heavily in Tony Elliott's gameplan on Saturday. That would be the case on any given week, but even more so in a game where Clemson's usual quarterback won't be able to carry any of the offensive burden.
Whether supplying Uiagalelei with a dump-off option as needed or pounding the ball down the throat of a weak Boston College run defense (86th in FBS in rushing yards per game), Etienne's number is sure to be called early and often to shoulder the load of the Tiger offense.
Key 3: Depleted defense must step up
Clemson's starting defensive roster more closely resembles a hospital waiting list than a depth chart.
LB James Skalski is OUT with a groin injury. LB Mike Jones, Jr., DT Tyler Davis and CB Derion Kendrick are all questionable for Saturday's faceoff against the Eagles, as well.
It's feasible that the Tigers are without four starters heading into the noon kickoff, meaning the "next man up" mantra in Death Valley will be tested like it rarely has been before. The second-string players on Brent Venables' defensive unit are going to need to step up in a big way against a Boston College passing attack that has impressed so far this season.
Prediction:
Clemson is one of the most talented teams in college football and teams that are built like the Tigers should be able to absorb a loss that Trevor Lawrence for a matchup like this. Clemson was a heavy favorite before the news broke and -31.5, after coming off the board, it returned with the Tigers -24.5-- still heavy favorites.
Defensively, very little has changed this week. Certainly, injuries are mounting a bit, but Swinney told us this week that, "if you're not hurting somewhere, you're probably not working," signaling that this is expected. It's unfortunate to be without Skalski, the defenses' quarterback, but Jake Venables will fill in well and might know his Dad's defense better than anyone.
As for the offense, Tony Elliott will rely on Travis Etienne's legs and improved ability to catch the ball in space to put the ball in the hands of the nation's best running back. In doing so, Elliott will allow Uiagalelei time to settle in before having to make and monumental throws. If Clemson can get off to a good start, Uiagalelei can settle in and get plenty of key reps before potentially having to lead the Tigers into South Bend next weekend to face the Fighting Irish.
Here's to that person making a profit: Clemson 35, Boston College 17
Swanny's Predictions:
| | | | |
| --- | --- | --- | --- |
| Date | 2020 Schedule Predictions | Swanny's Prediction | Actual Score |
| 9-12-2020 | No. 1 Clemson at Wake Forest | 55-17 Clemson | 37-13 Clemson |
| 9-19-2020 | No. 1 Clemson vs. The Citadel | 52-6 Clemson | 49-0 Clemson |
| 10-3-2020 | No. 1 Clemson vs. Virginia | 47-17 Clemson | 41-23 Clemson |
| 10-10-2020 | No. 1 Clemson vs. Miami | 38-20 Clemson | 42-17 Clemson |
| 10-17-2020 | No. 1 Clemson at Georgia Tech | 44-10 Clemson | 73-7 Clemson |
| 10-24-2020 | No. 1 Clemson at Syracuse | 61-10 Clemson | 47-21 Clemson |
| 10-31-2020 | No. 1 Clemson vs. Boston College | 35-17 Clemson | ??? |
Never miss the latest news from Clemson Sports Talk!
Join our free email list