Photo by Josh Morgan-USA TODAY Sports
Clemson Football
"No panic, all poise": No. 1 Tigers survive Halloween scare, defeat Eagles 34-28
---

Feel the difference - The MOST DIGITAL CONTENT covering your CLEMSON TIGERS! Avoid clickbait and sites bloated with advertising!
---
When Dabo Swinney peeked his head into the quarterback room on Thursday, he found D.J. Uiagalelei sitting alone.
The freshman quarterback was dialed in, engrossed in a personal film-study session. Uiagalelei was preparing, just in case the ball was to fall his way, and his name get called on to lead the Tiger offense.
What Uiagalelei didn't expect, however, was that Swinney was about to be the one to call it. Uiagalelei laughed as he recounted the fateful afternoon.
"His face when he walked in made it look like I was in trouble," said Uiagalelei. "I was like 'Dang, what did I do? Did I like a picture on Twitter that I wasn't supposed to like? Did I tweet something wrong? Did I not finish through the line or something at practice? Did I not carry out my fake?'"
Uiagalelei — despite his worries — wasn't in trouble at all. Dabo Swinney had called together a meeting with the freshman and his QB coach, Brandon Streeter, to deliver him a piece of earth-shaking news.
"He told me Trevor wasn't going to be playing. He said he had Corona. I had no clue."
With quarterback Trevor Lawrence sidelined after contracting COVID-19, Uiagalelei was a prime example of Clemson's oft-spoken about "next man up." Having less than two full days to prepare as the starter, he became the talk of every media outlet around. Could the former five-star recruit take the reins and lead the No. 1 Tigers to the promised land, at least for one week?
But just because the news caught Uiagalelei by surprise, that didn't mean he wasn't ready.
"I was prepared," he remarked after Saturday's 34-28 come-from-behind win over Boston College. "Since I got here, I've been preparing like I was the starter… I was ready to go."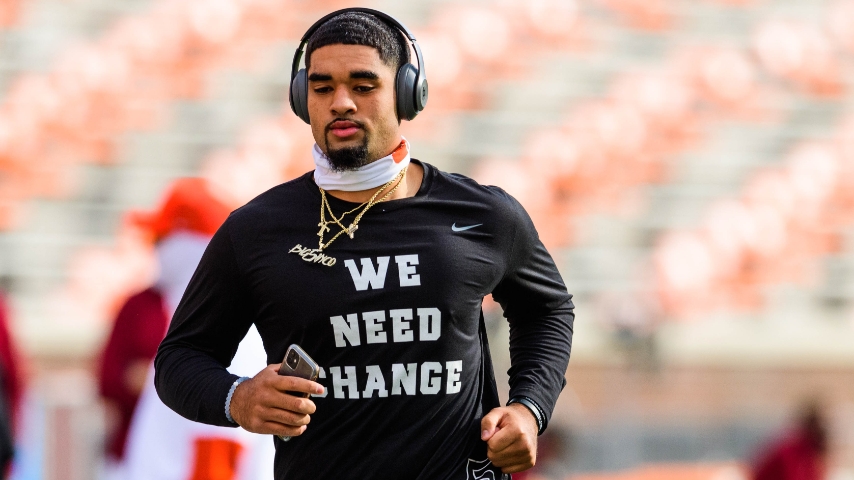 David Grooms
Uiagalelei's readiness translated into a pristine debut, as the first-year quarterback threw for 342 yards and two touchdowns to will Clemson to a win. Uiagalelei also added a third score on the ground. His calmness behind center carried the Tigers to a closer-than-anticipated victory — one where the Tigers overcame their largest deficit in Death Valley history — but a victory nonetheless.
Uiagalelei's outstanding performance was no surprise to his head coach.
"That's who he is," said Swinney after the game. "Those T.V. people asked me to tell them something people might not know about [Uiagalelei], and I said 'He's incredibly poised. And he's very, very prepared.'"
RECAP
In the spirit of Halloween, a feeling of eeriness chose to loom heavily over Death Valley on Saturday afternoon. Every facet of the game seemed out-of-balance for the Tigers (7-0, 6-0 ACC) from the moment B.T. Potter laid into the opening kickoff.
The Tigers were without several starters on defense, and it showed.
Ages had passed since an opposing offense managed to carve up a Brent Venables' defense the way Boston College did early on. Even in past "let-down" games where Clemson played inferior opponents close, the defense was rarely the cause of concern. But after the Tigers trailed 14-7 at the end of the first period — the first such deficit since last year's Fiesta Bowl — most fingers pointed squarely at Venables and his unit.
"We couldn't get out of our own way," Clemson's defensive coordinator admitted. "[Boston College] executed with precision. We had some fundamental errors, and we've got to do better."
Eagles quarterback Phil Jurkovec came into Death Valley dressed as B.C. legend Matt Ryan for Halloween, tormenting the Tigers through the air in the first quarter. On his opening two drives, Jurkovec marched his offense effortlessly down the field and led the Eagles to back-to-back touchdowns. Like a steaming hot knife through butter, Boston College cut the Tiger defense apart.
Normally, Clemson was inflicting this type of pain on its opposition, not the other way around.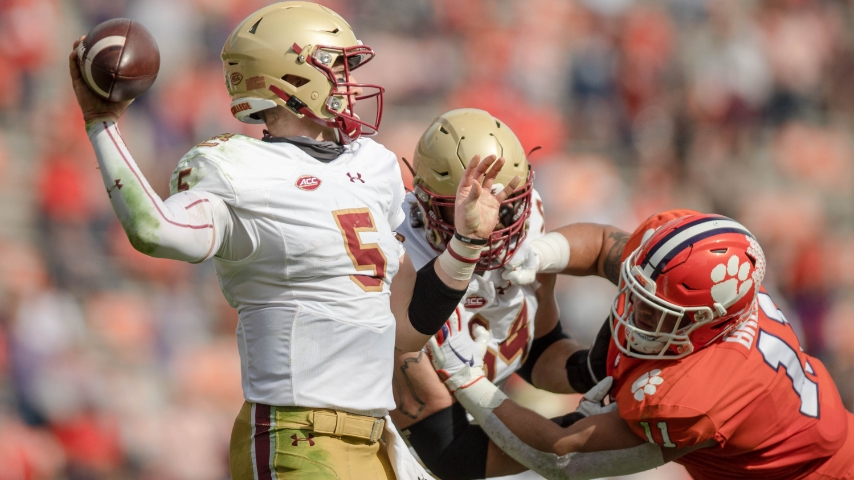 Josh Morgan-USA TODAY Sports
And even when it appeared Clemson was poised to open the second quarter by tying the score, disaster struck.
Freshman quarterback D.J. Uiagalelei took a third-down snap from the goal line and attempted to hand the ball to running back Travis Etienne. The exchange wasn't clean, and the ball ricocheted off Etienne's chest into the waiting arms of Eagles' defensive back Brandon Sebastian. Sebastian collected the loose ball in stride and darted 97 yards the other way for a touchdown.
"Travis made a critical error [on the fumble at the goal line]," said offensive coordinator Tony Elliott. "He didn't have a good pocket for D.J. to put the ball in. From what I saw, it looked like his pocket wasn't made securely. Anytime you're doing an exchange, that's critical."
That 14-point swing saw the Tigers fall behind 21-7 early into the second quarter. Death Valley might have felt abnormally quiet last week, but the first half of Saturday's game sent Memorial Stadium's volume plummeting to a new low.
The Tigers salvaged a B.T. Potter field goal on the next drive, making it a 21-10 game. An ever-so-slight sense of turning tides simmered in the crisp fall air.
But just as quickly as it fluttered in to relieve Tiger stress, the reprieve was gone.
Boston College — thanks in part to a debatable roughing-the-passer call — drove straight down Clemson's throat yet again. A 15-play, 75-yard Eagle drive ran nearly nine minutes off the second-quarter clock, culminating in a circus catch by B.C. wide receiver C.J. Lewis in the end zone.
With just over a minute remaining in the first half, Clemson trailed by 18 points. After a well-directed two-minute drill from Uiagalelei, B.T. Potter connected on an impressive 50-yard field goal — against the blistering wind — to bring the score to 28-13 at the break.
The tension inside of Memorial Stadium coursed through Tiger veins. Nothing was going the way Dabo Swinney's squad had envisioned. Boston College had come out firing on all cylinders, crafting a near-perfect first half of play.
The Tigers' secondary looked out of sorts trying to keep up with the high-flying passing attack of the Eagles. The offense was "losing to Clemson," a fate Swinney vowed to avoid after their most recent performance vs. Syracuse.
"They were frustrated," Swinney said. "We obviously made some mistakes. We were really disappointed with a couple of the miscues that we made."
Yet even falling behind by double-digits, Swinney said the team's overall morale was "great," and that his players knew what they had to do.
"There was no panic. It's a two-score game; We're going to get the ball [to start the second half]. Let's go get a score. We'll get control in the third quarter, win it in the fourth. It's a four-quarter game."
Returning to the field after halftime, Clemson held out for a hero. It got all 6-foot-5, 240 pounds of one.
Freshman quarterback D.J. Uiagalelei — in his first-ever start — threw on his Superman costume in the locker room and came out flying.
Uiagalelei delivered a masterclass for the Tigers on back-to-back touchdown drives.
On the first, he worked methodically, taking his time in picking apart the B.C. defense one play after another. On a fourth-and-1, the freshman signal-caller took a read-option 30 yards to the house to tighten the affair at 28-20. Uiagalelei's family could be seen celebrating in the stands.
"I was just happy I didn't get caught," Uiagalelei said of the score. "I thought, 'Man, I'm still running?' I've got the ball, and there's a clear lane? I'm just happy I didn't get tackled from behind."
Following a defensive stand, Uiagalelei delivered with the ball in his hands again.
The freshman's poise inside the pocket could have fooled anyone into believing he was a seasoned veteran rather than a true-freshman. Uiagalelei began to masquerade as Trevor Lawrence, throwing darts and dropping dimes into the arms of his receivers at will.
This time, it was Boston College that was left scratching their heads without answers.
Uiagalelei finished the drive with a perfectly-placed back-shoulder throw to Amari Rodgers, closing the unexpected gap even further at 28-26.
After another forced B.C. punt, Clemson got the ball back with just under a minute remaining in the third period.
That was more than enough time for Travis Etienne to make history.
On the third quarter's final play, Etienne took an option pitch from Uiagalelei and scampered for 16 yards, etching his name in the record books.
Etienne had just become the ACC's all-time leading rusher.
The Death Valley crowd stood in unison and applauded the senior running back. Four years of humble dedication culminated in a moment that Etienne was sure to never forget. Tiger fans rejoiced and honored the man who had raced his way into history.
But the job wasn't finished. And Clemson's star backfield threat knew as much.
"It was an amazing feeling," Etienne said of the crowd's reception after his record-breaking rush. "But we were just focused on the game. We were still down, so we were just looking at each other like 'Man, now we've got to win this thing.'"
And as he's proven to be the case time and time again, not much was able to stand in the way of Travis Etienne when it mattered most.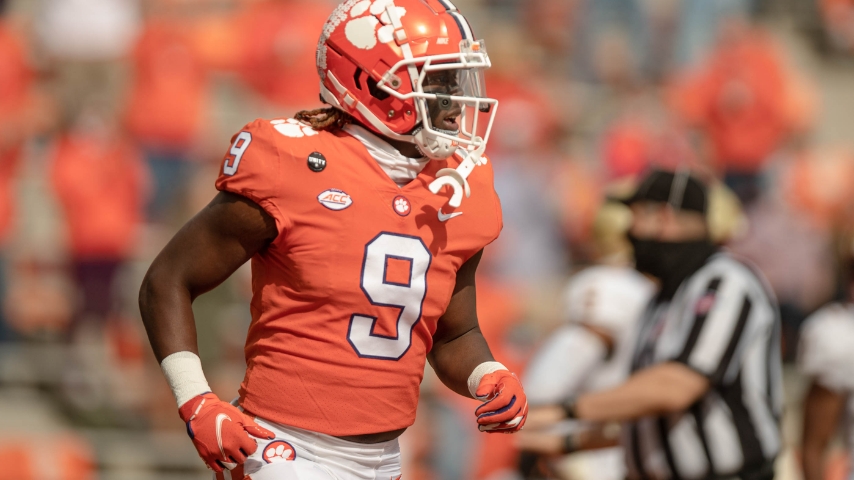 Josh Morgan-USA TODAY Sports
After carefully crafting yet another efficient drive, Etienne laid the finishing touches on the possession with an untouched 17-yard score, giving the Tigers their first lead of the game with 11:34 remaining in the fourth quarter.
Etienne's touchdown put Clemson in front 32-28, following what Dabo Swinney referred to as "a debacle" of a conversion attempt.
"Yeah, that was pretty bad," Swinney said. "It was pitiful. We jump offside; we're having confusion on the signal, we can't get anybody on the same page. Yeah, that was bad. And then we missed the [extra point.] So that was about as bad a sequence as it could be."
That "debacle" — among other miscues — left the door open for B.C. to go and win it. With 1:24 remaining in the contest, the Eagles readied for one final chance to soar away with an improbable upset over the No. 1-ranked Tigers.
For the second straight week, freshman defensive end Bryan Bresee put a thundering end to those aspirations.
Death Valley had finally rediscovered its voice, and the 19,000 fans on hand in Clemson were rocking as Boston College lined up to begin their final drive. Will Spiers had pinned the Eagle offense on their 4-yard line, and B.C. had already burnt all three timeouts. Tiger faithful smelled blood in the water.
Phil Jurkovec took the first-down snap and scrambled aimlessly into his own end zone. The Tigers' D-line pressure was suffocating, and Jurkovec's downfield receiving threats were smothered in the secondary. Bresee caught up to the frantic quarterback, slinging him to the ground.
Jurkovec managed to flick the ball into the air, but it was too late. His throw didn't even come close to returning to the line of scrimmage.
Yellow flags flew from the pockets of every official; Intentional grounding was the call. That penalty occurred in the end zone and resulted in a safety, putting Clemson up by six.
"I saw the quarterback standing there," explained Bresee. "I knew from watching film that he liked to get around to the outside when he scrambles, so I kind of assumed that's what he was going to try to do."
Bresee's heroics sealed the envelope on one of the most surprisingly heart-stopping Tiger victories in recent memory.
"I just wanted to make sure he wasn't getting away from me," said Bresee, laughing. "So I held on with everything I could."
After the emphatic final stand, an ecstatic Bresee jolted back toward the Clemson sideline to celebrate. The first person to embrace him? Clemson's corresponding savior of the day and Bresee's roommate since move-in day, D.J. Uiagalelei.
After the game, Bresee described what it meant to be able to perform at a high level with "one of his best friends."
"It was awesome hearing that my roommate was going to be out there, that he was going to start in his first college game. I was just excited to see him go out there and do what we all knew he could."
It had taken every ounce of energy the Tigers could muster up, but when the clock struck zero, their perfect record remained unblemished. Saturday came frighteningly close to becoming a Halloween nightmare in Clemson, but the 34-28 victory instead served as a wake-up call.
Perhaps most importantly, it spoke volumes about a team's resiliency while running on fumes.
In total, four starters were missing from Saturday's game: QB Trevor Lawrence was recovering from COVID, while LB James Skalski, LB Mike Jones Jr., and DT Tyler Davis all continued nursing previously-sustained injuries.
After the game, Dabo Swinney talked to ESPN about the composure his team showed.
"Lot of heart, lot of character, lot of culture," said the relieved head coach. "I told them at halftime, 'Don't flinch. It's been a long time since we've been down like this.' We're fixing to find out what this team's made of. I'm just so proud of our team. No panic, all poise."
Josh Morgan-USA TODAY Sports
---
NOTES:
-Travis Etienne's 264 all-purpose yards Saturday were a career-high and tied for the 10th-most in school history. The previous 264-yard game came from Andre Ellington in 2012, coincidentally also against Boston College.
-In addition to becoming the ACC's all-time leading rusher today, Travis Etienne reached 1,000 career receiving yards during the contest. He becomes only the 12th player in FBS history to record at least 4,000 rushing yards and at least 1,000 receiving yards in his career.
-WR Cornell Powell had the best game of his career on Saturday, compiling 11 receptions for a total of 105 yards.
-The Tigers only forced one turnover throughout the afternoon, but roughing-the-passer penalties nullified two interceptions.
-Will Spiers is making a case as one of the top punters in college football. Spiers delivered when it counted for the Tigers, pinning the Eagles deep several times at important moments in the game. He averaged 48 yards per kick, and his longest punt of the afternoon went for 60 yards.
-B.T. Potter's 50-yard field goal was his second 50+ yard kick of the season. It was also his school record-tying fifth career field goal of 50 yards or more, matching the mark held jointly by Chris Gardocki (1988-90) and Donald Igwebuike (1981-84).
-Baylon Spector continues his impressive rise, leading the Tigers in tackles for another week. Spector had eight during the game, along with a forced fumble.
-Penalties hurt the Tigers at crucial points. Clemson was penalized nine times for 82 yards, including some flags that shifted critical momentum away from the Tigers.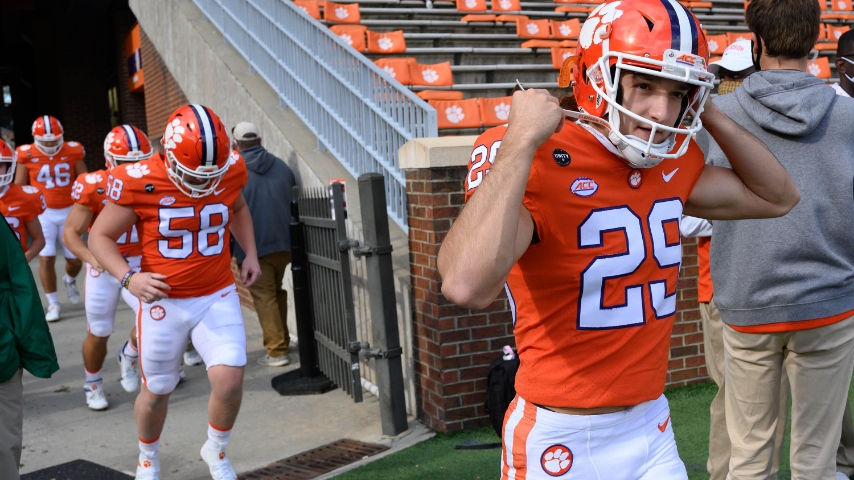 Josh Morgan-USA TODAY Sports
---
UP NEXT:
The Tigers take a trip to South Bend for a top-five showdown with the Notre Dame Fighting Irish. That game will kick off on Nov. 7 at 7:30 E.T. on NBC. College Gameday will be on hand for the matchup.
Never miss the latest news from Clemson Sports Talk!
Join our free email list