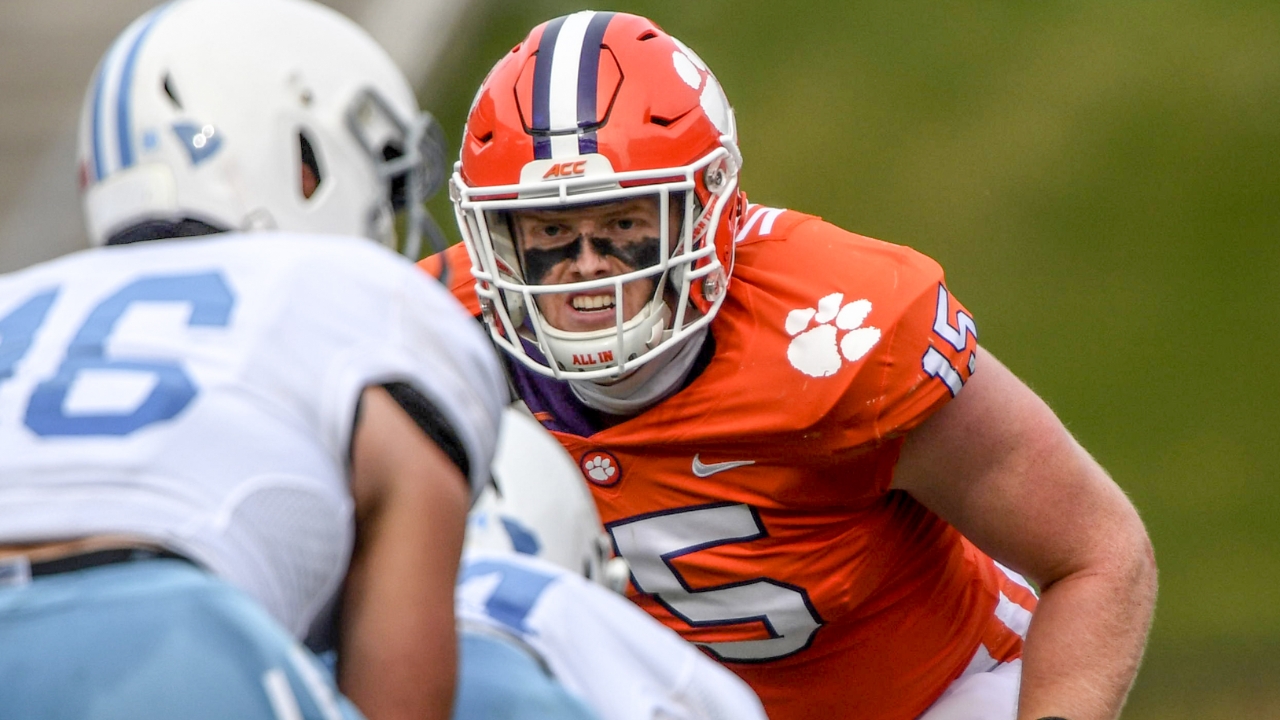 Jake Venables
Nolan Turner
Matt Bockhorst
Clemson Football
Mind Games
---

Feel the difference - The MOST DIGITAL CONTENT covering your CLEMSON TIGERS! Avoid clickbait and sites bloated with advertising!
---
How he feels about his opportunity to start on defense:
"I was definitely excited. I think it goes back to last year when I kind of stepped into the second team spot and I just kind of took my preparation to the next level, just trying to prepare every game like I'm going to be the starter regardless if I play or not. But even in the championship game, when Skalski went down with the targeting call, I honestly had no emotion. I was just kind of like, 'Okay, well, I was prepared for this moment, so here we go.' Then it was kind of the same thing a few weeks ago. Even the Wake Forest game, leading up to that my preparation hasn't changed, really. But I was definitely excited. Even though Jamie was hurt, I was hurting for him. But I was ready to go."
On what to expect when preparing for Notre Dame as the starter:
"This last week, in our first half, they just made a lot more competitive plays on the ball. And then we just kind of stepped it up and made those plays in the second half. I think this week, we had a good day yesterday, so we're off to a good start. I just think everybody's got to focus and get ready to go for this weekend."
What it's like losing key defensive players:
"It's definitely a big blow but you know, you just can't really do anything about it. So those guys that have to step up, they just got to step up and then they got to bring everybody else that's available with them."
On Notre Dame's run game and offensive line:
"I think they're a veteran group. They've been good this year. But I mean, it's kind of the stuff that we've seen before and all our games but there is definitely going to be a big physical and mental challenge all week leading up to the game and we got to get ready to go practice."
On preparing for Ian Book and other mobile quarterbacks they've faced:
"You have to take that into account of the quarterback run game, that can hurt you all throughout the course of the game but yeah, we'll have to do a good job to contain him and then rally to the ball when he does take off and decide to run."
On the dynamic between him as a starter and his father as the defensive coordinator:
"It's kind of the same one (dynamic) I would get in before, just now it's earlier in the game. I still come over and make the same adjustments like we would the third or fourth quarter but it's just throughout the game. I would just say it's (the dynamic) pretty much the same. The intensity is still there. The details are still there. And I mean, nothing really changes regardless who goes in the game, but it's been a fun experience."
On preparing for an opponent's personnel as it relates to COVID-19:
"Honestly, no, I don't really think about COVID too much when I'm out at practice. I am looking for certain personnel's each play but that's just so I know where I'm supposed to line up and what I'm going to do but nothing too serious as far as COVID reasons.
On his brother Tyler's nickname, T-Bone:
"That goes back to when I was a toddler and when he was first born. My dad gave it to him. I don't know where he got it. But that's just always been what we've always called him our whole lives."
On the similarities and differences between himself, his brother and their dad:
"I feel like I'm closer with my brother than he is with my dad or I am with my dad, either one. But yeah, Tyler has a different edge to him. There have even been a couple of times this season where my dad just has to look at my brother and tell them to calm down a little bit. But yeah, he's full of rage. It's awesome."
On instances when Brent Venables has had to tell Tyler Venables to calm down:
"In games, practices, back in my house, just like every day pretty much, he's always on edge. It's a good thing, but he's got to control it a little bit.
On his similarities to his dad:
"I'd say as far as on the field, just trying to get in the mind of the offense and thinking what they're thinking. But I don't know. Well, first of all, some people say I kind of look like him. But I don't know, a bunch of different reasons."
On the maturation of Nolan Turner:
"I'd say first, the biggest thing was just his knowledge of the game. And then the next thing would probably be his preparation. Before guys would just come in and just watch film and not really know what they're watching now, Nolan's just kind of stepped up and he's been running those meetings with everybody in there watching film together. He knows exactly what the linebackers are supposed to do with the corners do and not just his only position. But that's probably just been his biggest thing is just knowing what everybody else around him is doing."
Never miss the latest news from Clemson Sports Talk!
Join our free email list