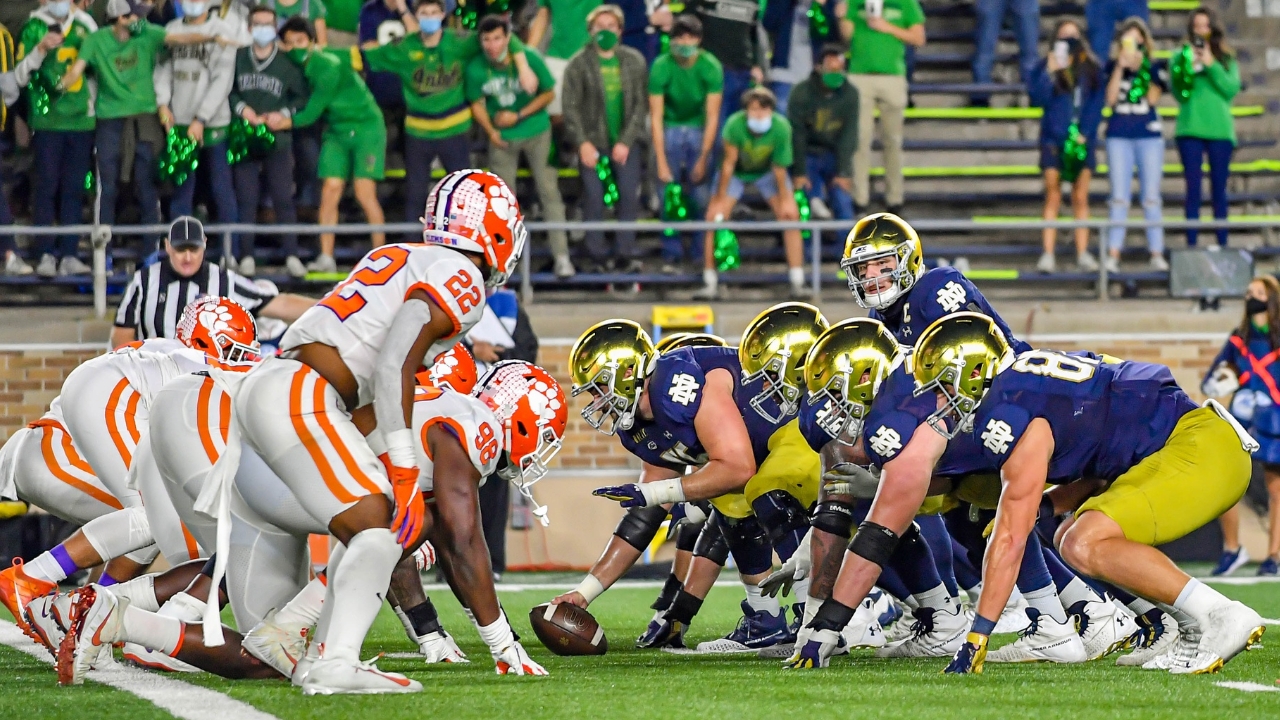 Clemson Football
Notre Dame's Kelly long on confidence, short on compliments after matchups with Clemson
---

Feel the difference - The MOST DIGITAL CONTENT covering your CLEMSON TIGERS! Avoid clickbait and sites bloated with advertising!
---
When you're 0-5 against Top 5 teams for your coaching career, Notre Dame head coach Brian Kelly didn't have history on his side heading into last week's matchup against No. 1 Clemson, but despite that history, he didn't lack confidence.
"I told our team, and again, I'm doing a lot of things I probably shouldn't be doing. But I told our team at our walkthrough today, 'Listen, I just want you to know, when we win this thing, the fans are going to storm the field and with COVID being is as it is, we got to get off the field and get to the tunnel,' Kelly said to the press after the Irish defeated the Tigers 47-40 in double overtime.
"Now, I beat them all to the tunnel, so that didn't go over so good. But they reminded me that I did tell them that. My skills of prognostications were pretty good today."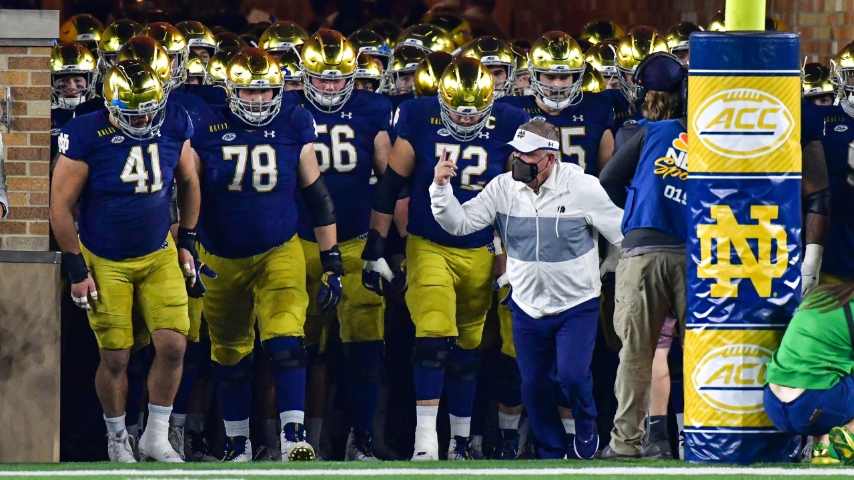 Clemson Sports Talk
Kelly was indeed correct. The fans stormed the field, and No. 4 Notre Dame helped him get his first win over a Top 5 team.
Kelly is now 1-2 all-time against Clemson and head coach Dabo Swinney. In the previous two meetings, Swinney led the Tigers to a 24-22 classic win in 2015 and three years later, a 30-3 dismantling of an undefeated Irish squad in the 2018 CFP Cotton Bowl. Saturday's matchup was Notre Dame's first as a temporary member of the ACC, and the win puts them on the path to a historical first-ever conference title.
Notre Dame was the most experienced team coming into the night, and that margin widened because, for consecutive weeks, the Tigers were without starters Trevor Lawrence, Mike Jones Jr., Tyler Davis, and James Skalski and each was replaced by an underclassman. Despite the injuries, Swinney was complimentary of Notre Dame while acknowledging that his team has to improve.
"They just outplayed us. It's that simple," Swinney noted in his post-game interview. "Both sides of the ball, up front. It's a simple game. I mean, they won the line of scrimmage. They won the turnover margin, and they outplayed us. And even with that, it came down to two overtimes.
"We've got to get better. We've got to improve on some things-- and nothing that we can't improve on, but they won third down. I knew that was gonna be a huge thing. They won the field position, and I told our offense, if we could just end every drive with a kick, we'd win the game."
Quite the contrast to Kelly, who barely mentioned Clemson. In fact, he only said "Clemson" twice during the press conference. He said, "We're extremely excited about the victory and beating Clemson," and he was asked about his offense huddling in which he replied, "...We wanted to make sure that we had about 150-175 plays to make sure that we didn't signal in. Then, we played fast, so there was no signaling. Again, I think from our perspective, it'll be the way we continue to play Clemson." Kelly had said before the game that you have to be cognizant of Clemson stealing signals and that his staff had lived it and were prepared for it.
In most high profile college football games or any football games, turnovers can be the difference between a win or loss. The Tigers committed back-to-back turnovers on consecutive second-quarter drives, and the mistakes led to a 13-point deficit and 10 points for the Irish.
"So it's something that we are going to improve on, and we will, but at the end of the day, you give them a lot of credit," stated Swinney about the critical turnovers.
No. 6 Notre Dame (4-0) vs. No. 12 Clemson (3-0) in a rain-soaked Memorial Stadium.
In the 2015 classic, Notre Dame turned the ball over four times, an undeniable contributing factor in the outcome. But unlike Dabo on Saturday night, Kelly focused solely on the turnovers and said without the turnovers, his team "easily" wins the game.
"I was disappointed for them that they did not seize the opportunity that they had," Kelly stated during the post-game press conference. "And that was to come down here and play a very good team, in a very difficult atmosphere, very difficult conditions, and very easily if they take care of the football and start fast, they are going to win the football game-in my estimation."
Notre Dame dominated the stat line with 432 yards to 296, but you don't win with a statistical advantage alone on some nights. Could the Irish had won if they took care of the ball? Possibly. But, easily? The Irish were once down 21-3, and at no point did it look like a runaway victory for them.
Kelly was close to giving the Tigers credit for the win, but he just fell short. "I thought they [Clemson] had a good plan….they had the week off to prepare. I thought they did some good things against us, forced us to make some adjustments, but again if we go back it, the story is to take care of the football."
For fact's sake, Clemson only scored 7 points off of the four turnovers, and only a fumble on Clemson's 5-yard line by receiver Chris Brown ended a highly probable scoring opportunity for the Irish. The Tigers forced that fumble and two others with hits. Kicker Ammon Lakip even forced a fumble with his tackle on Notre Dame freshman C.J. Sanders on a kickoff return.
No. 2 Clemson (13-0) vs. No. 3 Notre Dame (12-0) met in the College Football Playoff semifinal at the Cotton Bowl Classic in Dallas, TX.
This one was a classic in name only because Clemson dominated after then-freshman Lawrence completed a 42-yard touchdown pass to another freshman, Justyn Ross, at the 1:44 mark of the second quarter to extend the Tigers' lead to 16-3.
"I want to congratulate Notre Dame on a phenomenal year," said Dabo in his opening postgame remarks. "They had a great year and a heck of a football team, for sure. And certainly, I know they're disappointed but a very well-coached team and nothing to be down about, those guys have got it going in the right direction there."
Again, Dabo complimented the Irish. On the other hand, Kelly said the Tigers were opportunistic, and his team was tactically and technically inefficient and not overwhelmed by Clemson's talent on the night.
"Congratulations to Clemson," he said after the Cotton Bowl loss. "They played well. They were opportunistic. They made the plays necessary to win in a game of this fashion. Opportunistic in that we lost one of our very fine defensive backs in Julian Love to a head injury. But, again, you can't give up four big plays on defense. We did not do that all year. Uncharacteristic of our defense."
"Well, we gave up four big plays," Kelly continued. "I think Clemson was extremely smart and opportunistic in taking advantage of some things schematically today. They did a great job of pushing the ball vertically in some opportunistic situations. And offensively, we struggled moving the football today. So those were technical and tactical. I did not feel like there was an overwhelming difference in terms of talent. They have extremely talented players. But, if we were better tactically and technically today, if we coached better and we made plays today that we have been making all year, we would have had a pretty darned good football game going in the fourth quarter."
Kelly's comments are perplexing, considering Clemson led 23-3 at halftime and by the final score of 30-3 for the entirety of the fourth quarter.
Clemson Sports Talk
Missing cornerback Julian Love did hurt Notre Dame, and so did receiver Javon McKinley going down last Saturday night. But Clemson played without Dexter Lawrence in 2018 and Lawrence, Skalski, Jones, and Davis, receivers Joseph Ngata and Frank Ladson for three quarters, offensive lineman Matt Bockhorst and safety Lannden Zanders for more than a half, and defensive backs Andrew Booth, Nolan Turner, Sheridan Jones, defensive tackle Bryan Bresee, and Justin Mascoll all missed time too.
Clemson might get another shot at Notre Dame, but it would have to be in the ACC Championship game on Dec. 19 in Charlotte, NC. Meanwhile, the Tigers had a week off to reflect on the loss, get healthy, and prepare for a road game against a struggling Florida State team, while Notre Dame is in the midst of their contest with Boston College.
"We've got a target on our backs now," said Kelly when asked if there were two playoff teams on the field last week.
Welcome to Clemson's world, Swinney might say to Kelly. Also, part of the Tigers' world is taking one game at a time, but who would blame them if they are quietly, feverishly hoping for another shot at Kelly and Notre Dame.
Never miss the latest news from Clemson Sports Talk!
Join our free email list