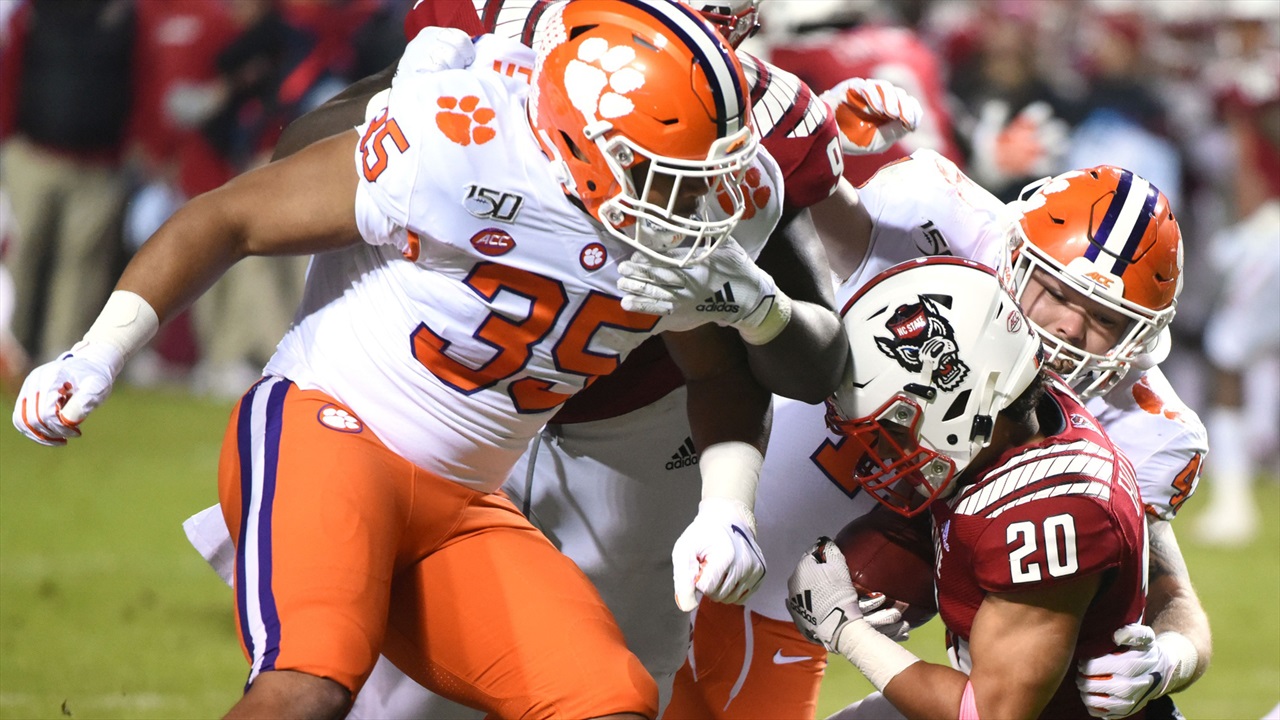 Photo by © Rob Kinnan-USA TODAY Sports
Clemson Football
Clemson defender likely to miss entire season
---

Feel the difference - The MOST DIGITAL CONTENT covering your CLEMSON TIGERS! Avoid clickbait and sites bloated with advertising!
---
Throughout the season, when Clemson's availability report is released the names most often discussed have been guys like Tyler Davis, James Skalski, Mike Jones Jr., Derion Kendrick, and Xavier Thomas because they have all missed game action and are key players at their positions.
Davis, Kendrick, and Skalski were full-time starters in 2019, while Jones and Zanders saw limited snaps. Thomas was expected to start after making plays as a true freshman, but he eventually fell behind departed starter Logan Rudolph, who left school to pursue an acting career. This season, Thomas got off to a slow start after missing games due to a longer than expected recovery from an offseason battle with Coronavirus.
One player who seems to have been forgotten is last year's other starter at defensive end, Justin Foster. Foster has been out with an undisclosed injury, and according to Clemson head coach Dabo Swinney, the former Crest High star from Shelby, NC, is progressing and getting better.
"We're hopeful," Swinney said recently when asked about the senior's future. "I will say this; he's doing a lot better. He's made a lot of progress. He's had some challenges, some things that he's really worked through."
After little playing time as a freshman, serving as a backup in year two, and earning honorable mention All-ACC as a junior, Foster came into this season as one of the most experienced and productive players on the entire defense. He made 41 tackles, 10.5 of which were behind the line, and 4.5 sacks in 2019. In the playoffs, he had a combined seven tackles, 1.5 sacks, and 2.5 tackles for loss against Ohio State and LSU. With a solid season on his resume, Foster may have seen this season as a resume builder for a pro career, but that's just not possible as things stand now.
"Sometimes, great things happen out of adverse situations. You can just look at Cornell Powell," stated Swinney in further discussions about Foster's future. "Cornell had to redshirt his third year, and he wasn't real happy about that time. But without that redshirt, he's not here this year to really be doing what he's doing."
After participating in four games in 2018, Powell was sidelined for an academic reason and took the year off as a redshirt. The redshirt senior is having a career year with 41 catches for 684 yards and five touchdowns heading into the ACC Championship against Notre Dame next Saturday.
Swinney is known as someone who sees the positives in situations that others may focus on the negative. Notably, he was chastised for his optimistic outlook on whether there would be a football season at all during the pandemic, but with protocols in place, the season started. He's also very confident in and complimentary of his present and former players, so hearing positive vibes from him is not surprising.
"Obviously, I hate that Justin hasn't been able to play, but the silver lining is he is excited to come back next year and be the best version of himself," stated Swinney.
"Obviously, I hate that Justin hasn't been able to play, but the silver lining is he is excited to come back next year and be the best version of himself," stated Swinney. "We're hopeful. It's just been a process for him this fall-- one of the best leaders we have on this team."
It's unfortunate Foster won't play a snap this season, but on the bright side, as Swinney would say, he gets another year of eligibility as he still has a redshirt year available.
Even still, if Foster did manage to play this season, he would have multiple options to return available. The NCAA's four-game waiver would qualify him to return as well as the NCAA Division I Council's response to the pandemic granting all players an extra year. For Foster, it's an opportunity to keep working to get back to 100% while still having plenty of time to get healthy and prepare for 2021.
Obviously, Foster has an uphill climb, and with no specific details on his injury, we can only speculate that he will be back, and so can his head coach. But if and when he does return, the Tigers will add another experienced and often overlooked piece back to the defensive puzzle.
"If there's any way he can get back and play, I promise you, he will do it," Swinney said. [And] it won't be for lack of trying."
Never miss the latest news from Clemson Sports Talk!
Join our free email list