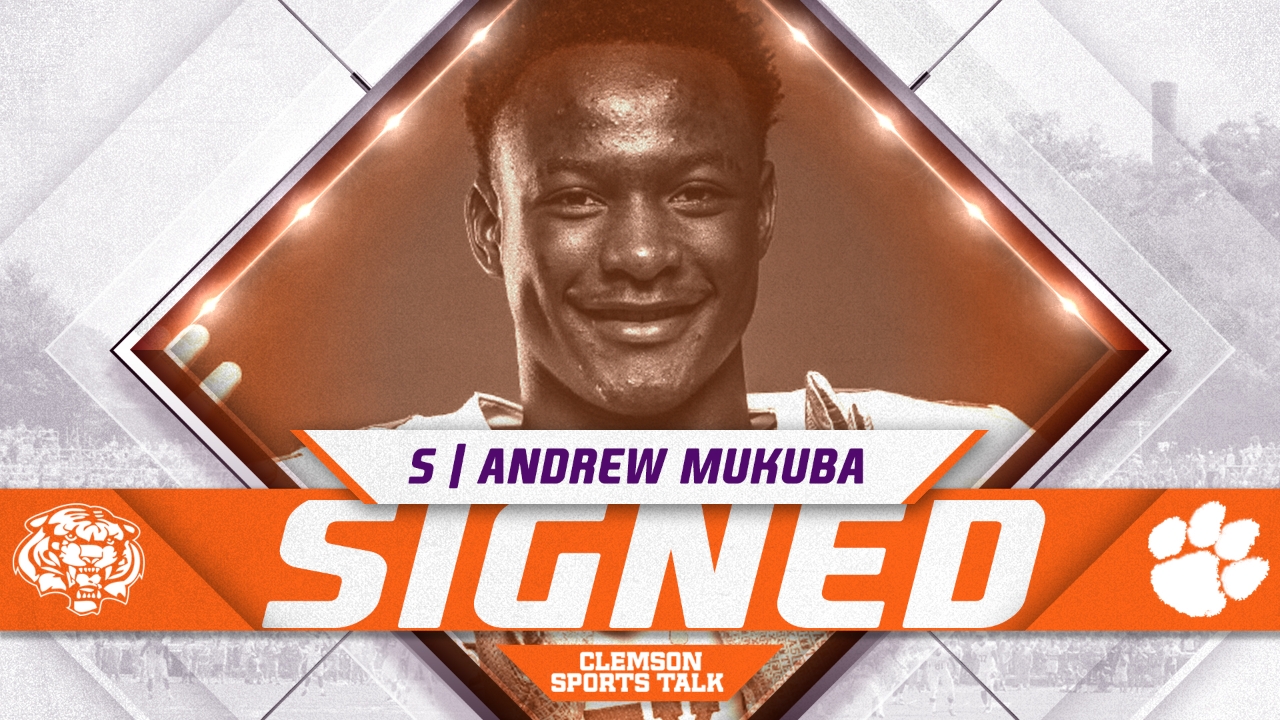 Clemson Football Recruiting
Four-Star Lone Star State Safety Andrew Mukuba signs with Clemson
---

Feel the difference - The MOST DIGITAL CONTENT covering your CLEMSON TIGERS! Avoid clickbait and sites bloated with advertising!
---
★★★★ Andrew Mukuba - 6-0, 185 - LBJ High School, Austin, TX
Four-star safety Andrew Mukuba‍ has made it official. He will be playing college football at Clemson University
Mukuba, hailing from LBJ Early College High School in Austin, Texas, had narrowed his potential suitors down to three: Texas, LSU, and Clemson before committing to the Tigers on October 1st.
Mukuba, who was recently on a Zoom call with Clemson's staff, said that he knew before the call that he wanted to be a Tiger.
"I'm not gonna lie to you. I've known for a minute. I was kind of leaning towards Clemson, and the only thing was kind of holding me back was [that] Texas was still in the mix."
The home state, and for that matter, hometown Longhorns fought hard, but Clemson's national profile was just too big for even a mammoth university.
"Yeah, I think most people [were] thinking that I was going to Texas, because that's my hometown, and I've been to Texas multiple times, and I haven't been to Clemson or LSU," Mukuba noted. "The things they were telling me [kept] Texas in the mix."
As for the defensive back group he is joining at Clemson, Coach Mickey Conn's room is loaded with young talented safeties, but that didn't deter the 6-0, 185-pound star.
"I'm all about competition, man. When I arrive there, I feel like I'm going to be the best guy. I've got to come out and prove it."
Looking down the road, Mukuba will enroll early by January.
"Right now, I'm taking the classes so I can become an early enrollee," Mukuba noted.
For Tiger fans who haven't seen any of Mukuba's film, he said that his contributions to the team will be greater than what happens between the lines on Saturdays.
"I'm going to be a leader. I'm gonna try my best to do everything I can to help the team. I'm a team-first guy, so whatever it takes for me to get on the field, I'm going to be that guy that's got to do that."
Overview: Ranked as No. 152 overall player in the nation by ESPN.com, which also ranked him as the fifth-best safety in the nation … ranked No. 205 and as the 14th-best safety by 247Sports … four-star player according to ESPN.com and 247Sports … won District Offensive Player of the Year as a senior … had 27 receptions for 427 yards and six scores … added 20 carries for 173 yards and two scores … on defense, had 60 tackles, six interceptions and four caused fumbles … in the state quarterfinals he had two interceptions on defense and also scored on a diving 19-yard catch on offense … District 12-5A Newcomer of the Year in Texas in 2019 … had 32 receptions for 635 yards and 12 touchdowns on offense … added 80 tackles, five interceptions and three forced fumbles on defense … had two touchdowns on kick returns as well … All-State as a receiver that year … plans to enroll at Clemson in January 2021 … committed to Clemson on Sept. 1, 2020 … recruited by Mickey Conn and Brent Venables … played for Jahmal Fenner at Lyndon B. Johnson High School … born Dec. 7, 2002.
Reminds us of:
Jalyn Phillips
Never miss the latest news from Clemson Sports Talk!
Join our free email list