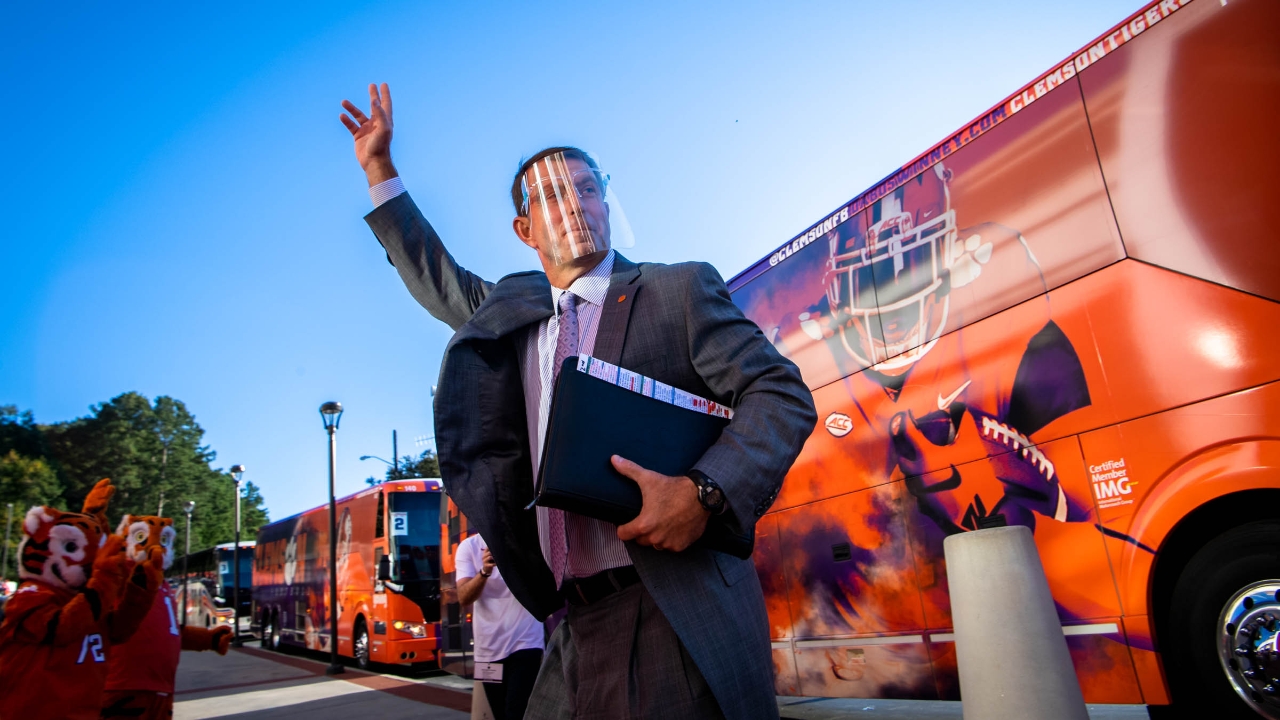 Photo by Courtesy of ACC Media Portal
Clemson Football
"Christmas came early for us": Dabo Swinney raves about Signing Day class
---

Feel the difference - The MOST DIGITAL CONTENT covering your CLEMSON TIGERS! Avoid clickbait and sites bloated with advertising!
---
Christmas may not arrive for another nine days, but Clemson head coach Dabo Swinney got a head start on receiving gifts. Swinney's program inked 18 new recruits on Wednesday, and the 12th-year head coach couldn't be more excited at the prospect of them getting to work.
"Christmas came early for us," raved Swinney on Wednesday.
Here are the key quotes and highlights from Swinney's Early Signing Day press conference:
ON WILL TAYLOR AND BUBBA CHANDLER BECOMING DUAL-SPORT ATHLETES:
"I'm excited about Bubba and I'm excited about Will. I'm excited for [Clemson baseball coach Monte] Lee, because he's got these guys on football scholarship which frees up money for the baseball program."
"Will is going to probably be one of the fastest guys on the team when he gets here, and Bubba has a really strong arm. They're two good ones, and it will be fun to watch them mature and develop in their careers."
ON WILL TAYLOR'S SKILLSET:
"First of all, he can fly. I mean, he can flat out run. His acceleration makes him special. Natural ball skills, very confident kid. Just a ball-player."
ON WILL SHIPLEY'S COMPARISONS:
"Not [comparable to] anyone I've coached. The only person I can think of is that McCaffrey kid up in Carolina. He's powerful, he's fast and he's dynamic. He can line up in the slot and catch passes out of the backfield. There's really nothing he can't do."
ON HOW HE PLANS TO USE BARRETT CARTER:
"We're going to use him in a versatile way. He absolutely can play linebacker, no doubt about that. But we also think he could play safety, sam or nickel. He's as dynamic a guy we've signed."
ON RECRUITING ANDREW MUKUBA:
"It was great recruiting Andrew. He's such a sweet kid, got such a great demanor. And it was different. He's always liked Clemson. For me, I was just a little hesitant early, because he's all the way out in Texas and he hadn't had the chance to get here. But I hadn't fully embraced 2020 at that point. Because I kept thinking they were going to open things up a little bit and allow prospects to come in. But that obviously never transpired. But we had lots of great talks. I was super excited when he committed to us."
ON NOT BEING ABLE TO SEE SOME COMMITS PLAY IN PERSON:
"It's a challenge. Hopefully it slows recruiting down, to be honest with you. I hope that's a positive. I'm always trying to pump the brakes anyway, trying to slow things down. Everything's always getting sped up."
ON THE NUMBER OF JANUARY ENROLLEES:
"We think 12 or 13 guys will be mid-years."
ON RECRUITING PLAYERS HE'D NOT BEEN ABLE TO MEET:
"'Pandemic Posse.' I'll never forget this class. It was a unique experience. It's crazy how you can communicate now, though. When you're doing Facetime and Zoom in all that, it's like you're sitting in a room together."
Never miss the latest news from Clemson Sports Talk!
Join our free email list