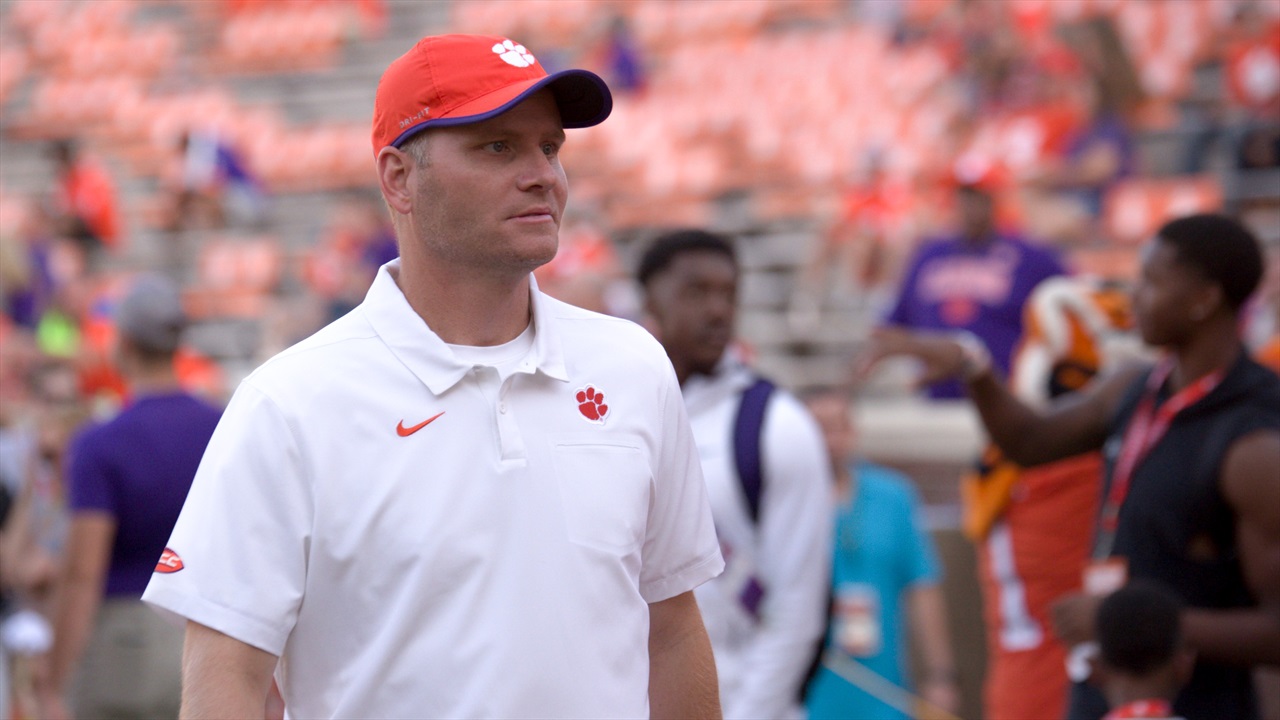 Clemson Football
THE ROAR: Plan B, No Mayo, and come on COVID-19, not Mary Ann!
---

Feel the difference - The MOST DIGITAL CONTENT covering your CLEMSON TIGERS! Avoid clickbait and sites bloated with advertising!
---
Goodness, gracious, can 2020 come to an end already? I've joked on my radio show that perhaps only LSU fans, Kansas City fans, and new parents really celebrated anything this year, given what we've all been through.
Now, just hours from kickoff in New Orleans, Clemson will waltz into the Sugar Bowl without Tony Elliott calling plays. Hey, 2020! You are the worst.
As for THE ROAR, our newest feature, things went pretty well. If you like it, make sure you SHARE it. I would hate for you to get some bad juju just before we turn the calendar to 2021.
PLAN B FOR EVERYONE.
Well, if you thought the news that Kirk Herbstreit would be calling the Sugar Bowl from home due to COVID-19 would be the story of the week, boy, were you wrong.
Yesterday afternoon, Clemson packed up for the Big Easy to face off with Ohio State, but without one fairly significant piece: Tony Elliott
Now some have been critical of the 41-year-old's play calling at times (I'm not one of them), but there is no doubt the news hit everyone in the gut as the College Football Playoff approaches.
Elliott, who is 80-6 during his time as Clemson's chief play-caller, tested positive for COVID-19 as well and will not be able to call plays. Those duties will go to quarterback coach and passing game coordinator Brandon Streeter.
Former Clemson running back C.J. Spiller will also be involved on the sidelines taking over with the running back group as the Tigers face Ohio State.
It's not an ideal situation, but as expected, Dabo Swinney had a plan in place-- we just didn't know what it was until yesterday evening.
So here's a riddle for you from Uncle Swanny:
If Tony Elliott is normally 'upstairs' calling plays while Brandon Streeter is on the field with the quarterbacks, then who works with the running backs on the sidelines most games?
But that's not really the riddle at all; you see, the real riddle is actually if Streeter 'upstairs' calling plays tomorrow night, who is working with the...wait for it...the quarterbacks?
Nothing gets past Uncle Swanny. Nothing!
Back to Herbie, he will have his feet up on the couch for GameDay and while calling the Sugar Bowl from the comforts of home. What a guy.
STOLEN STORYLINES. Well, has there ever been a story written about more that had absolutely ZERO legs? Let's be honest, who cares if someone is "stealing signs," whose fault is that? If Ryan Day is standing on the sidelines with a megaphone yelling out plays and Brent Venables hears it, who is to blame?
There were plenty to choose from, but here's Pete Thamel's breakdown of the situation.
For context, here is the full Q&A on the topic and what Coach Day had this to say about Brent Venables earlier this week:
Question: It's funny, Ryan, I think I asked you the same question last year, but I'll ask it again. When you're going against a defense led by a coordinator like Brent Venables, who has this huge reputation, et cetera, justly deserved, does it pique you and your staff even more to sort of figure it out and go to battle against something like that?
Ryan Day: "Yeah. I mean, he's one of the best defensive coordinators in college football, and he does a great job calling the game. Seems to always know exactly what the other team is doing in terms of the plays that they're running each play and seems to call the right defense into that play a lot. And why that is, I don't really know. But I can tell you that he's been doing it for a long time, and it's a good challenge."
A couple of things here, the question asked didn't insinuate that Venables does anything nefarious as a coach, and Day's response certainly didn't pinpoint any sign stealing. If anything, this seems to be a story simply created to have a narrative.
But again, even if Venables and Clemson were intercepting signals, that's a part of the game, and there are plenty of ways around it.
GATORS SHOW UP, OPT-OUT.
The Goodyear Cotton Bowl classic turned into a nightmare for the Florida Gators in a mighty big hurry. If you thought watching player after player opt-out in advance of the game was bad (the line went from Florida -3 to Oklahoma -6 in two days), almost as fast as the Sooners first two scores, taking a 14-0 lead with 12:22 left in the first quarter.
Kyle Trask delivered a pick-six on his second throw of the night, putting the Gators in a big hole and Oklahoma, never looked back. The Sooners picked Trask off on the Heisman finalists' on each of the Gators' first three drives of the game.
With 4:00 left in the first quarter, Trask was 6-10 for 82 yards, but only one pass had hit the ground. The good news for Trask he didn't throw another pick. There's that.
But what Uncle Swanny really wants to know is: WHY DO WE VOTE FOR THE HEISMAN BEFORE THE END OF THE SEASON?
As for the Gators, even minus another Trask pick, things didn't get better for Dan Mullen's squad as Oklahoma rolled to a 55-20 win in Dallas. How about that SEC defense?
Let's be honest, though; Trask didn't have his top three pass catchers out there. Oh, that's right, NEITHER HAS TREVOR LAWRENCE...most of the season.
"With the number of people that were out for the game, we were under numbers actually," Mullen said after the loss. "We had the numbers to not play the game."
And the Gators did a great job of 'not playing' in my opinion.
Hope the bowl swag was nice!
FUMBLE. This season didn't go as Wisconsin planned after finishing the regular season 3-3 after COVID-19 ravaged the program. While they opened the season hoping to battle Ohio State in the Big Ten Championship, in the end, they would watch Northwestern face the Buckeyes, but the Badgers didn't end the season 'empty-handed' or did they?
Wisconsin was rewarded with a trip to the Duke's Mayo Bowl, and after knocking off Wake Forest, 42-28, the celebrating began, but things went south for the new Duke's Trophy.
So who did put biscuit-- err mayo on the ground? Wisconsin's starting quarterback Graham Mertz. Whoops! ← Insert Kyle Trask joke here.
But in fairness, who doesn't dance right before putting some Duke's on a tomato sandwich? I know I do.
Too bad for Mertz that wasn't a cheap jar that busted. It was Lenox crystal and beautiful, to be honest.
"Yeah, I dropped it. That's on me. It happened," Mertz said after the game.
Fortunately, Mertz fixed the trophy. I'm just not sure it's the same-- but believe me, it tastes better now.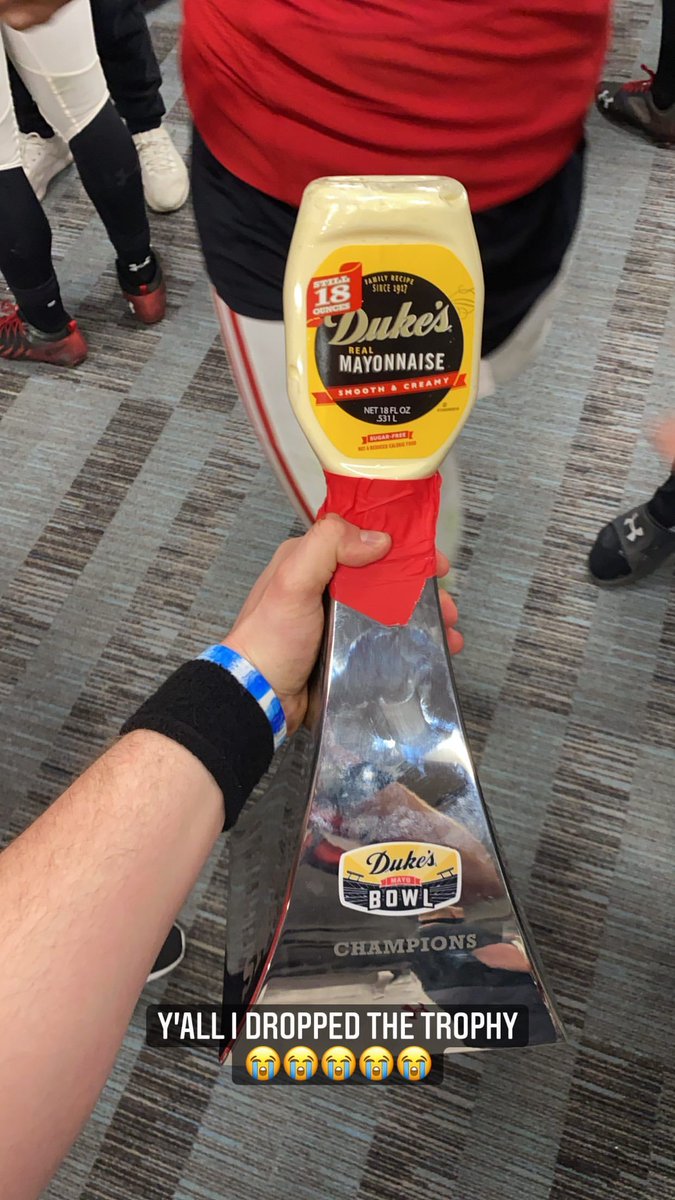 CAJUN SEASONING. Clemson loaded up for the Big Easy yesterday. Clemson is 0-2 in New Orleans under Dabo Swinney. With a win tomorrow night, Clemson will play for their fifth national title in six years. The only season the Tigers didn't play for all the marbles since 2015 was back in 2017 when Alabama knocked them out in the Superdome 24-6.
College Football Playoff National Championships
2014: Ohio State 42, Oregon 20
2015: Alabama 45, Clemson 40
2016: Clemson 35, Alabama 31
2017: Alabama 26, Georgia 23 (OT)
2018: Clemson 44, Alabama 16
2019: LSU 42, Clemson 25
2020: ???
SONG OF THE DAY. With Swinney having to break out the hammer on his Pandemic Playbook and Graham Mertz's fumble above, it felt like the lyric 'Broken glass, everywhere' was pretty fitting this morning.
- "The Message" - by Grandmaster Flash and The Furious Five -
A BIT OFF THE PATH.
Can we catch a break in 2020? For crying out loud, a new variant of COVID-19 in multiple states...not exactly what we wanted to hear as we turn towards 2021 tonight. In addition, Dawn Wells, who played Mary Ann on Gilligan's Island, died at age 82 from COVID-19.
In the NBA, Becky Hammon made history Wednesday by becoming the first woman to act as head coach during an NBA regular-season game, taking over after Gregg Popovich was thrown out of San Antonio's 121-107 loss to the Los Angeles Lakers.
And finally, this guy, an American hero for anyone who owned a pair of Underoos, built a working Batman grappling gun. You may now celebrate appropriately!
Let us know what you think about THE ROAR! If you liked it, make sure you SHARE!
Never miss the latest news from Clemson Sports Talk!
Join our free email list