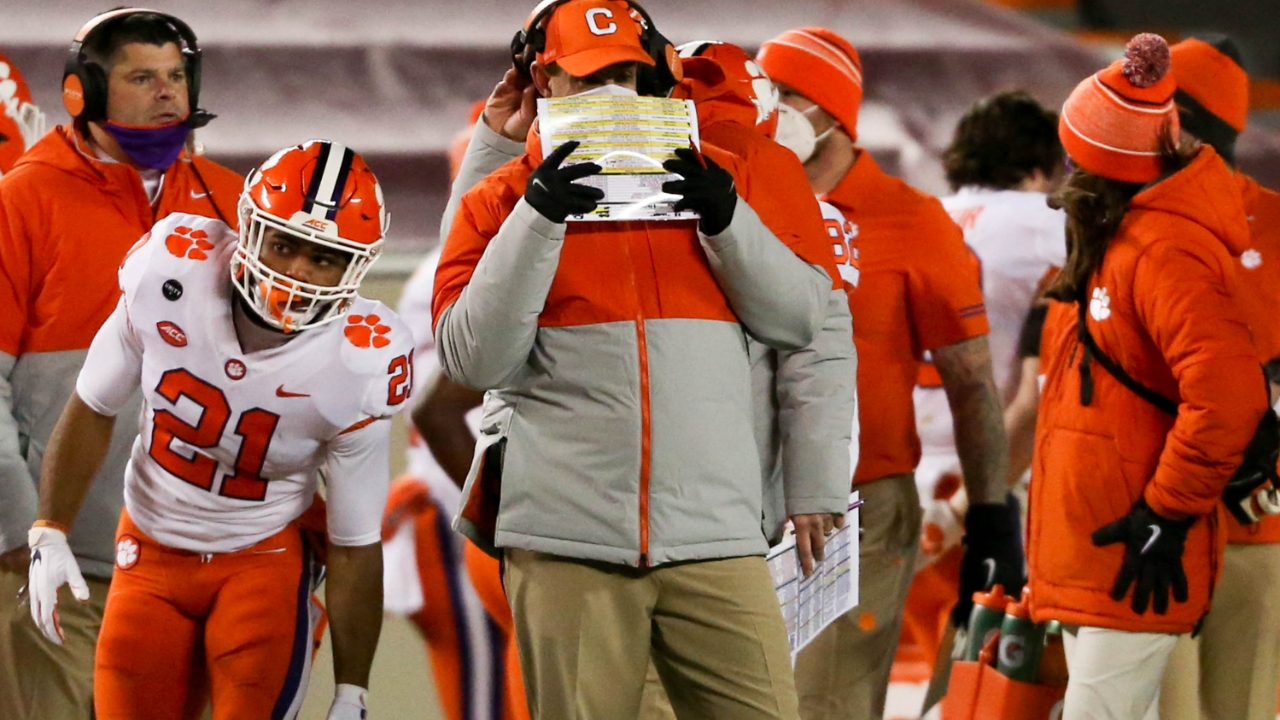 Photo by (AP Photo / MATT GENRTY, The Ro
Clemson Football
Broken Glass, Everywhere
---

Feel the difference - The MOST DIGITAL CONTENT covering your CLEMSON TIGERS! Avoid clickbait and sites bloated with advertising!
---
– 6:40 PM - Update: Swinney told ESPN moments ago that quarterbacks coach and passing game coordinator Brandon Streeter will take on the OC role. C.J. Spiller will assume Elliott's job coaching the running backs.
When Jeff Scott left Clemson to become the USF head coach, he was well equipped for the job. Yet, in the midst of COVID, as a new head coach, he didn't see the global pandemic tab.
"That's because I had it in a drawer, glass, that said 'break only if necessary,'" Swinney joked back in August about his conversation with Scott.
Then in September, Swinney mentioned the plans again when asked about the possibility of a coordinator being out.
"Yeah, well, you just have to wait and see if that happens. Hopefully, it doesn't happen. Best believe we've got a plan. That's for sure," Swinney said.
Asked if it was a secret, Swinney said, "It's top secret. I got tucked away in my drawer in a glass case that says, 'break only if needed'. So I've got it locked up."
Well, here we are.
With the news that Tony Elliott will not be traveling to New Orleans for Clemson's Sugar Bowl matchup, Dabo Swinney has certainly had to break the glass on his Pandemic Playbook.
So what will the staff look like on Friday? I'm not sure anyone outside of the program knows for sure, but rest assured Swinney's had this plan in place for a long time.
Certainly, COVID-19 has outlasted Swinney's bold prediction from April when he told us that they had an acronym inside the program of T.I.G.E.R.S. (This Is Gonna End Real Soon), but Clemson is well prepared for this moment.
The Tigers have already fought through losing Trevor Lawrence for two games earlier this season, including the most significant regular-season matchup, a 47-40 (2OT) loss at Notre Dame.
But these are the very issues that Swinney knew he might face.
Yesterday, we spoke with Elliott as the offense prepares for an Ohio State defense that has a new coordinator from a year ago. Kerry Coombs was hired away from the Tennessee Titans after Jeff Hafley left to take the head coaching job at Boston College.
Elliott said that he felt like there were similarities between the 2019 and 2020 Buckeyes, even with the change on the defensive side of the ball.
"Even though the structure is similar, each team, just like us on offense, each unit will have its own identity. They are going to play to the strengths of their identity," Elliott said.
"They are going to test and make sure that we corrected the issues from last year. But I think it's just going to come down ‑‑ at the end of the day, you get to this point doing what you do. You're not going to get away from what your base offense is. You're going to have a couple of game‑plan wrinkles."
One would expect Elliott's thoughts on Ohio State's defense would quite similar for Clemson as well. This team has an identity and whether the plays are called by Tony Elliott, Brandon Streeter, or Swinney himself, things shouldn't change much.
Swinney always has a game plan, and he was well prepared to break the glass if necessary.
With today's news, there is broken glass everywhere.
Never miss the latest news from Clemson Sports Talk!
Join our free email list