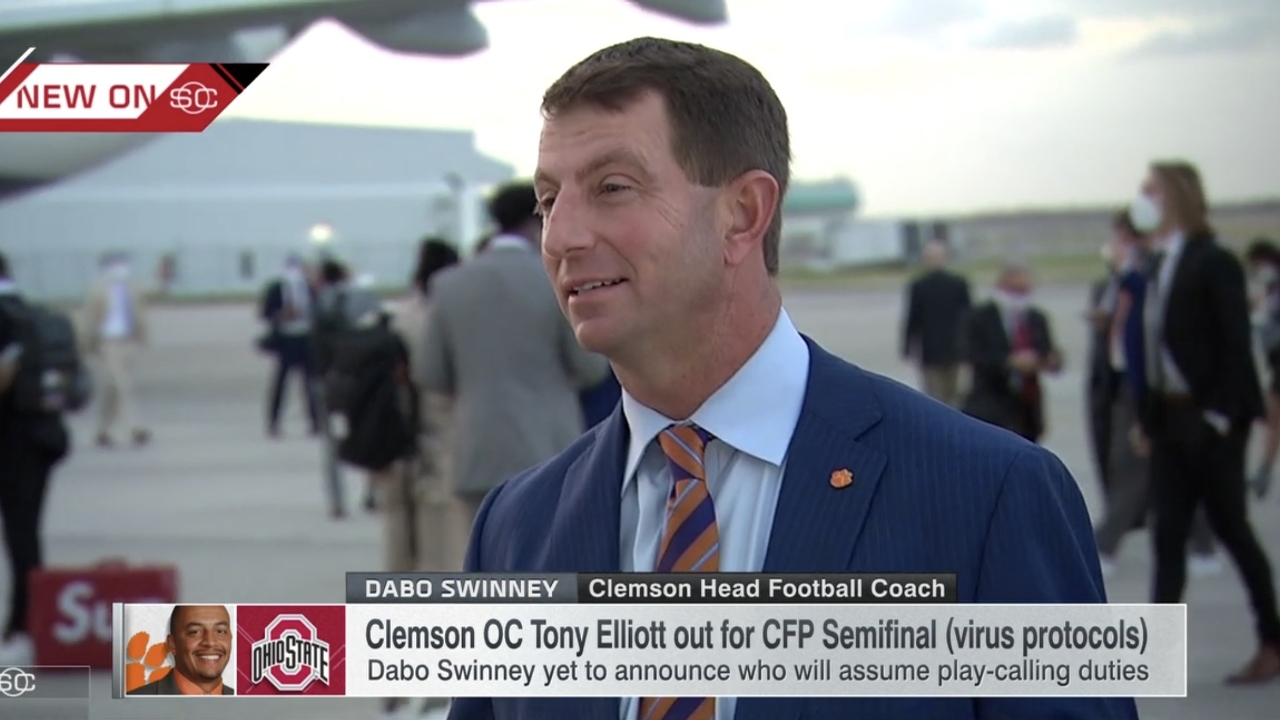 Clemson Football
WATCH: Dabo Swinney Updates Coaching Situation
---

Feel the difference - The MOST DIGITAL CONTENT covering your CLEMSON TIGERS! Avoid clickbait and sites bloated with advertising!
---
When Clemson arrived in New Orleans, Dabo Swinney revealed his plans for Friday's Sugar Bowl matchup with Ohio State. Standing on the tarmac in the Big Easy, Swinney told ESPN's Tom Rinaldi that quarterbacks coach and passing game coordinator Brandon Streeter will take on the offensive coordinator role with Tony Elliott's positive COVID-19 test.
As for the running backs, C.J. Spiller will assume Elliott's job coaching the running backs in the Sugar Bowl.
Back in August and September Swinney said he had what we've dubbed a 'Pandemic Playbook' he would go to if needed.
"It's top secret. I got tucked away in my drawer in a glass case that says, 'break only if needed'. So I've got it locked up," Swinney said at the time.
Well, the time is now, and here is the plan.
On the situation:
"Well, he tested positive. It's unfortunate that he's out. We love Tony. The good news is, he's doing great. Doesn't have any symptoms or anything like that. I wish he was with us, but he'll be with us in spirit. He'll be zooming in with us until we get on the bus and go play. Looking forward to a great game. Just proud of our team unbelievable preparation guys are excited to be here and ready to go play."
On the plan for Friday:
"Tony's always been up; I've been down. We've always kind of done it together. We'll put Street [Brandon Streeter] up, and that'll be the biggest difference-- it will be Street and I. [C.J.] Spiller will handle the running backs on the field. That's really it."
On being adaptable this year:
"I mean, it's 2020. We've got no excuses. It's just football. Players play. It's not about plays, it's about players, and we got a good group of players that are well prepared. Tony's done an amazing job. I hope we can pull this plan together. Now it's up to us to go execute it."
Never miss the latest news from Clemson Sports Talk!
Join our free email list