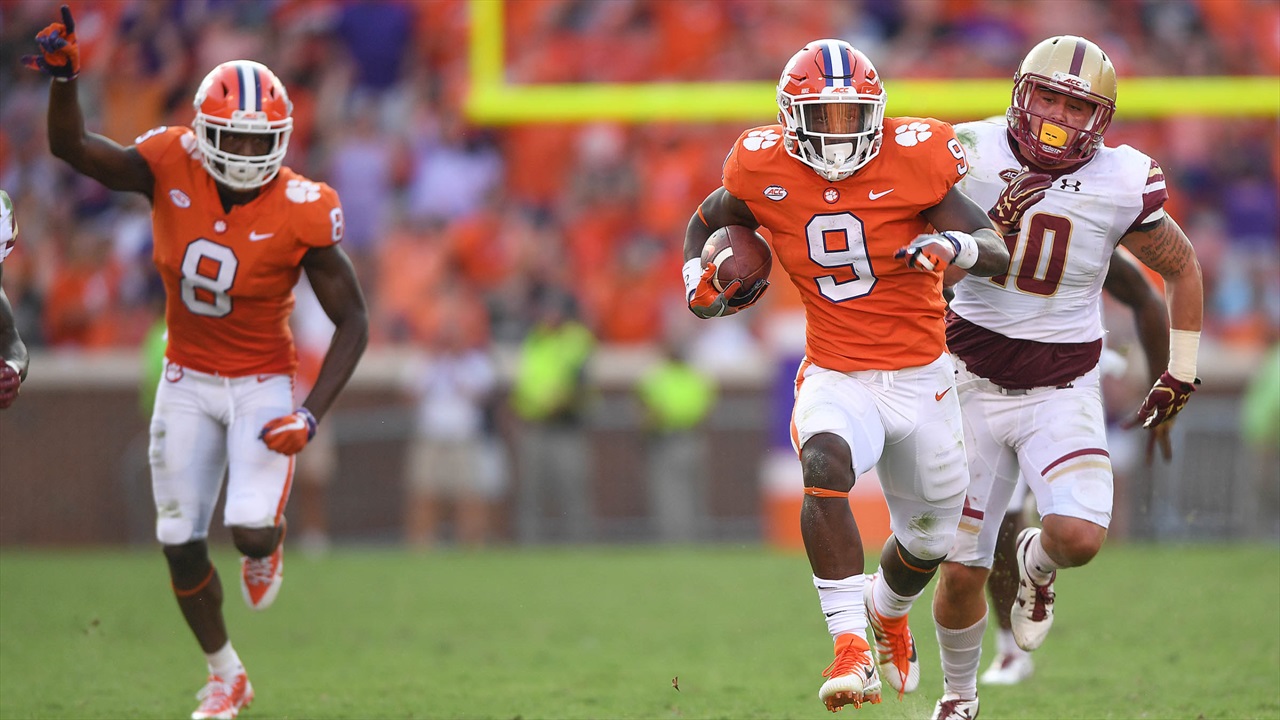 Photo by © Greenville News-USA TODAY Sports
Clemson Football
THE ROAR: Portal Out, All-Timer, and Bubble Up
---

Feel the difference - The MOST DIGITAL CONTENT covering your CLEMSON TIGERS! Avoid clickbait and sites bloated with advertising!
---
The Clemson Tigers (8-1, 2-1) face off with NC State (6-1, 2-0) tonight in Littlejohn as Brad Brownell's squad looks to open the season at 9-1. Clemson (KenPom: No. 19 overall, No. 2 adjusted defensive efficiency (86.7)) ranks third nationally in scoring defense (56.2 points per game), which is best in the ACC heading into the 7:01 PM tipoff on the ACC Network.
Yesterday, we had a chance to hear from Coach Brownell as the Tigers prepare to face the Wolfpack. Even though schedules continue to be shifted around, Brownell said that he is 'relatively optimistic' that the basketball season will finish...more on that in a minute.
If you missed yesterday's radio show, I've got you covered:
PORTAL, PORTAL, PORTAL.
Monday afternoon Clemson lost two defensive linemen to the all-mighty transfer portal. Nither Nyles Pinckney or Jordan Williams were significant contributors this past season. Pinckney played in all 12 games picking up up 22 total tackles, three tackles for loss, and one sack.
As for Williams, he added just 8 tackles along with 1 TFL. But they were certainly leaders on the team and will be missed. From the outside looking in, Williams appeared to be a jovial guy, and seeing him carrying a National Title sign will forever be burned in my memory.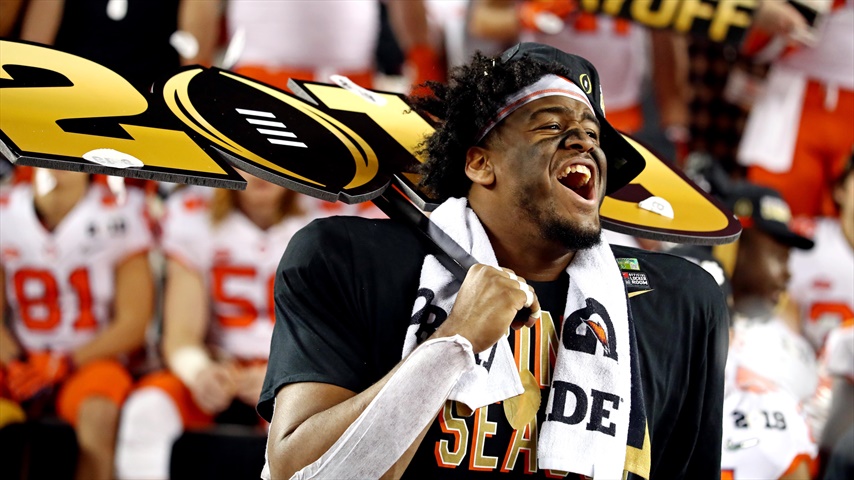 © Matthew Emmons-USA TODAY Sports
A season ago, the duo was expected to make noise as both returned from injuries. Looking at the youth movement up front, along with the considerable amount of talent at the spot, there are only so many snaps to go around.
With rosters becoming a bigger and bigger issue as any player is allowed to redshirt this year, rest assured guys will be looking for places they feel like they can maximize their opportunity, especially when their window to play is getting more narrow by the day.
ALL-TIMER.
One thing that didn't get mentioned much this past weekend was that Travis Etienne tied the College Football Playoff's career rushing touchdown record (6), joining Ezekiel Elliott and Derrick Henry for the most in CFP history.
With his first quarter 3-yard touchdown run against Ohio State, Etienne also became the ACC's all-time points leader. He's already the league's top yardage leader and came up just shy of 5,000 career yards, rushing for 4,952 yards.
He also became just the sixth player in FBS history to reach 70 career rushing touchdowns, averaging a touchdown per game this season, including the Sugar Bowl.
Etienne concluded his senior season, having scored a touchdown of any kind in 46 of his 55 career games, adding to his FBS record for most career games scoring a touchdown.
BUBBLE UP.
The NCAA tournament will be played solely in the greater Indianapolis area.
The venues that will be used to conduct the tournament are as follows:
Bankers Life Fieldhouse, home of the Indiana Pacers
Hinkle Fieldhouse, home of Butler
Indiana Farmers Coliseum, home of IUPUI
Mackey Arena, home of Purdue
Assembly Hall, home of Indiana
Lucas Oil Stadium (two courts), home of the Indianapolis Colts
Worthen Arena, home of Ball State (for emergency purposes)
© Kevin Jairaj-USA TODAY Sports
Back in November, the NCAA officially entered into discussions with the state of Indiana to designate Indianapolis as the lone host city. On early Monday morning, those discussions were finalized. The change comes as a result of the ongoing COVID-19 pandemic. Hosting the tournament at a single location provides safety in the form of less travel and a lower likelihood of a COVID spread.
We're not naive about how hard this is gonna be," said NCAA president Mark Emmert. "The pandemic is still very much alive, and it's going to be in March. ... but we owe this opportunity to provide a healthy, safe environment."
The Clemson Tigers are currently ranked 19th nationally and projected as a 2-seed in the NCAA Tournament by Mike Decourcy of FOX Sports.
NEARLY MR. 5,000.
This past season in Houston was a tough one for former Clemson star Deshaun Watson. The Texans finished 4-12, and the star quarterback recently said that the team needs a 'culture shift,' but he still lit up the league for 4,823 passing-- tops in the NFL.
After their last-second loss to the Titans on Sunday, Watson opened up about his thoughts:
"Man, it just starts with the energy and just the foundation of this program," Watson said, via NFL Network's James Palmer. "There's no real foundation in view. Everyone sees it. Everyone knows that. Got to have a guy that can come in and stand strong, stand 10 toes down and, (say), 'Hey, this is the way it's going to go, and this is the way we're going to win.'"
Even still, while losing one of, if not the best wideouts in the NFL, Nuk Hopkins in the offseason, Watson still manage to set the team record for most passing yards in a season. He also set the club marks for passing TDs (33) and the highest passer rating (112.4) in a single season.
SONG OF THE DAY.
- "You'll Never Walk Alone" - Gerry and the Pacemakers -
A BIT OFF THE PATH.
Steph Curry had a big night Sunday, putting up 62 points for the Golden State Warriors, setting a new career-high for the sharpshooting guard.
In music, Gerry Marsden, lead singer of the 1960s British group Gerry and the Pacemakers that had such hits as "Ferry Cross the Mersey" and the song that became the anthem of Liverpool Football Club, "You'll Never Walk Alone," died at 78.
I wanted to pay tribute to him with the song of the day, but the more powerful version is when Liverpool fans sing it. If you've never witnessed that in person, it's one of the most emotional moments in sports.
Let us know what you think about THE ROAR! If you liked it, make sure you SHARE!
Never miss the latest news from Clemson Sports Talk!
Join our free email list