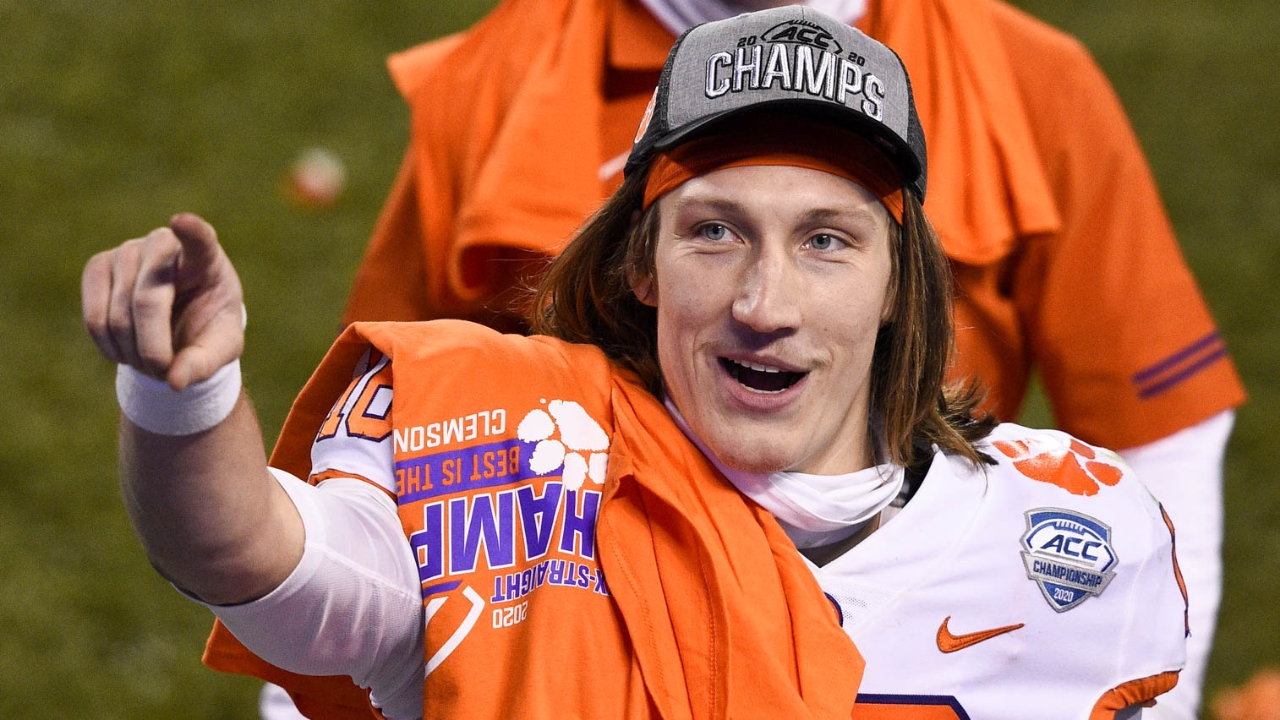 Photo by Bob Donnan-USA TODAY Sports
Clemson Football
Trevor Lawrence headed to the NFL, Thanks Tiger Nation for support
---

Feel the difference - The MOST DIGITAL CONTENT covering your CLEMSON TIGERS! Avoid clickbait and sites bloated with advertising!
Register for your FREE ACCOUNT today, and you are eligible to win a LIMITED EDITION CLEMSON FOOTBALL. ←
---
In a heartfelt message to Clemson Tiger Nation, Trevor Lawrence announced that he is heading to the next chapter in his career.
During his tenure at Clemson, Lawrence finished with 10,098 yards passing and 90 touchdowns, while leading Clemson to the College Football Playoff all three years and delivering Tiger Town a national championship in his freshman season.
"Looking back on it I hope my legacy at Clemson is that I was a great teammate, and a great person, overall," Lawrence said in a video posted to his social media. "Just more than football, more than how I played each game, I want how I treated people to be the main thing that I'm known for. I feel like over the last three years, that's the thing I've kept as a priority, is just treating people well and being a good person. So I hope that that's my legacy when I leave here."
"I've learned a lot from Coach Swinney and from all my coaches. Really Coach Streeter, offensive coordinator Coach Elliott. All the position coaches, support staff, everyone has been so good to me and treated me like family since I've gotten here and that faith aspect has really been the most important thing in my life."
"To all my teammates, over the past three years, it's been the most fun ride I've been on. I'll look back at these three years and have the best memories. Winning the national championship, winning a lot of games, and just not even that, but more so all the little moments-- being in the locker room, being at practice, spending every day together and just having those memories of just us laughing and cutting up-- just enjoying life together. Those are the things I'll remember forever."
"You know, when I look at my life as a whole, so far, just this journey of 21 years... the most formative years have been my time here at Clemson. It's taught me how to be a better man, no doubt. That's the biggest takeaway really. Obviously, it's made me a better football player, but that's kind of secondary to what it's taught me about life. I really feel like I'm a man now and I'm ready to take on those challenges, and just super excited for life ahead. The best is always yet to come, but man, I'm grateful for Clemson and I'm going to miss it. I just want to say thank you to everyone that's supported Clemson, all my Clemson family, whether that's fans .my teammates, my coaches, my immediate family-- I mean I just am so thankful for you guys. I wouldn't be who I am if it wasn't for y'all. There are so many people that have helped raise me up.
"I can't wait to see what God has next for us, but my time here has been amazing. And I'll be a Clemson Tiger forever."
Never miss the latest news from Clemson Sports Talk!
Join our free email list