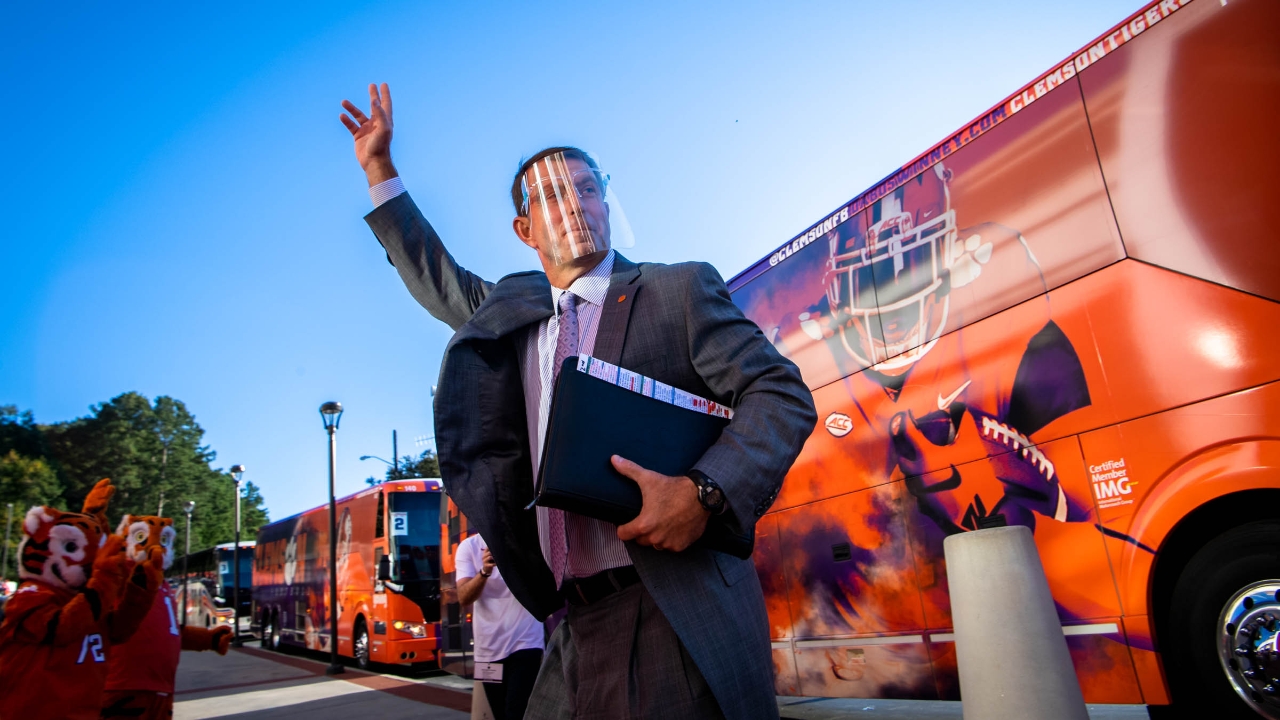 Photo by Courtesy of ACC Media Portal
Clemson Football
THE ROAR: Still the one, Attendance, and Show Me the Money
---

Feel the difference - The MOST DIGITAL CONTENT covering your CLEMSON TIGERS! Avoid clickbait and sites bloated with advertising!
Register for your FREE ACCOUNT today, and you are eligible to win a LIMITED EDITION CLEMSON FOOTBALL. ←
STILL THE ONE.
After Alabama thumped Ohio State on Monday night, the ever-popular 'Way-Too-Early' Polls started to trickle out for the 2021 season. As expected, Clemson was highly thought of by most experts.
What Dabo Swinney has built at Clemson is certainly made to stand up against attrition to the transfer portal and matriculation to the NFL. Still, after falling short of a title in back-to-back seasons, even I was surprised at how respected the Tigers have been nationally.
As we noted yesterday, ESPN and CBS Sports both ranked Clemson No. 1, but after doing some more digging, here is what I found from a slightly larger sample size.
Most sites pointed out D.J. Uiagalelei's play against Boston College and Notre Dame as a reason to believe that the Tigers will not fall off much-- even without Trevor Lawrence and Travis Etienne.
| | |
| --- | --- |
| Derick E. Hingle-USA TODAY Sports | MUST-READ: Portal Power - Losing big in back-to-back trips to the Big Easy for the College Football Playoff allows for plenty of self-evaluation, but perhaps the biggest change needs to take place off the field. |
ATTENDANCE UPDATES.
Clemson Athletics received approval from the South Carolina Department of Commerce on for facility re-occupancy plans within Doug Kingsmore Stadium, the Clemson Softball Stadium, the Duckworth Family Tennis Complex, the Clemson Indoor Track and the Clemson Rowing Facility. South Carolina Governor Henry McMaster outlined a procedure for exemptions to gathering restrictions in an Executive Order.
As part of the plan, Doug Kingsmore Stadium's reduced capacity is 1,280 spectators, and Clemson Softball Stadium will hold 366 spectators. Clemson tennis matches will be limited to student-athlete and staff guests, and Rowing and Indoor Track will be limited to essential personnel only.
Fall sports competing in the spring (Volleyball, Men's and Women's Soccer) will be under the same operations as the fall season. Capacity at Historic Riggs Field was capped at 1,000 spectators, while Jervey Gym had 250 spectators, limited to student-athlete and staff guests, as well as Clemson students.
Clemson Athletics and IPTAY will be reaching out to 2020 baseball and softball season ticket holders with more information on how to obtain tickets this season in the coming days, and detail on premium seating will be handled directly. The full schedules for all programs are expected in the coming days.
SAFETY MEASURES
Fans who are listed among the CDC's at-risk groups are especially vulnerable and should consider staying home and refraining from attending events.
Face coverings are required unless eating or drinking.
Fans will be seated in pods of two or four affiliated guests in socially-distanced pods in facilities in which spectators are permitted.
ADMISSION
Ticketing is all mobile for the 2021 season for softball and baseball.
Admission for tennis is limited to student-athlete and staff guests only at this time.
Student-athlete or staff guests will not be permitted at the Indoor Track facility.
SHOW ME THE MONEY.
This was supposed to be the week the NCAA's seismic shift for college players to be able to take advantage of their name, image, and likeness for profit; instead, that's been tabled indefinitely.
Also, if approved, the measures would allow athletes a one-time opportunity to transfer without having to sit out a season. Now, the players and coaches will have to wait.
"Name, image, and likeness legislation had been expected for months to pass this week. However, in light of a letter sent from the Justice Department to NCAA president Mark Emmert on Friday, and due to a high-profile NCAA case expected to be heard later this year by the Supreme Court, the council opted not to push forth the legislation for a vote later this week by the NCAA's Board of Directors.
The transfer legislation would have allowed first-time transfers across all NCAA sports immediate eligibility. Last fall, the NCAA approved the measures for a vote at this week's NCAA convention, but because the transfer initiative is seen as something inherently tied to name, image and likeness benefits, it too has been pushed back. The Justice Department's letter also referenced the transfer issue."
While there is no timetable for a result, it is still believed that the goal is to have these rules passed by the 2021 season.
SONG OF THE DAY.
- "Money" - Pink Floyd -
A BIT OFF THE PATH.
Hey kids, want to go to Disneyland?
That question is normally met with great cheer about the forthcoming events, but not right now...while I am happy about the COVID-19 vaccine rolling out, this was a strange news blurb I found yesterday as the California theme park is set to become a massive COVID-19 vaccination site this week, county officials announced on Monday.
Speaking of COVID-19, as we move through January, it's becoming more and more obvious that things aren't going to be 'normal' any time soon. Watching numbers skyrocket, the NBA is doing everything they can to curb the spread, including not allowing guests into players' rooms during road trips.
As for the rest of us, if I'm right, and we are not back to normal by the fall, what are you to do from now until then? Well, I've got good news for you, Netflix put out all 70 movies they are releasing in 2021. Grab a box of popcorn and get through a day or two before September 4.
Let us know what you think about THE ROAR! If you liked it, make sure you SHARE!
Never miss the latest news from Clemson Sports Talk!
Join our free email list