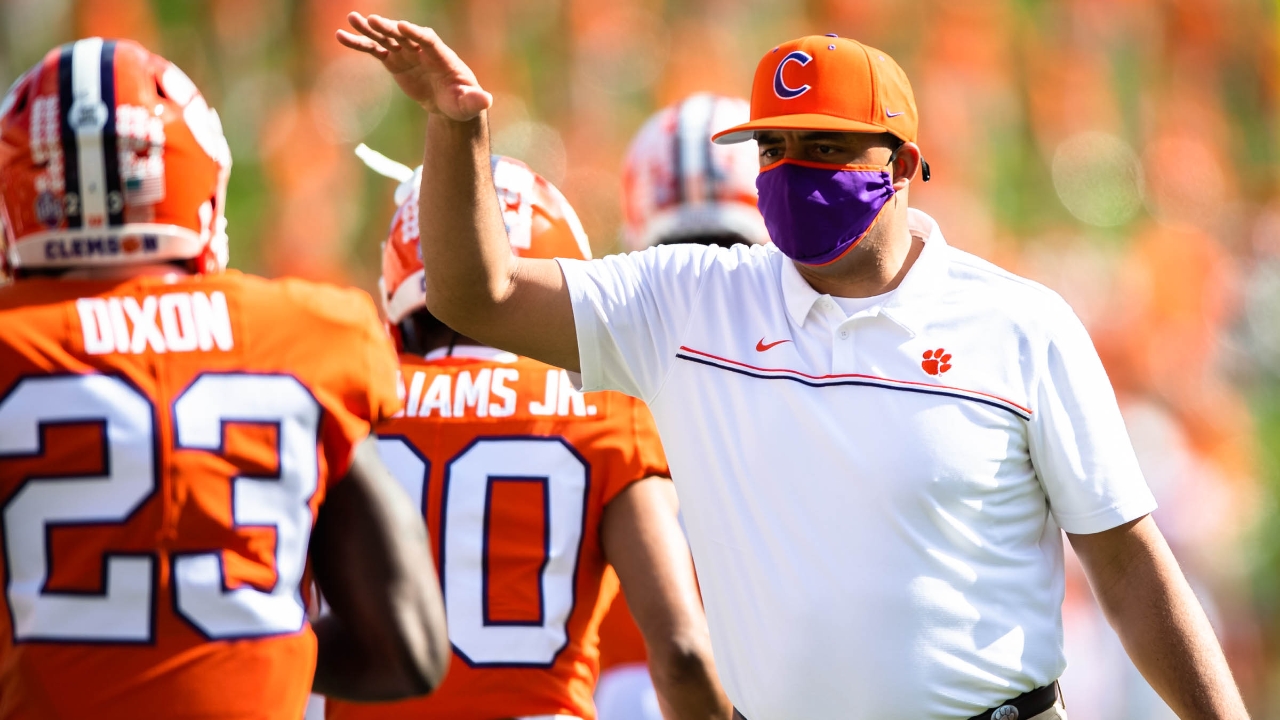 Photo by Courtesy of ACC Media Portal
Clemson Football
THE ROAR: Sticking Around | Lead by Example | A Long Walk
---

Feel the difference - The MOST DIGITAL CONTENT covering your CLEMSON TIGERS! Avoid clickbait and sites bloated with advertising!
Register for your FREE ACCOUNT today, and you are eligible to win a LIMITED EDITION CLEMSON FOOTBALL. ←
---
STICKING AROUND.
Perhaps the greatest compliment to Dabo Swinney's approach as a head coach is that Tony Elliott and Brent Venables both have had ample opportunities to leave for head coaching jobs, but both have chosen to stay in Tiger Town.
Yesterday's news that Tennessee hired Josh Heupel from UCF shouldn't be considered a surprise as Danny White recently took over in Knoxville after being at UCF himself.
The news, even for the vocal minority of Elliott detractors had to be welcomed-- especially after seeing the Tigers' offense against Ohio State in the Sugar Bowl. Being an O.C. isn't easy mentally as you get very little credit in wins and a ton of heat in a loss, or even close games.
Elliott is 80-6 at Clemson without missing the College Football Playoff-- so let me repeat something I said earlier in the week-- THERE ISN'T A RESUME that can match his from a coordinator perspective-- anywhere in the country. His time will come, but for now, he's sitting pretty and I'd argue would be the next in line to be the head coach at Clemson if he just rides it out.
From my understanding, and talking with a source near the situation, Elliott was indeed in contention and ended up telling the Volunteers that he was staying in Tiger Town.
The job in Knoxville is one, as I noted earlier this week, that is absolutely a job you take-- but not in this situation. It might have the potential to be a race car, but for now, the UT program has significant body damage and needs new tires. Those changes only get them back on the track--playing at the highest level is a whole different story.
As for Venables, my belief has long been that the spotlight that comes with being a head coach isn't something he truly desires. I get the impression that defensive film is his true love and scheming on game day is a passion for him.
Would he make an excellent head coach? Absolutely.
Would he be happy? I doubt as happy as he is now.
As long as Venables is content to stay at Clemson, I don't see any reason he would ever coach anywhere outside of Death Valley.
Again, this all comes down to Swinney's philosophy and Coach Elliott and Coach Venables both understanding that the grass isn't always greener on the other side-- especially when they spend their days on some of the greenest grass in college football.
LEAD BY EXAMPLE.
It wasn't the prettiest game, but Clemson (10-4, 4-4) knocked off No. 25 Louisville (10-4, 5-3) on Wednesday night and for the Tigers, it was a huge bounce back after falling in three consecutive games.
After the game, head coach Brad Brownell noted that he felt Aamir Simms had started to lead more vocally, but he had let up on being as assertive on the court as he needs to be for the team to be successful.
"Your voice has gotten louder than your play," Brownell said he told Simms. "But your play has to be louder than your voice."
Simms answered the challenge against the Cardinals, finishing with 16 points on 6-12 from the field with 9 rebounds and 4 assists.
The Tigers will face Duke (6-5, 4-3) on Saturday in Durham, NC.
The Blue Devils defeated Georgia Tech 75-68 on Tuesday to stop a three-game losing streak of their own. Ironically, their last loss was to Louisville (70-65).
A LONG WALK.
After nearly four decades of leading the Clemson men's golf team, Larry Penley announces his retirement following the 2021 spring season, his 38th with the program.
In the "My Story" section on ClemsonTigers.com, there are some incredible quotes and commentary on Penley's career.
Ben Martin, who played for Penley from 2006-2010 had this to say:
"There are defining moments and influential people in everyone's life and career. For my golf career, one of those moments and one of those people merged when Coach Larry Penley offered me the chance to come to Clemson."
SONG OF THE DAY.
- "Stay" - Maurice Williams & The Zodiacs - In honor of Tony Elliott staying at Clemson.
A BIT OFF THE PATH.
Don't consider this investment advice from me, because it's not, but what happened with GameStop on Monday piqued my interest...then I saw this...Reddit and Elon Musk sent GameStop stock soaring. Why AMC and BlackBerry are next.
Sticking with $$$...Super Bowl 55 commercial spots 'virtually sold out' despite dip in demand due to COVID-19.
And finally, do you remember a few days ago when I said I would watch a Sopranos Prequel??
Well, get a look at this...Warner Bros. shares a snippet of Michael Gandolfini as young Tony Soprano in the prequel, 'The Many Saints Of Newark' – yep James Gandolfini's son is playing the role and I am now dead!!
Let us know what you think about THE ROAR! If you liked it, make sure you SHARE!
Never miss the latest news from Clemson Sports Talk!
Join our free email list