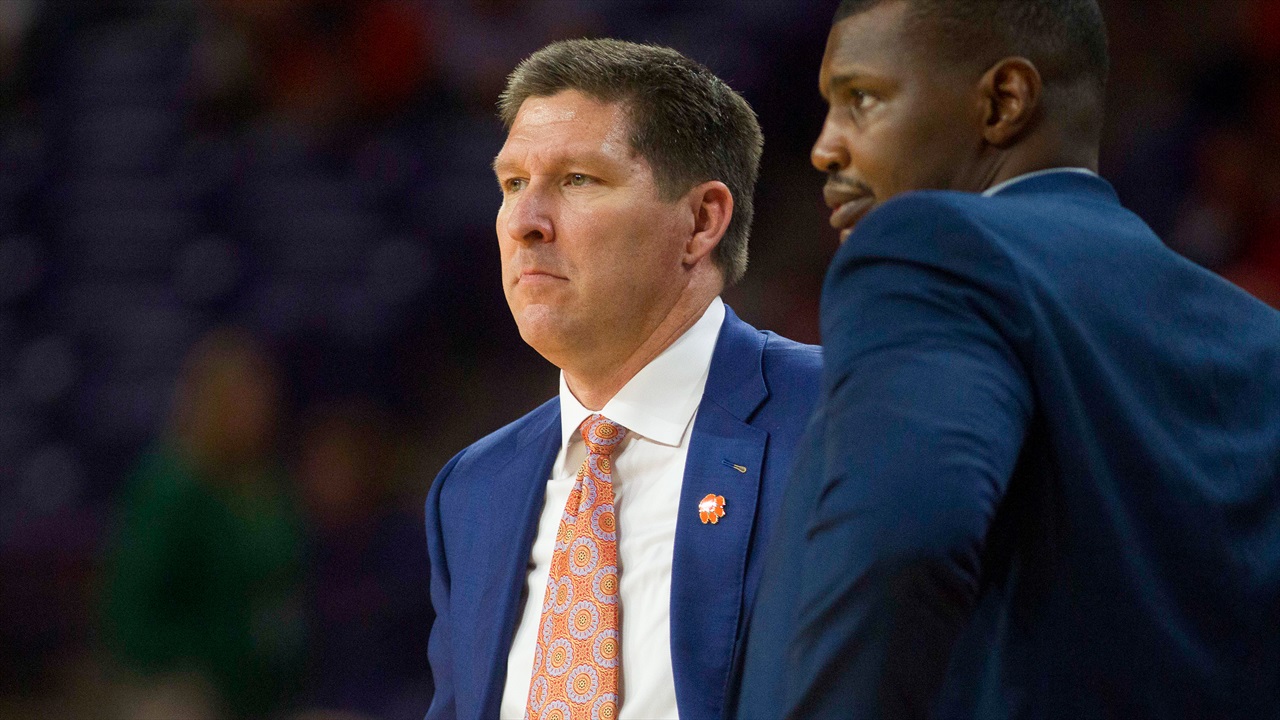 Clemson Football
THE ROAR: Hard Look | The Dawgs | Stay Sharpe
---

Feel the difference - The MOST DIGITAL CONTENT covering your CLEMSON TIGERS! Avoid clickbait and sites bloated with advertising!
Register for your FREE ACCOUNT today, and you are eligible to win a LIMITED EDITION CLEMSON FOOTBALL. ←
---
HARD LOOK.
We all know that Clemson is a football school-- and fortunately one of the best in America. Yet, this season, the Tiger basketball team showed great promise going 9-1 out of the gate, and not your normal 9-1, they had played and defeated currently ranked No. 9 Alabama and No. 16 FSU and Purdue (7-4) during that stretch. Earlier this season, ESPN's bracketologist Joe Leonardi even had the Tigers projected as one of the No. 2 seeds.
Now, following another blowout loss, 79-53, this one to a Duke team that's been discombobulated all season, I've had to take a hard look at the program.
What blows my mind is how a team that prides itself on defense has allowed teams to blister them from start to finish for nearly three consecutive weeks.
There were times on my radio show through Brad Brownell's tenure that I felt moving in a different direction was necessary, and then one day, I changed my approach and decided that there wasn't much to be gained or lost by making or not making a change.
For almost three years, I've made the argument to stick with Brownell-- thinking that it was best for the stability of the program-- and I'm not calling for a change now. However, if this team fails to make the NCAA Tournament, it will be hard to argue for another year under Brownell after such a promising start.
Looking back at the schedule, one shouldn't forget that it took an overtime win over NC State and a last-second shot from Aamir Simms to beat Miami.
Watching Mike Young at Virginia Tech have so much success isn't helping Brownell's cause, and FSU's play over the past four or five seasons has made it hard to say that it "can't be done in Clemson."
The Tigers are currently 10-5, with North Carolina looming on Tuesday night. From where I sit and based on recent evidence,10-6 and worse yet, 4-6 in the league is staring this group in the face, and I'm not sure anyone in the room or on the staff is ready to face the harsh reality that a promising postseason is slipping away.
THE DAWGS.
Last week, the ACC schedule came out, and I wanted to give it a closer look to see how the Tigers could finish in 2021.
Looking over the slate of games, things look favorable for Clemson, especially in league play. The opener against UGA will be the talk of the offseason as the Tigers and Bulldogs face off on September 4 in Charlotte. This is a game that's been in the works for a while and has rekindled the rivalry between the two schools.
Sept. 4 - Georgia (in Charlotte) - This game is the only matchup that says "toss-up" to me. J.T. Daniels and D.J. Uiagalelei, likely the starting quarterbacks on opening day, faced off in high school with Daniels, a junior, leading top-ranked (No.1) Mater Dei (CA) over rival St. John Bosco (CA) and sophomore Uiagalelei, twice in 2017. The first meeting between the two was Uiagalelei's first as a starter.
Ultimately the two schools will also face off in 2024 (Aug. 31 in Atlanta), 2029 (Sept. 15 in Clemson), 2030 (Aug. 31 in Athens), 2032 (Sept. 4 in Athens), 2033 (Sept. 3 in Clemson).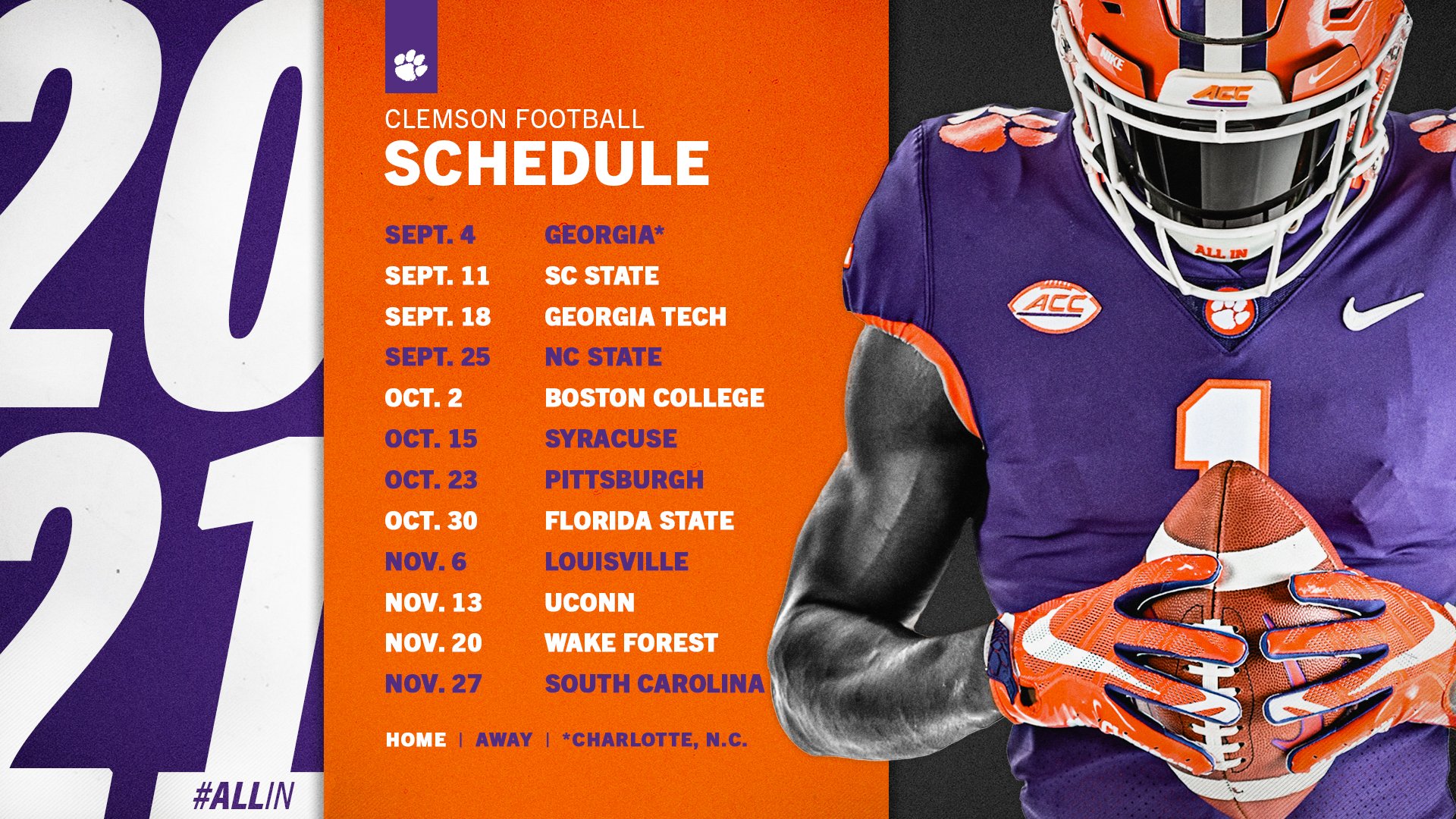 If you pick Clemson to win, there's a great chance they go 12-0 into the ACC Championship.
If you think the Tigers might fall, 11-1 would be a decent projection. For now, I'm labeling this one as a toss-up as it could go either way, though I tend to lean towards Dabo Swinney's squad.
I absolutely love this rivalry-- September 4 can't get here soon enough.
STAY SHARPE.
Sophomore Davis Sharpe (Dacula, Ga.) was named a preseason first-team All-American as the utility player by Collegiate Baseball last Tuesday. The third-year Clemson player has been in the weekend rotation since his first season as a Tiger in 2019 and has batted in the heart of the batting order as well.
In his two-year career, he is 8-5 with a 3.33 ERA and 104 strikeouts against 37 walks in 102.2 innings pitched over 19 appearances (18 starts). At the plate, he is hitting .276 with six doubles, seven homers, 28 RBIs, a .392 on-base percentage, and four steals in 51 games.
Prior to the shortened 2020 season, Sharpe was a first-team freshman All-American in 2019 and a John Olerud Two-Way Player-of-the-Year finalist, the only freshman among the five finalists.
SONG OF THE DAY.
- "Midnight Train to Georgia" - Gladys Knight & The Pips -
A BIT OFF THE PATH.
Did you know Earth had a second moon? According to Space.com, Earth's second moon will make a close approach to the planet next week before drifting off into space, never to be seen again.
It looks like the Super Bowl will feature a 60-second commercial for Uber Eats featuring Mike Myers and Dana Carvey reprising their roles as Wayne and Garth from Wayne's World. Honestly, if the game isn't competitive, the commercials really become the talk in the days after the Super Bowl.
And finally, I long for the day I can get the car and just let the vehicle do the rest while I enjoy a movie, write articles, or sleep. Hopefully, Microsoft and GM can get us even closer to that reality with their new partnership.
Let us know what you think about THE ROAR! If you liked it, make sure you SHARE!
Never miss the latest news from Clemson Sports Talk!
Join our free email list