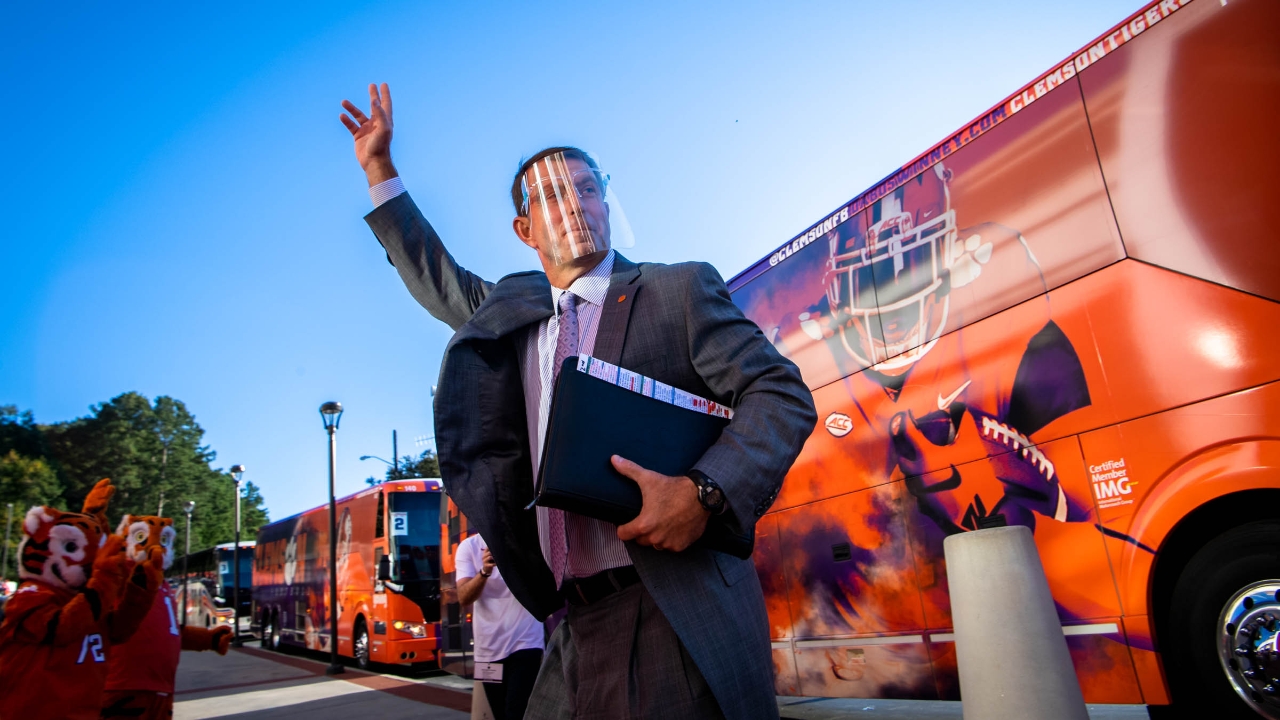 Photo by Courtesy of ACC Media Portal
Clemson Football
THE ROAR: Decisions, Decisions | FC Swinney | Bounce Back
---

Feel the difference - The MOST DIGITAL CONTENT covering your CLEMSON TIGERS! Avoid clickbait and sites bloated with advertising!
Register for your FREE ACCOUNT today, and you are eligible to win a LIMITED EDITION CLEMSON FOOTBALL. ←
---
DECISIONS, DECISIONS.
As the clock ticks down to National Signing Day on Wednesday, many schools have all the "hay in the barn" for the 2021 class given the new early signing period in December.
Clemson has taken advantage of the opportunity to shorten the recruiting season for most of their top targets by getting things squared away well in advance of Wednesday's events, but there is still plenty of work to do in the 2022 class.
Speaking of which, one of Clemson's few quarterbacks offers in the upcoming class, Ty Simpson‍, will announce his commitment on Feb. 19 from Westview High School in Martin, TN. The Tigers have only offered Simpson and Braden Davis‍ out of Middletown, DE.
While Cade Klubnik‍ would certainly trend as an offer in our estimation, right now the Tigers seem laser-focused on Simpson and Davis.
We caught up with Simpson a few months ago and reached out to him yesterday to secure another exclusive interview before his announcement.
Simpson's father is the head coach at UT-Martin so there is a lot of local pressure to stay in-state at Tennessee, but the recent events in Knoxville have certainly raised his ears a bit on the Vols.
According to reports, Simpson has enjoyed his opportunities to speak with new Tennessee coach Josh Heupel, and those conversations have gone well, but will it be enough.
Most believe this is a battle between Clemson, Alabama, and UT, but could Notre Dame (a recent offer) or another SEC school like Auburn, Ole Miss or Texas A&M slide in at the last second?
Take a look back at our interview with Simpson from last fall to get some more insight into one of the top quarterbacks in the 2022 class.
FC SWINNEY.
Dabo Swinney didn't get to have Tanner Tessmann play football in Tiger Town, but he did watch him play for the US men's national soccer team against Trinidad and Tobago on Sunday night. Tessmann, who is also the godson of Swinney, originally signed with Clemson in December 2019 to play football and soccer until FC Dallas came calling.
Cameras at the game caught the two-time national championship-winning head coach shooting video of the moment and smiling big-- even under his mask-- at his former signee.
Tessman's play continues to be stellar and many believe he is a rising star in the US Soccer Program.
BOUNCE BACK.
In yesterday's edition of THE ROAR, I talked about what we've seen from this Clemson basketball team the past three weeks-- and it's not pretty.
Defensively, they've struggled and it seems to me that things have gone from being physical in nature to completely mental. I don't think the Tigers have it in between their ears right now to answer the bell if a team starts throwing haymakers at them.
With North Carolina rolling into Littlejohn, it's a chance for Clemson to atone for a missed opportunity in January to win their second consecutive game in Chapel Hill after COVID-19 stole that matchup from the schedule.
The Tigers trail the all-time series with 22 wins to North Carolina's 133, including 17-40 in games played in Clemson, so the odds aren't necessarily in their favor.
Brad Brownell needs to coach this game like his job depends on it-- because it might. I've defended him for the past three or four seasons when the tide got tough or momentum started swinging against him, but it's time for Brownell, his staff, and his team to swing for themselves.
SONG OF THE DAY.
I hope you all are having a great Groundhog's Day!
- "Pennsylvania Polka" - Frank Yankovic -
A BIT OFF THE PATH.
I know the majority of news around COVID-19 has been bad news, but how about this story about a mom who gave birth while in a coma battling the virus, finally getting to meet her newborn child?
So far in THE ROAR, I've dropped some interstellar news on you from time to time-- I hope you have been paying attention because Elon Musk wants to send civilians into space later this year.
Finally, check out Nike's new Go FlyEase hands-free sneaker that snaps around your foot. It's not quite like Marty McFly's self-fitting shoes, but maybe this is the future.
Let us know what you think about THE ROAR! If you liked it, make sure you SHARE!
Never miss the latest news from Clemson Sports Talk!
Join our free email list