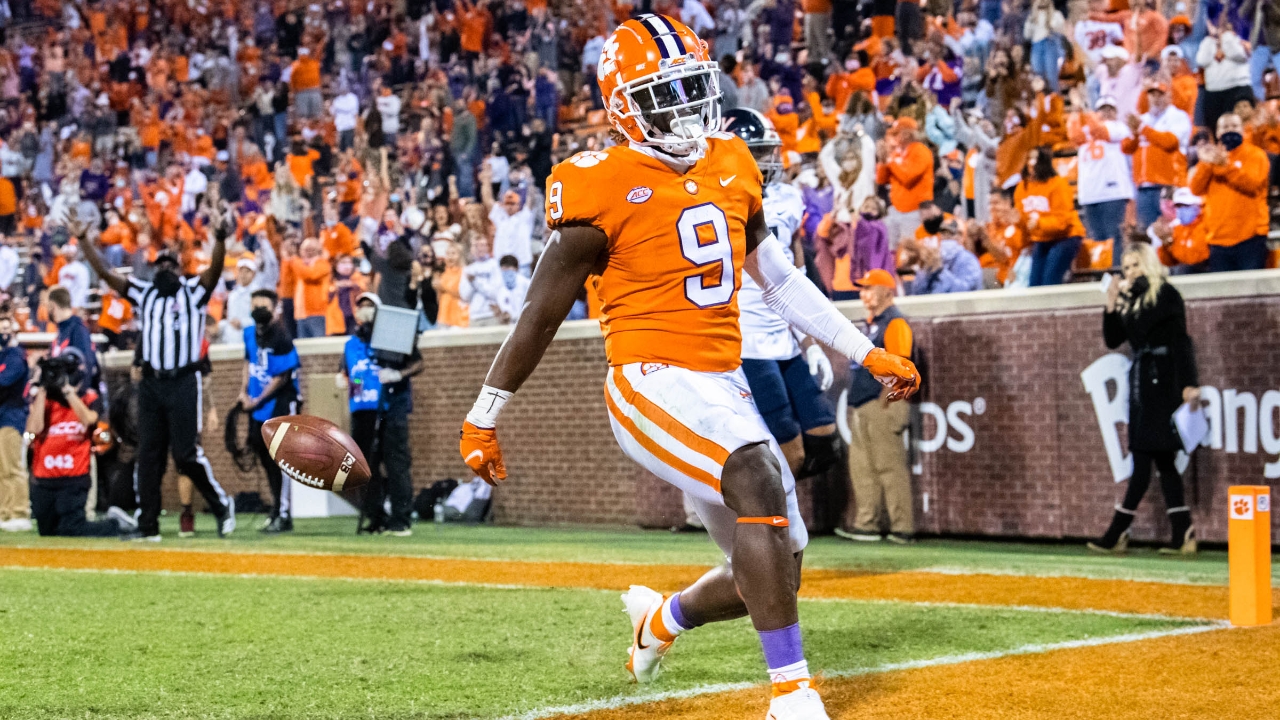 Photo by Courtesy of ACC Media Portal
Clemson Football
NFL team to Travis Etienne's former coach: "What's wrong with him?"
---

Feel the difference - The MOST DIGITAL CONTENT covering your CLEMSON TIGERS! Avoid clickbait and sites bloated with advertising!
Register for your FREE ACCOUNT today, and you are eligible to win a LIMITED EDITION CLEMSON FOOTBALL. ←
---
Trevor Lawrence will make history when the Jacksonville Jaguars select him No. 1 tonight during the NFL Draft. Lawrence will become the first Clemson football player to take that spot, surpassing four other Tigers who have been selected No. 4 in the past (Banks McFadden 1940, Gaines Adams 2007, Sammy Watkins 2014, Clelin Ferrell 2019).
While the sports world has known for months where Lawrence is headed, for Travis Etienne, who is expected to be the second Clemson Tiger and first or second running back off the board in the draft, his destination is variable, and his stock is rising.
"It seems like that stuff changes every hour," Rusty Phelps, Etienne's former head coach at Jennings High in Louisiana, told Clemson Sports Talk. "One day, it's Tampa Bay. You may flip, and the next, it's the Buffalo Bills or it's the Dolphins. So I don't know. It's anybody's guess."
Phelps is in constant contact with his former player and has been since the quiet, humble small-town hero left Louisiana for Clemson, SC.
A lot has happened between the first 741-mile trip to Clemson and four years spent at the University for Etienne. He became a College Football National Champion and the All-Time ACC rushing leader, just to name two accolades. He also won four ACC championships and played in many national televised games. His college career had it all, and now he is hours away from being a professional athlete.
"It's Travis. He's just the same Travis," Phelps recalls from recent chats with Etienne about the upcoming draft night. "I can tell that it's weighing on his mind. He's still laughing and stuff, but you can tell that he has it on his mind. I think he's ready for it. He's ready to find out who selects him so that he can go to work."
It may seem unbelievable that a soon-to-be millionaire from a town with a population of about 10,383 would not begin to feel the weight and pressure of the moment.
Many were shocked when he decided to return to Clemson for a fourth year after winning consecutive ACC Offensive Player-of-the-Year awards and having the opportunity to turn pro, but he wanted to improve as a blocker, pass-catcher, and more importantly, get his degree.
"We're very proud of Travis. And, of course, if you take football out of the equation, we are still proud," said Phelps. "The goal is to get a college education; that's what we focus our kids with here. Yeah, he's a perfect example. We've had several, but he's a perfect example of how you can be great in both and make it."
Phelps expects the best of his players just like Clemson head coach Dabo Swinney and operates his program in a similar way. Etienne was a model student-athlete for both programs and deserves the praise heaped upon him, but is he too good to be true?
"Well, one club asked me, 'What's wrong with him?' Phelps noted from a phone call with one of eight NFL teams who contacted him with inquiries about Etienne. "They got his college transcript in front of them. They got his high school transcript, and there's not a blemish on it. They're like, 'Coach, even our background check didn't turn up anything.'"
Phelps said whatever team selects Etienne knows they are getting a great player and a model citizen for the community. He said each team has done extensive research on him, and based on conversations, Etienne checks the boxes for them.
Etienne has left his mark on two football teams, two states and two communities. His fans from each will be watching Thursday with excitement to see where he lands next, but no one will be watching more intently than the Jennings parish.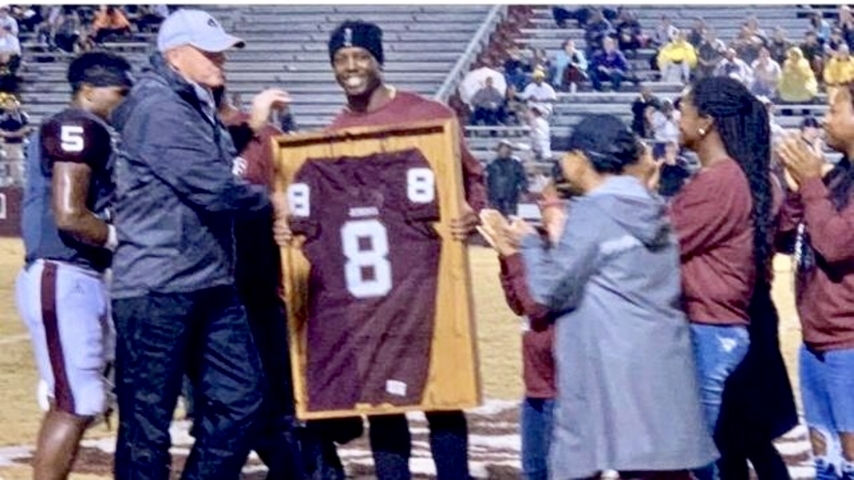 "It's a big day for us in our community in Southwest Louisiana," Coach said. "He is one of the most highly decorated players to come out of the state of Louisiana and football. The people here are anticipating this day. He has kept his ties in the parish and remained in touch. On Thursday, there'll be a lot of anxious people - I'm going to be - just waiting to find out what's next in this chapter of his career."
There are a few teams, the New York Jets, Buffalo Bills, Miami Dolphins, and even the Jaguars, mentioned as possible teams for Etienne, but due to confidentiality, Phelps couldn't tell me if those teams spoke to him or which team asked, "What's wrong with him?"
NFL personnel have been known to ask unusual questions and have players do downright silly things. For example, Etienne said during an interview he was asked to write and perform an 8-bar rap. He said the rap was straight, but he hopes it never gets out.
Phelps said he didn't feel he was asked anything weird or unusual. Not even, when he was asked, "What's wrong with him?"
He said that question was direct, which caught him off guard more than anything, and his reply was honest and simple.
"I said nothing," Phelps stated. "I was like it's okay for people to still be good people and [to] have somebody like that. I said that's a tribute to his family and him that he led that type of lifestyle and wanted to do the right thing."
Etienne and Lawrence will not be in Cleveland for the NFL Draft. Etienne chose instead to watch the coverage on TV with friends and family in Dallas, TX, while Lawrence will take in his moment to shine in Tiger Town.
Never miss the latest news from Clemson Sports Talk!
Join our free email list
PRESENTED BY