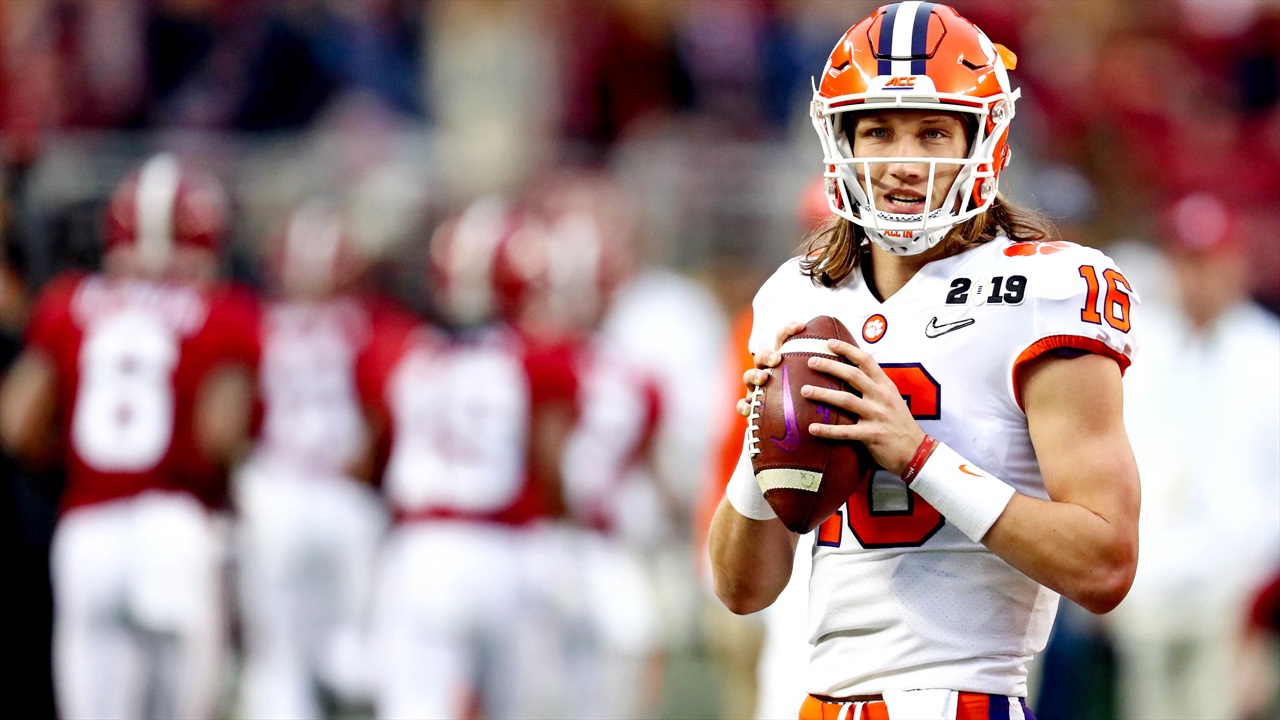 Photo by © Matthew Emmons-USA TODAY Sports
Clemson Football
Trevor Lawrence selected No. 1 in 2021 NFL Draft by the Jacksonville Jaguars
---

---
As expected Trevor Lawrence was selected No. 1 in the 2021 NFL Draft by the Jacksonville Jaguars. The Cartersville, GA native became Clemson's highest selection in the draft passing four former Tigers who were each selected No. 4 dating back to the Brooklyn Dodgers selection of Banks McFadden in 1940. Other former Tigers selected 4th include the late Gaines Adams (Tampa Bay, 2007), Sammy Watkins (Buffalo, 2014), and Clelin Ferrell (Oakland, 2019).
NFL.com describes Lawrence: "Refined and polished for his age, Lawrence is the ultimate prototype for today's brand of franchise quarterback. He has great size. He also possesses elite pocket-passing qualities paired with dual-threat athleticism that makes him an unpredictable weapon on every down if play-callers are willing to expand their playbooks for him. While he's fairly polished with his approach from the pocket, he has better improvisational talent than many of the quarterbacks who have come up through the quarterback camp circuits from a young age. He has the arm and eyes to make all the throws and to create explosive plays from outside the pocket. There are some areas of concern, though. Lawrence's poise, decision-making and accuracy all took a hit in 2020 when he was forced to work under pressure. His performance against Virginia Tech showed there is still room for improvement with how he processes his options against the blitz. There were times when he looked encumbered by his play-action-heavy, shotgun offense. Getting away from that system could help him post-snap. He's generally a smooth operator, with an abundance of experience and tape against high-level competition over three seasons. His body of work should give NFL teams a clear view of who he is and the type of player he could become. Lawrence has an extremely high ceiling and a floor as a very good player who will start for a long time."
According to ClemsonTigers.com:
"Recorded one of the most celebrated careers by a quarterback in college football history from 2018-20, leading Clemson to a national championship as a true freshman in 2018 and serving as the face and voice of the sport in the two seasons that followed … concluded his career 34-2 (.944) as a starter, the third-best winning percentage by a starting quarterback with at least 30 career starts since Division I split in 1978, trailing only Miami's Ken Dorsey (.950) and USC's Matt Leinart (.949), according to ESPN Stats & Info … exited as the winningest starting quarterback in Clemson history, surpassing the 32 career wins held by Rodney Williams, Tajh Boyd and Deshaun Watson … finished second in 2020 Heisman Trophy voting, tying Deshaun Watson for the highest finish in school history … completed 758-of-1138 career passes (66.6 percent) for 10,098 yards with 90 touchdowns and 17 interceptions for a pass efficiency rating for 164.26 in 2,237 snaps over 40 career games (36 starts) … also rushed 231 times for 943 career rushing yards and 18 rushing touchdowns, the fifth-most career rushing touchdowns by a Clemson quarterback in the modern era … finished career undefeated as a starter in regular season play and did not lose a regular season game at either the high school or collegiate levels … made five career College Football Playoff starts, tying Jalen Hurts for the most by a quarterback and setting the record for the most at a single program … exited with Clemson career records in career winning percentage (.944), pass efficiency rating (164.3), yards per passing attempt (8.87) and tying for the most wins against Top 25 opponents (nine) … finished in the Top 5 in school history in career completion percentage (66.6, second), passing touchdowns (90, tied for second), interception percentage (1.49, second), passing yards (10,098, third), total offense yards (11,041, third), touchdown responsibility (108, third) and completions (758, fourth) … started the final 11 games in 2018 as a true freshman in helping Clemson become the first major college football team in the modern era to go 15-0 … helped the squad win each of its last 10 games by 20 points or more … became the first true freshman quarterback to lead his team to a national title since 1985 … was a consensus freshman All-America honoree who earned a bevy of nation-wide and conference-wide honors for both his athletic and academic success … his 164.26 career pass efficiency rating broke Jameis Winston's ACC career record (163.28 from 2013-14) … first quarterback ever to win three ACC Championship Games … was only the sixth quarterback in ACC history to record 10,000 career passing yards and finished tied for third in conference history in career passing touchdowns."
Head Coach Dabo Swinney: "The Jaguars are getting a winner, capital W-I-N-N-E-R, WINNER. They're getting a great human being, great leader and a highly skilled football player. He is a mentally and physically tough football player. He's fast, he's big, he's strong, and he is an incredibly equipped and skilled quarterback. He just really has great command of the position, an understanding of football, aptitude for football, understanding of defense. Really, there is not anything you could ever want in a quarterback that he doesn't possess. But the No. 1 thing that they're getting is a great man of faith, great character and the ultimate winner. If you go all the way back to middle school, he has not lost many games. And I think he is going to be a guy that impacts the community, will impact the coaching staff, will impact free agency, and really do it in an incredibly humble way. Great spirit, a guy that has got his feet on the ground and really 'gets it' in every aspect of what his responsibility and what his role will be, not only in the organization but within the community and the NFL."
Passing Game Coordinator/Quarterbacks Coach Brandon Streeter: "I can't say enough good things about Trevor Lawrence and what he's about not only on the field but especially off the field. Obviously, his talent that we all see is ridiculous, but in all areas he has performed so well. I'm just excited about his opportunity to move on to the next level. I think his locker room presence, him being an unbelievable teammate and just his character in general are off the charts. His perspective on life is exactly what you want. I'm so proud of him and excited for this opportunity in his life."
Never miss the latest news from Clemson Sports Talk!
Join our free email list