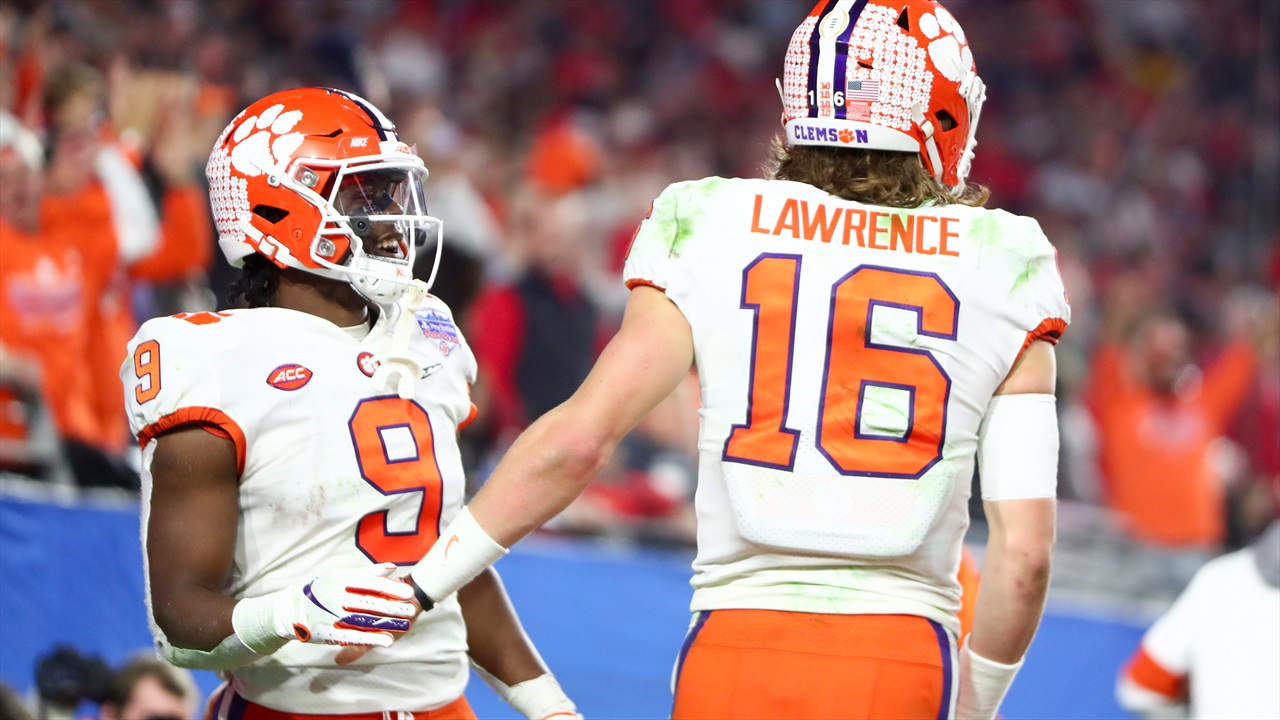 Photo by © Mark J. Rebilas-USA TODAY Sports
Clemson Football
Lawrence and Etienne poised to begin new journey together in Jacksonville
---

Register for your FREE ACCOUNT today, and you are eligible to win a LIMITED EDITION CLEMSON FOOTBALL. ←
---
JACKSONVILLE, F.L. – When newly-drafted Jacksonville Jaguars quarterback Trevor Lawrence fielded his first question from local media, he took a moment to simmer on his answer.
He glanced over to his left. Next to him sat his new boss, an all-too-familiar foe turned friend from Lawrence's collegiate playing days. Jaguars head coach Urban Meyer — also entering his first season in Jacksonville — smiled back at Lawrence.
The question? A reporter asked Lawrence about his favorite Travis Etienne play from back in Tiger Town.
Lawrence knew exactly how he wanted to answer. He just had to make sure it was okay with his new coach first.
"I really hate to say this in front of coach," Lawrence paused.
"But Travis had two plays against Ohio State that were pretty darn special."
The entire room burst into laughter as Meyer sarcastically threw his hands in the air. Jaguars owner Shahid Khan grinned proudly at his brand new franchise quarterback.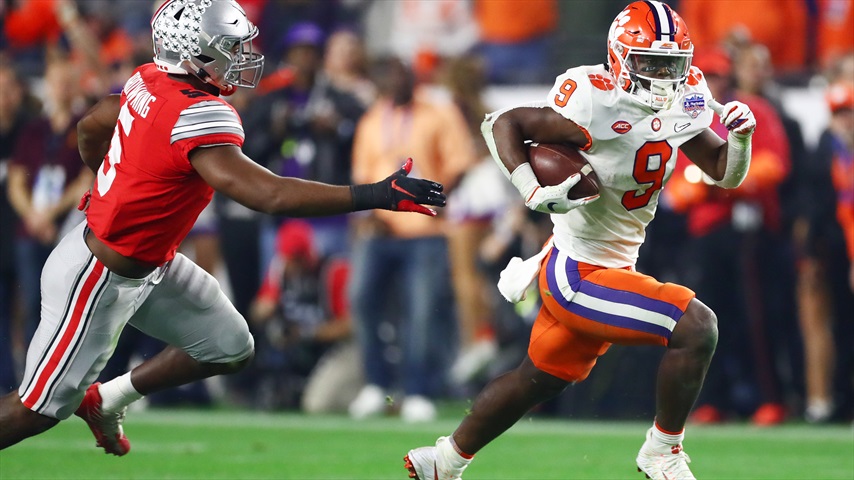 © Matthew Emmons-USA TODAY Sports
For Jacksonville — a city starved of legitimate NFL contention since the Jaguars' 2017 playoff run — the room radiated feelings of a new era's inception.
For a franchise typically regarded as a bottom-feeder, Clemson, S.C. may have just shipped over a fast-track to the top.
With the first overall pick, the Jaguars did what every football analyst in America guaranteed from the start. They drafted Lawrence. One of the most highly-touted quarterback prospects of all time, the selection was a no-brainer.
But with their second pick (No. 25 overall), Jacksonville made a move few saw coming.
They paired Lawrence with Travis Etienne, his backfield mate in Clemson and the ACC's all-time leading rusher.
"I was honestly not expecting it at all," Lawrence admitted. "We were just celebrating after I got picked, taking pictures and all that. But we knew Jacksonville was picking again at number 25. I didn't know who we were going to take."
Just before the Jaguars' pick was announced on television, Lawrence felt a buzz in his coat pocket. He reached in to pull out his phone, and that's when he saw the message flash across the screen.
Etienne was going to join him in the Sunshine State.
"It makes it so great, having someone to come with me from Clemson. It's awesome. And he's just special, not only as a player, but also as a person. I'm thankful to be able to have a former teammate come along with me on this new journey."
As Lawrence left the podium following the conclusion of his press conference, he dapped up Etienne, who was on his way to speak.
When the whistle blew on their final moments in Clemson, the pair knew they held pens ready to write prosperous futures. What they didn't know, however, was that they'd continue writing them together.
Urban Meyer dived into his reasoning behind drafting Etienne.
"Dabo Swinney and I go way, way back," he said. "So, we've had some really good conversations about both Trevor and Travis… but I saw firsthand the violence [Etienne] plays with. I saw his speed. And speed wins."
"We [the Jaguars] were a team that really struggled with big plays last season. We needed some big-play hits, and we didn't have any. But Travis, he's got that gift. That guy touches the ball, and there's a chance it's going all the way. And he's going to be someone that's here grinding every day. That's important to this organization."
Etienne then piggy-backed off a comment made minutes prior by Lawrence. In order to continue making big plays together, Etienne says, they only need to do one thing: keep being themselves.
"Our whole careers, we've been making big plays; that's how we've made it to this point. No need to change who you are and who you've been. We've just got to get in the weight room, get in the film room, learn the playbook. If we continue to take care of the things we've always taken care of, the rest will take care of itself. And there will be plenty of big plays around here."
Etienne says he wanted to go to Jacksonville all along, long before the draft began. His reasoning couldn't have been more simple.
"I knew Trev was coming here," Etienne said, laughing. "You'd be crazy not to want to play with Trevor Lawrence. And it brings me that sense of normalcy... We've built a lot of chemistry over the past three years. We always stayed after practice together and just kept working, kept working. And you see how it pays off; you see it on the field now.
"I'm just thankful that I have Trev and that we're on the same team. Now we don't have to fight against each other."
Never miss the latest news from Clemson Sports Talk!
Join our free email list
PRESENTED BY