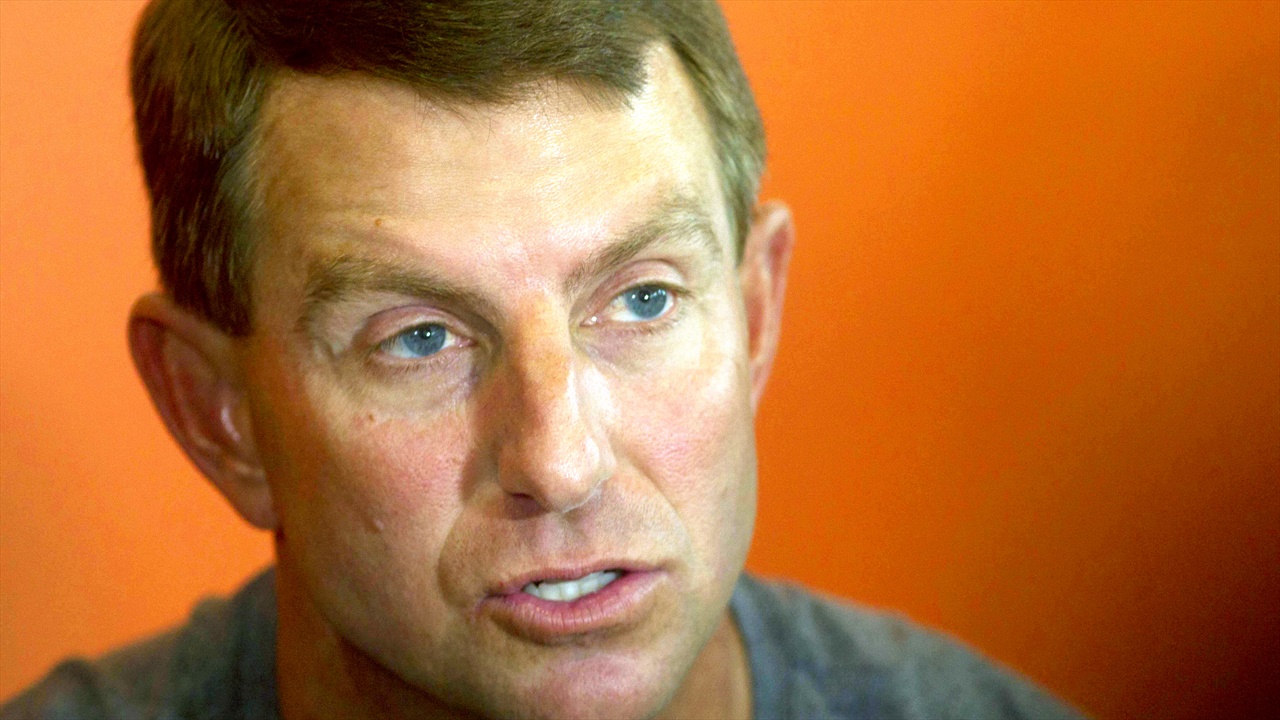 Photo by © Joshua S. Kelly-USA TODAY Sports
Clemson Football
Dabo Swinney on a 12-team playoff, "I'm not for it."
---

Feel the difference - The MOST DIGITAL CONTENT covering your CLEMSON TIGERS! Avoid clickbait and sites bloated with advertising!
---
On seeing the media face-to-face:
"It's been a long time since I've seen a lot of y'all in person, especially this close-up. So really appreciate the opportunity to be with y'all-- truly-- in person and see everybody other than on the Zoom, where you couldn't hear half the time or whatever. So excited to get going."
On getting back to work:
"So excited about our team. This is I think this is that time of year where there's always a lot of enthusiasm for every team. Same here, you know, for me, every team is like one of your children, if you will, they've all got your DNA, but they all have a different personality it's always different makeup. It's always fun to see them grow and mature and develop and this team has really done a good job since January."
On the quarterback room:
"Our quarterback position, obviously D.J.(Uiagalelie) got some great experience last year. He's a tremendous young player. He's hungry to go be the guy, to go do it. I love that hunger that's in his eye. Taisun, the good news on him is we're gonna get him back. Initially, it's a tough injury-- you don't really know. He is just been phenomenal with his recovery, so we're going to get him back sooner than later and certainly back before this season is over. He's gonna have an opportunity to be back with us."
On if the team is 100% vaccinated:
"No, they're not. I wish I could tell you, we were all 100% we're not they're not all vaccinated, but we're in a good spot, hidden, hidden in a good direction. I think a lot of these kids as it gets closer to the season, I don't know that they've really not had any fear of missing out on anything. I think there's more motivation for all these teams, as they kind of get back going in all these sports."
On being vaccinated:
"I got vaccinated back in March, and I'm grateful, thankful for that. I mean, I'm thankful that we have that option, this time last year we didn't have an option. There was no option. You just had to manage the best you could. We've done everything we can to educate and provide great information and encourage these guys to talk to all the doctors. That was the biggest thing for me. I mean, I don't know a single doctor, that I trust, that I talked to, said, 'Don't get it.' They all said, 'You need to get it.' and I trust my doctor. It's a decision everybody's got to make but we certainly have done a great job of trying to educate and make it available and all that type of stuff. Our team's in a good spot, not quite where we need to be, but I think we'll get there."
On the push for a 12-team playoff:
"I'm not surprised. I'm not for it. I wasn't for the 4-team. I don't ever get it right. I love the college game. I loved it when it was a big deal to be Top 25, Top 15, Top 10. Go win the bowl game, a couple of teams over here-- somebody is gonna be the national champion. I mean, it's 130 teams, you know. So I just always loved that. I knew that when it went to four, it was going to come all about the playoff, and then it goes to 12 it's going to become more about the playoff. That's inevitable. It just is what it is."
On why Swinney doesn't want the playoff to expand:
"Some people will say, 'Well, yeah, well, you've been in the playoffs,' I mean we can get in with four we're gonna get in with 12-- our odds aren't going to go down. So it's not about that. Our team isn't for it. I've met with my team, they don't want to play more games. And to be honest with you, I don't think there's 12 teams good enough. So you're gonna play more games-- just to play more games. I think the more you expand it, the less important the season becomes."
Never miss the latest news from Clemson Sports Talk!
Join our free email list
PRESENTED BY