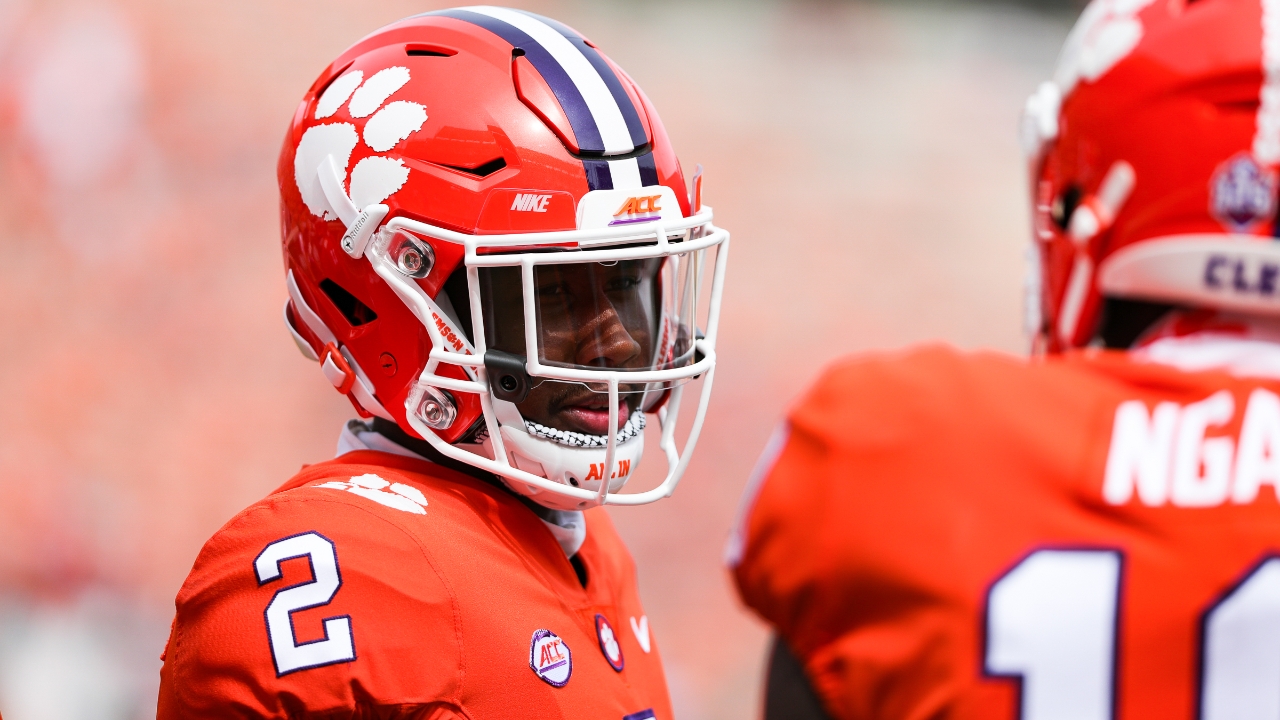 Photo by Courtesy of ACC Media Portal
Grisham sees health, toughness as keys for talented juniors to be at their best
---

Feel the difference - The MOST DIGITAL CONTENT covering your CLEMSON TIGERS! Avoid clickbait and sites bloated with advertising!
---
In early June of 2020, Clemson football announced that receiver Justyn Ross would miss the 2020 season. After being slowed late in the 2019 season by stingers, he needed surgery to repair a congenital fusion condition of his neck and spine.
Without Ross, who led the team with 66 receptions and eight touchdowns, sophomore receivers Frank Ladson and Joseph Ngata were expected to be deep threats and compete for jump balls in the 2020 offense -- but the pair suffered injuries.
"But [if] those guys hadn't experienced the injuries, he [Ngata] and Frank (Ladson), having experienced the injuries they had last year, and how frustrating that was for them -- for me," said wide receivers coach Tyler Grisham. "Talking about a depth chart and kind of having to roll guys in-- that was tough for our team. They don't want to be in the same situation."
While the 6-foot-3 sophomores were in and out of the lineup, senior Amari Rodgers, redshirt senior Cornell Powell, sophomore Brannon Spector, and freshman E.J Williams were the only receivers available every game for Grisham.
Ladson had a nagging foot injury. In eight games, he caught 18 passes for 281 yards with three touchdowns. In the final two games versus Notre Dame and Ohio State, a hobbled Ladson was limited to one reception.
The former No. 9 receiver in the 2019 class flashed his speed and explosiveness in early games against The Citadel, Virginia, and Miami. Ladson, a Florida native, had three receptions for 43 yards against Miami but also dropped a potential touchdown pass.
"I think just consistency in his catching, and he's worked his tail off, trying to be just a sure pass catcher, a confident pass catcher," Grisham said of what he needs to see from Ladson.
In further discussions of Ladson, Grisham referenced the dropped pass against Miami as an example of Ladson's inconsistent pass-catching but also his mental toughness.
"He came right back and had a third-down conversion route where you had a press corner, had a great release, released outside, had a tougher catch, and made it and finished the over-the-shoulder catch, those aren't easy when you have a guy draped on you. He came back and finished it.
"I said, 'Hey, man, listen, like that is an example of being confident that's an example of being a mentally tough guy.'"
Ngata saw even less action in 2020 than Ladson. In four games, the powerfully built 220-pounder totaled just seven receptions for 83 yards and no touchdowns.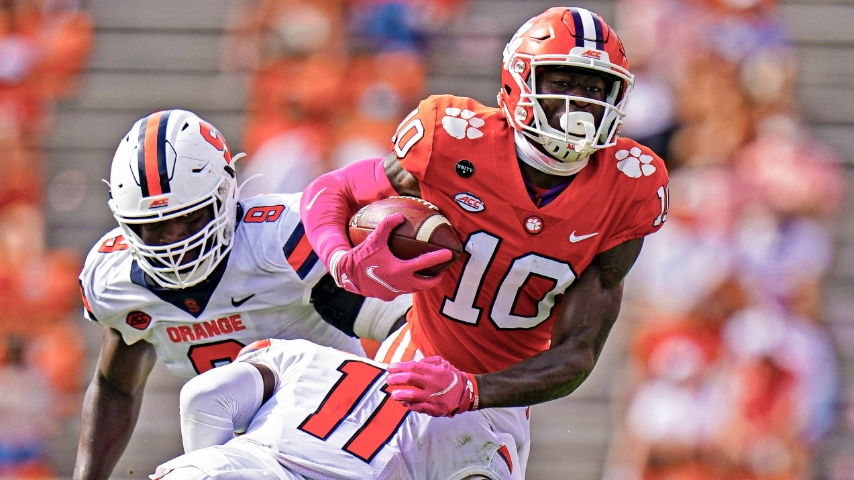 An abdominal injury slowed him and a later surgery shut him down completely for a few games.
"You saw the spring game, and you saw what Ngata did and how dominant he can be because he's such a physically dominant guy," Grisham noted. "I'm really hoping that the light comes on, and we're hoping that he stays healthy. And, you know, is who we think he can be?"
Ngata caught six passes for 83 yards in the Orange and White Spring Game in April.
A journalist reminded Grisham that as he recalled Ngata was not 100 percent in the spring game and asked was Ngata's performance an example of the "toughness" and "pushing through" that Grisham talked about earlier in the press conference.
"Yeah," Grisham answered. "That's part of it. I mean, part of being a football player is playing through discomfort."
Grisham also said that Ngata was tough and the injuries were out of his control.
If Ngata can stay healthy, it bodes well for Clemson and his football career.
"Some are calling him a first-rounder, and I expect him to be a first-rounder," stated Grisham. "That's what I would love for him. I think that's his expectations. He would say he has the talent-- he can be a first-round guy. I would love to see that happen for him."
The Clemson offense and the team's chances of returning to the College Football Playoffs would benefit greatly if Ngata, Ladson, who missed the spring game, and Ross return to past forms in 2021.
The trio must stay healthy.
"I think the guys are doing well, talking to our trainer Danny Poole," recalled Grisham. "Those guys [training staff] do a phenomenal job for us while we are away. So we expect to be at full strength heading into camp."
Never miss the latest news from Clemson Sports Talk!
Join our free email list
PRESENTED BY