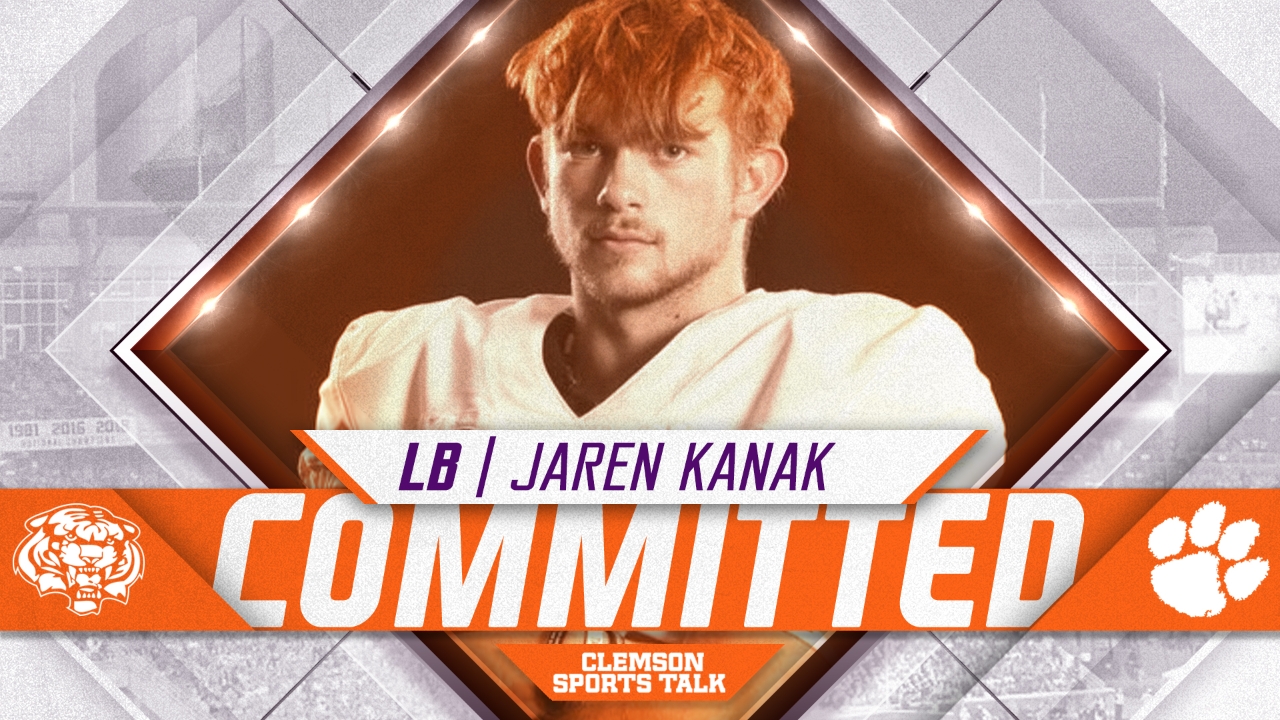 Clemson Football Recruiting
Four-star Kansas linebacker headed to Clemson
---

Feel the difference - The MOST DIGITAL CONTENT covering your CLEMSON TIGERS! Avoid clickbait and sites bloated with advertising!
---
Athlete Jaren Kanak‍ committed to Clemson football on Friday night. Kanak had not previously announced a commitment date but sent out a tweet at 11:47 a.m. on Friday that he would commit at 7:00 CST.
Kanak is from Hays High in Hays, KS and his head coach Tony Crough grew up in the same area of Kansas (Salinas) as Clemson defensive coordinator Brent Venables.
Venables was able to use his connection to the state to attract former Tigers linebacker Isaiah Simmons to Clemson in 2016. Simmons was listed as an athlete for North Olathe High in Olathe, KS and the No. 3 player in Kansas.
Kanak is the No 1 player in the state and No. 10 athlete in the 2022 class. Crough said he and Venables have talked about the Kansas connections.
"We have definitely talked about the Kansas connections," Crough told Clemson Sports Talk. "It's just hard not to acknowledge it all. Now we're four and a half hours away from [Olathe]. We're almost on the other side of the state but still it's another Kansas kid, so it's pretty cool."
Crough said they have also talked about the similarities between Kanak and Simmons.
"We've made the comparison a lot," recalled Crough. "I mean, Isaiah's a freak. Now, that's a big long joker. Jaren's not quite like that as far as his frame and everything, but he sure does a lot of the same things that Simmons can do."
"I think what he could project at the next level is you can do a lot of those same things with him, because he's got a lot of the same skill sets," stated Crough. "He's just not quite as long, but he moves a lot like that, just similar to him."
Simmons came to Clemson as a skinny 6-foot-3, 205-pound versatile player for North Olathe. He played safety on defense and receiver on offense. He is now a second-year 6-foot-4, 248-pound linebacker for the Arizona Cardinals.
Kanak is 6-foot-2, 210 pounds, and Venables plans to line him up at linebacker or use him as a hybrid safety. He is used similarly at Hays so moving around at Clemson won't be a problem.
"We try to put him wherever we feel like the offense is gonna attack that week," said Crough when asked about Kanak's versatility. "We've had him in the secondary. We put him out on receivers. We've put him down in the box. We've put him at high safety. We put him in at low safety. We've walked him down to defensive end. We just kind of put him in whatever is going to be the biggest issue for the offense that week - whatever their strength is.
"If you're talking big receivers, tight ends, big slot receivers, and running backs, he can cover all those guys," Coach added. "That's the stuff he's going to do. We're going to put him everywhere because he's smart enough to do it. He's got the ability to move around wherever, week to week."
Kanak also has great speed like Simmons, who ran a laser-timed sub 4.4 in the 40-yard dash at the NFL Combine. Kanak was clocked at 10.37 in the 100-meters in May.
Kanak competes in the 100 and 200-meter sprints, long jump, and anchors the 4x100 relay team.
Clemson was able to hold off a strong push from Alabama, Florida, Georgia, Kansas State, Michigan, and Oklahoma for Kanak's pledge.
Never miss the latest news from Clemson Sports Talk!
Join our free email list