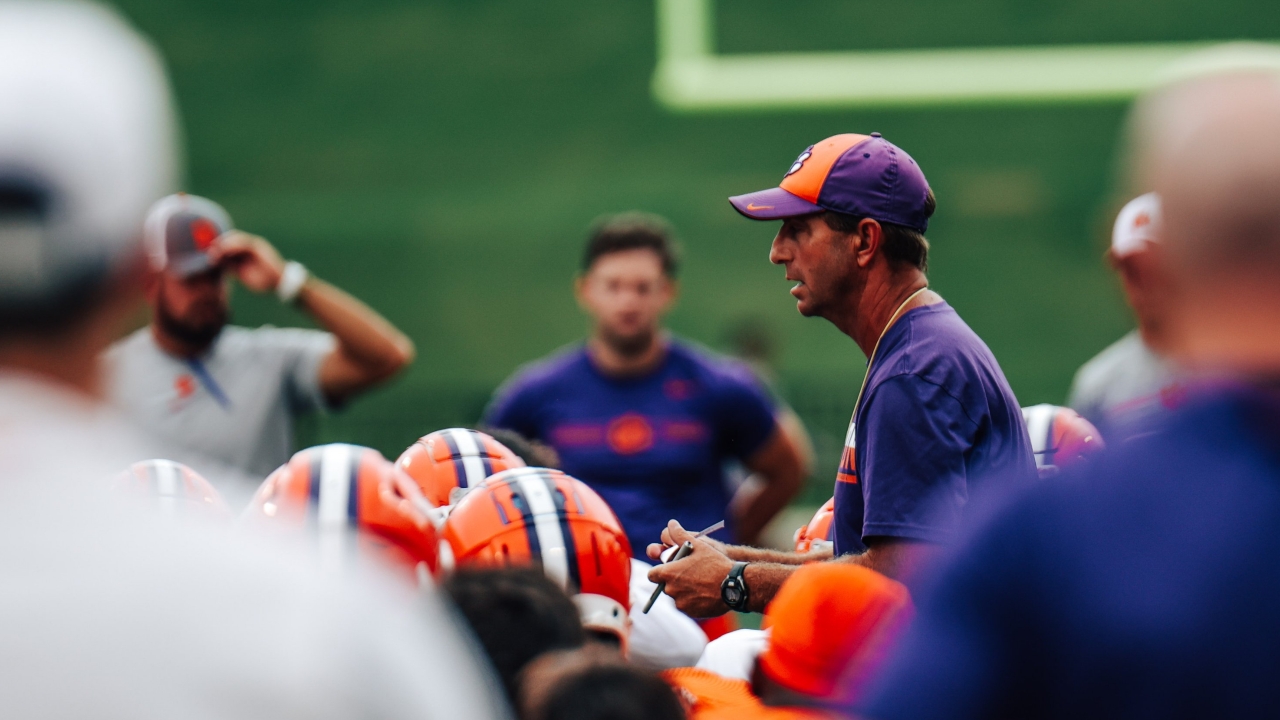 Clemson Football
Top Billing
---

Feel the difference - The MOST DIGITAL CONTENT covering your CLEMSON TIGERS! Avoid clickbait and sites bloated with advertising!
---
As we enter the opening week of the regular season, No. 3 Clemson prepares to match up with No. 5 Georgia in Charlotte in the marquee game of the opening weekend. Today we get a chance to hear from Tony Elliott, Brent Venables, and select players.
Ahead of Clemson's media availability, here are a few quick notes from Dabo Swinney's comments late last week.
On if Swinney knows the freshman what will not redshirt:
"He's (Shipley) probably a good assumption. Yeah, I mean, you know, he's a definite guy, I don't think there's a big secret there, but there is a few that's on the bubble. But we get four games, so we don't really have to make a decision fully on anybody."
On the rule change that allows players to play four games:
"That's really one of the best rule changes ever because it really keeps guys engaged. They have to be ready. So it just, it just helps a ton when guys know that they're all going to have an opportunity to play, hopefully, at some point. We've had years where there were some guys that we thought we would redshirt, and they played, and we've had some years, like, KJ (Henry), we thought he was going to play all year, and he kind of redshirted himself after four games."
On if there is any separation within the running back room:
"They're all kind of right there. I kind of look at them, like our D-Ends, to be honest with you. I don't really care who runs out there. I got confidence in those guys. These guys are ready to play. A lot of competition, but it's a competition amongst really good players. I feel really good about that group. I don't foresee a situation where one guy's playing. We've got a really, really talented group, and they'll all have a hand in it."
On Joe Ngata's health:
"Looks great. Yeah, he's had a great week. Gotta nurse that hamstring a little bit. He's had a great week."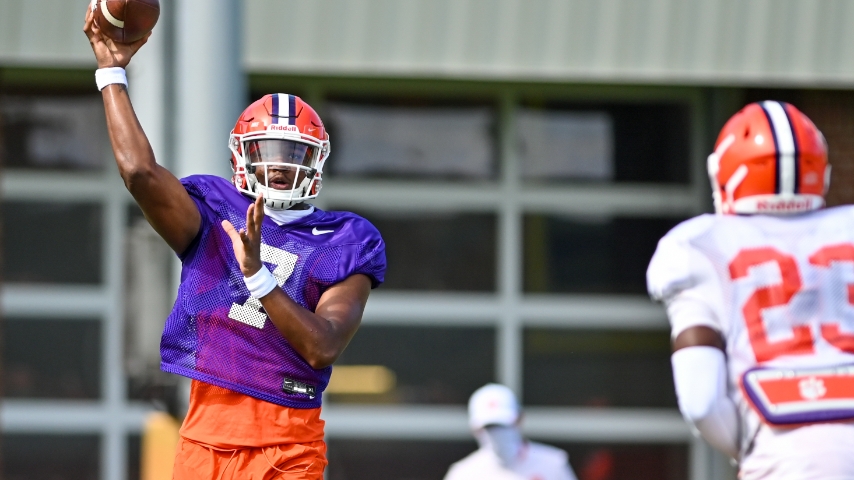 Courtesy of Clemson Athletics
On the backup quarterback situation:
"Taisun (Phommachanh) is the No. 2 guy. He's practiced all camp. He's really done pretty much everything since that first week, and they just fully cleared him this past Monday. He's looked really good. Hunter (Helms) has done a great job. I've got a lot of confidence in him. So we're in a good spot."
On tight end Jaelyn Lay improving in camp:
"He's had a good camp. I'm really proud of him. He's definitely one of the most improved guys in all areas. He's still not quite where he needs to be at the point of attack like we want him to, but he's much improved. His understanding and knowledge of the big picture and route-running have really been good to see. He's just playing with so much more confidence playing faster."
Never miss the latest news from Clemson Sports Talk!
Join our free email list
PRESENTED BY