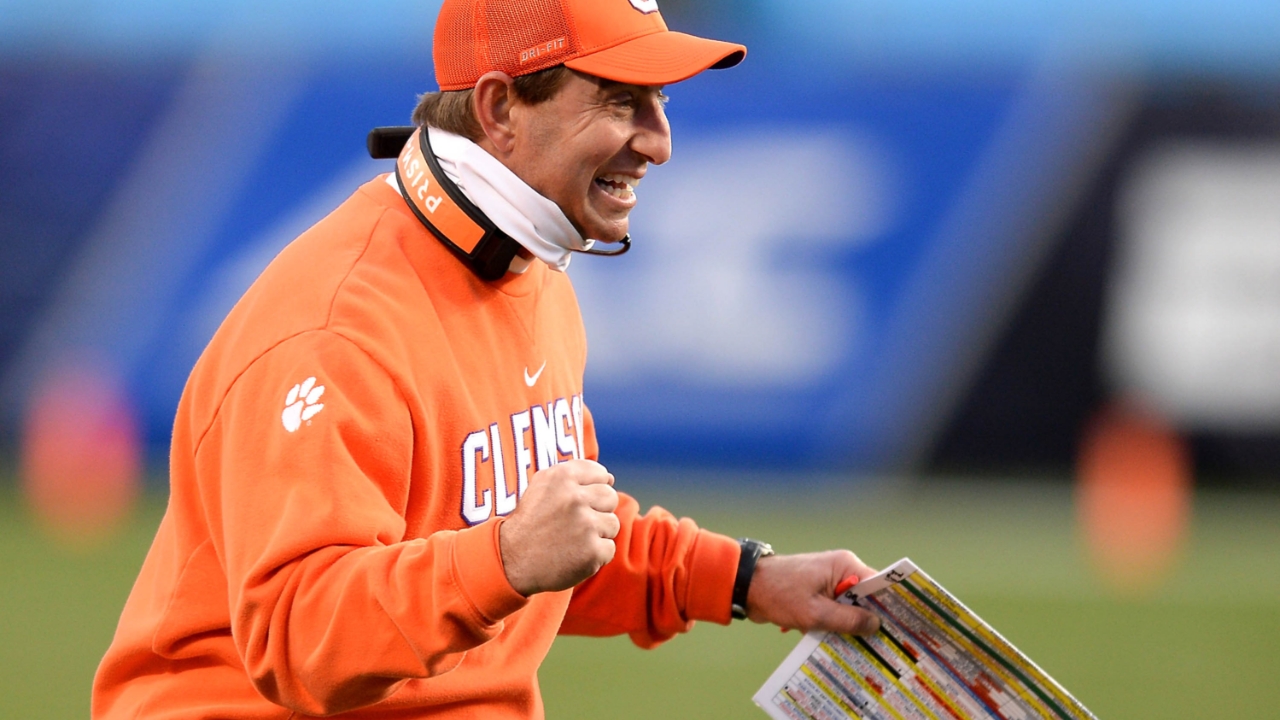 Photo by jsiner@charlotteobserver.com
Clemson Football
Swinney on 'new' experience of playing in a packed house: 'That's what they came here for'
---

Feel the difference - The MOST DIGITAL CONTENT covering your CLEMSON TIGERS! Avoid clickbait and sites bloated with advertising!
---
Opening statement:
"Excited that Wednesday is finally here. Love the focus of the guys. Good practice-- you could feel the energy in the air. Guys are excited to go play-- it's been a long time coming. You know, at some point you've got to go play. It was a fun day. It's been a good week."
On the young guys playing in front of a packed stadium:
"Well, that's what they came here for. So we're gonna find out. Like I said, he's got to go play and there's no greater teacher than experience, that's for sure. You can only prepare-- do the best you can in college football to prepare your guys. We got a good crowd in spring but obviously couldn't have more than 20,000 all season last year. So we've got two classes that this will be a whole new experience for him. But man, that's exciting. That's what you come to a place like Clemson for college football-- to have that experience? It's definitely a part that we missed last year. Good opportunity for them to get some experience."
On what Clemson will do if UGA tries to limit the run game:
"I think we got to do whatever we got to do to win the game. Run it 70-- if it's throwing it 70, the object is to win the game. So we got to do whatever, whatever we got to do. As I've said many times these are the hardest games that you play all year, these openers, regardless of who you play. Especially when you play an opponent on Georgia-- with the type of personnel that you're gonna see-- there's just so many unknowns. We've got to make the right adjustments and get a feel for who they're going to be. We know what we think we know, but we never know in these openers, until you get in the game and you start playing. So the objective is to win the game and we will do everything we can to do just that. So certainly in a perfect world, we'd love to be able to do both effectively. Hopefully, that'll be the case. But we've got to do what we've got to do to find a way to win the game."
On if Tyler Davis is out with COVID-19:
"No, we're not going to confirm anything other than Saturday. We'll let everybody know who's available and who's not. Unless we've got somebody with a long-term injury that we talked about-- we're gonna roll with the same policy we had last year."
On the difficulty of knowing Georgia has had personal changes etc. due to injury:
"Well it adds a bunch because again, you can only prepare for what they've done and what you think they could do. So you do the best you can with that. You're basing it on personnel on tape that's no longer with them. We have new people, they have new people. So that's certainly another aspect that makes these types of games really challenging."
On if guys are ready to step into that role to make the downfield passing attack a little more of a challenge for defenses:
"Yeah, I mean, that's, that's what football is all about is, is being able to take advantage of matchups, take advantage of your best opportunity to give put yourself in the best-case scenario. That's why a lot of people have RPOs now. The quarterback dictates, instead of having to always call a perfect play, the quarterback makes you right, based on how you trained him up. That's you're in the run game, the pass game, the screen game, whatever it may be. But it certainly helps when people are sold out to take one part of your game away, to be really effective in the other part. That's what creates balance. I feel great about our guys-- I feel great about our guys."
On Justyn Ross being ready to play:
"Oh, man, he's been excited since Day 1. He's been ready to play since Day 1. I'm just really proud of him and just appreciate his example. It's one thing to have passion about doing something, it's another thing to have perseverance to go with it-- and it takes both. You can't just have passion, you've got to you got to persevere at some point as well. Man, he has truly persevered through so much to this point and it's just a blessing to watch him. Excited to see him have a great year."

Never miss the latest news from Clemson Sports Talk!
Join our free email list
PRESENTED BY