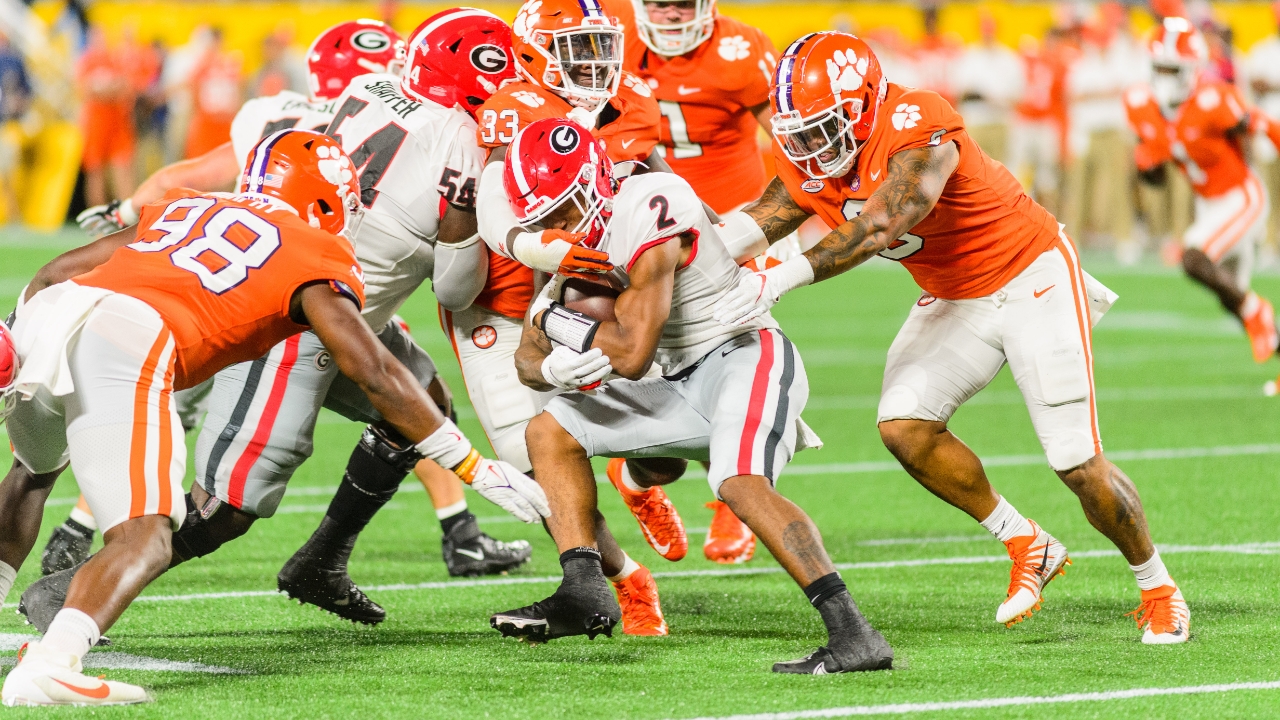 Photo by © David Grooms/Clemson Sports Talk
Clemson Football
Southern Slugfest
---

Feel the difference - The MOST DIGITAL CONTENT covering your CLEMSON TIGERS! Avoid clickbait and sites bloated with advertising!
---
ESPN's College GameDay led off with No. 3 Clemson and No. 5 Georgia's mascots sitting in a stock car revving the engine with smoke billowing out on the thousands of fans in attendance.
Unfortunately, the game never achieved any hope for a NASCAR-type pace, as the two top-rated programs scored zero touchdowns offensively in a defensive slugfest. In the end, Georgia knocked off Clemson 10-3 to open the college football season.
Offensively, for both teams, things were slow-moving most of the night against two incredible defensive fronts that dominated the game.
"It was a slugfest," Dabo Swinney said after Clemson's first loss-- without a touchdown being scored-- since losing to Alabama 24-6 in the 2017 College Football Playoff.
The game's lone touchdown, a 74-yard pick-six by Georgia safety Christopher Smith, gave the Dawgs a 7-0 lead with 2:58 left in the first half. The interception, a first in D.J. Uiagalelei's career, snapped a streak of 128 consecutive passes without a pick.
On the play, Justyn Ross, in his return, had an option route and broke into a slant but 'didn't cross face' according to Swinney after the game.
"The receiver was supposed to sit down," Swinney noted. "It was an option route, and D.J. gave it all he had trying to make a tackle. Ross chose to run the slant, and that's on us as coaches."
Uiagalelei finished with a sluggish stat line, completing just 19-of-37 passes for 178 yards with no touchdowns.
Clemson was also shut out in the first half for the first time since 2010, a feat that's never happened with Tony Elliott as offensive coordinator, who took over at the end of the 2014 season.
It was tough sledding for the Clemson offense most of the night through the air or on the ground, but the Tigers still had their chances late.
"I thought that he responded in the last quarter-and-a-half of play," Elliott said of Uiagalelei. "There were a couple of things that weren't on D.J.-- and that can cause a guy to start pressing."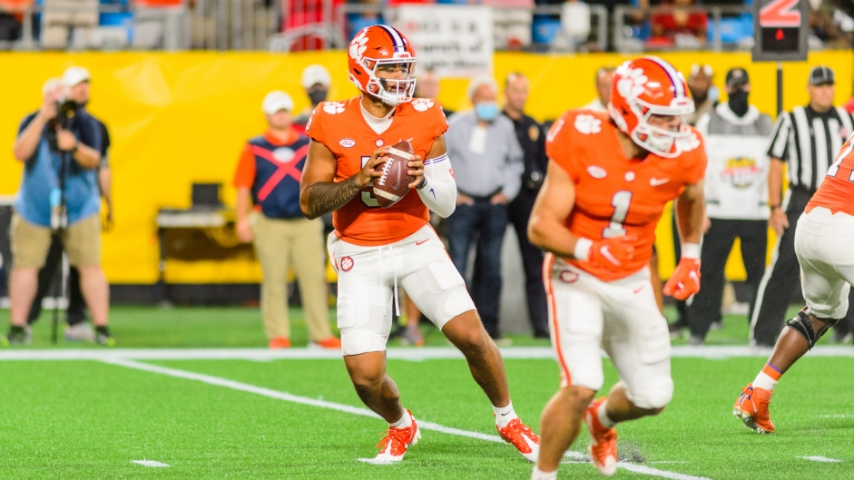 Carl Ackerman
Tigers rushed for just 2 yards on 23 attempts during the contest. But the running back group found some life once Lyn-J Dixon got in the game after serving a suspension for the first half, according to Swinney.
On the flipside, Kirby Smart's Bulldogs rushed for 121 yards on 31 attempts, and quarterback J.T. Daniels completed 22-30 for 135 yards-- just enough to thwart the Tigers.
For Clemson, even when they caught a break, the Tigers couldn't capitalize, and that was the story of the game.
Midway through the 2nd quarter, a Clemson punt took a fortuitous bounce. The football grazed a Bulldog and was recovered by Jack Maddox setting the Tigers up with great field position.
But like most things for Swinney's team tonight, even that momentum was quickly turned around by Georgia's defense, as five plays later, Smith was off to the races with his interception return.
Things didn't work out much better in the second half as Baylon Spector's early interception gave Clemson excellent field position at the 33-yard line. The Tiger offense promptly lost nine yards on three plays, including two of Georgia's seven sacks in the contest.
"Games like this are usually just a few plays-- when both teams are really talented. We gave ourselves a chance," Swinney noted. "We got a big turnover, and it was really disappointing because we were in field goal range."
The Bulldog offense ran with that momentum, moving the ball 81 yards on 11 plays before tacking on a 23-yard FG to take a 10-0 lead with 2:38 left in the 3rd quarter, not quite putting the game out of reach, but given how the Dawgs played defensively, it was a LARGE ten-point lead.
Clemson's offense would finally find some energy, as Uiagalelei found Joe Ngata for 44-yards creating some life for Elliott's offense.
Ngata finished with six receptions for 110 yards, a bright spot during an otherwise dim offensive performance.
Yet, like the others, that drive ended without a touchdown as the Tigers settled for a 22-yard B.T. Potter field goal with 9:08 remaining in the contest.
Down just seven, Clemson forced a quick Georgia punt to get the ball back at their own 25-yard line with 7:36 left.
Still, the Bulldogs hunkered down after the Tigers crossed over midfield. Faced with a 4th and 5 under five minutes to play, Clemson rolled the dice, but UGA's pressure-- a staple all night-- hurried Uiagalelei's throw to E.J. Williams, ending the drive-- and almost any hopes for the orange-clad faithful in attendance.
The Tigers will face South Carolina State next weekend in Death Valley.
Never miss the latest news from Clemson Sports Talk!
Join our free email list
PRESENTED BY