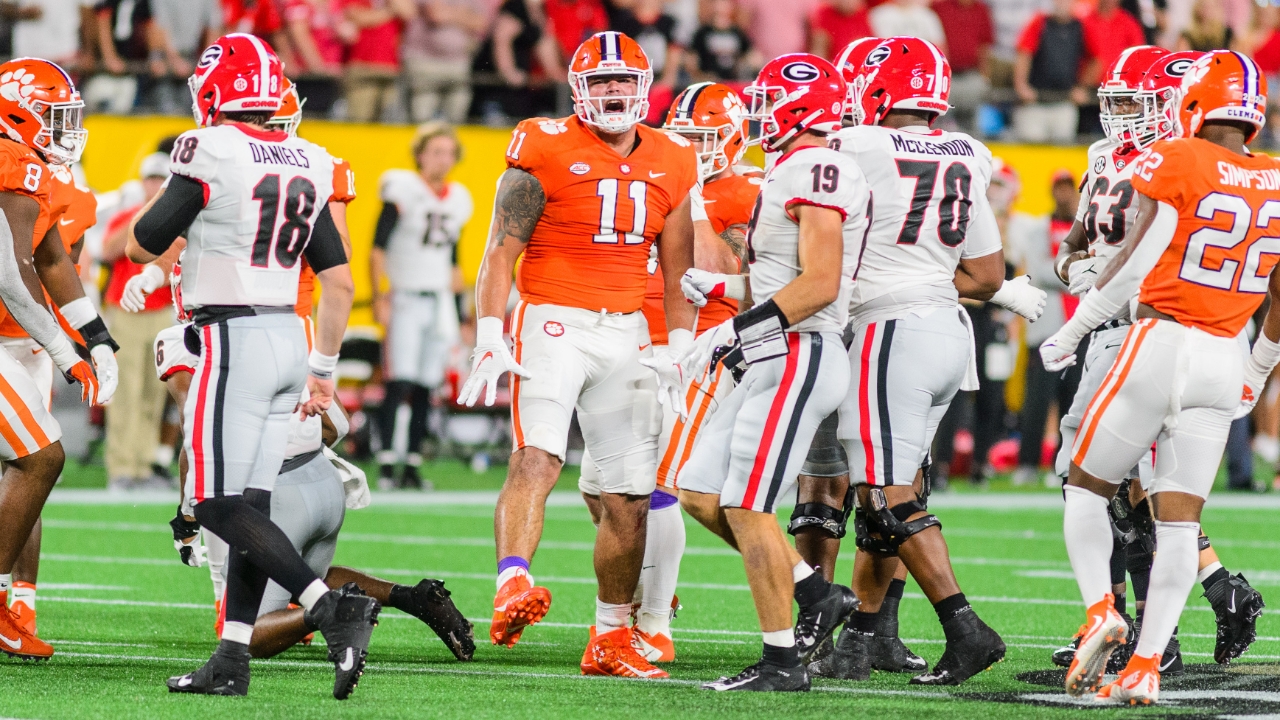 Photo by © David Grooms/Clemson Sports Talk
Bryan Bresee on roommate D.J. Uiagalelei: 'My job is just to be his friend'
---

Feel the difference - The MOST DIGITAL CONTENT covering your CLEMSON TIGERS! Avoid clickbait and sites bloated with advertising! Support a 100% Clemson-owned business.
---
Clemson's defense kept the Georgia offense out of the endzone in the season-opening 10-3 loss and held S.C. State to only three points on Saturday. The Tigers defeated the Bulldogs 49-3 and will look to shutdown ACC rival Georgia Tech in Death Valley on Sept. 18.
Defensive tackle Bryan Bresee made two tackles on Saturday in limited action to give him eight on the season. He is one of the most recognized players on the defense and despite being a sophomore, a leader on the unit. What does he think of their play thus far?
"The defense as a whole has played very well," said the 6-foot-5, 300-pound preseason All-American. "We all come in every week with a really good mindset, taking on the week you know it's always a new game plan. So just everyone getting in watching film learning our game plan for the week. Everyone's done a really good job taking that on and doing it every week and staying on it."
While the defense is ranked 13th nationally and yet to allow a touchdown, the Tigers offense is 99th and the passing game, 73rd. Starting quarterback D.J. Uiagalelei has one touchdown pass and a completion rate of just 54.1 percent in 61 attempts. His numbers are underwhelming and have fans asking, 'What's wrong with D.J.?"
Bresee and Uiagalelei are roommates and good friends, and he was asked how he keeps Uiagalelei's confidence up.
"He does a really good job on his own," said Bresee. "I mean, that's not really my job. My job is just to be his friend. So he does a really good job of just keeping composure like I've said this many times, he doesn't get too down or too up ever. So, it's not really a worry for me with him. I know he's gonna be just fine."
The Clemson defensive line is talented with a mix of young and old. One of the veterans on the interior is junior starter Tyler Davis, a preseason All-ACC candidate.
Davis missed the Top-5 clash in the Tarheel state with Georgia because of a positive COVID-19 test, although never confirmed by the coaching staff, but returned on Saturday. He battled injuries in 2020 but is injury-free now. Bresee loves having Davis back in the lineup.
"I love playing with Tyler," he stated. "He's super knowledgeable about the game and he knows so much and all the D tackles now, we just all play really well together. But having Tyler he's like the veteran in our group kind of deal so playing with him is awesome."
Bresee, Davis, and the rest of the defense will have to guard against overlooking Georgia Tech (1-1). The untested Jackets pummeled Big South member Kennesaw State 45-17 on Saturday but fell 22-21 to MAC member Northern Illinois to open the season. The Jackets suffered the loss despite a 429 to 301 total yards advantage.
Starting quarterback Jeff Sims exited the game with a left shoulder injury (non-throwing arm) and sat out the Kennesaw State game. Backup Jordan Yates completed 12-of-18 passes for 135 yards with one touchdown and a rushing score versus NIU, and as a first-time starter against Kennesaw, he completed 17-of-22 pass attempts for 254 yards and four touchdowns.
Georgia Tech head coach Geoff Collins has yet to name a starter for this week or offer any updates on the health of Sims. But it's worth noting that Sims was dressed on Saturday and listed as available on an emergency basis.
So the defense must prepare for Sims and Yates.
"I mean, it's more difficult than if it was just one just because you got to kind of game plan for both of them," said Bresee on the challenge of preparing for both quarterbacks, who are also running threats. "They both have different tendencies. So instead of just game planning on one guy, who you're gonna see the whole game, you got to kind of focus on both of them. And like I said, they both do different things. Some may be better than the other so it's just a kind of another challenge to look at this week."
The Jackets also have a good core of running backs led by sophomore Jahmyr Gibbs. Gibbs gained a team-leading 99 yards on 20 carries closely followed by Jordan Mason's 97 yards on 15 carries against NIU.
Dontae Smith was the leading rusher (8 carries, 82 yards) and Gibbs second (9, 56) against Kennesaw State.
Last season at Bobby Dodd Stadium, Gibbs rushed for 67 yards on 15 carries with a long of 19, and Smith totaled 30 yards with 23 coming on one play against Clemson.
"Their running backs are able to make explosive plays," noted Bresee. "They're all like you said better at different things. It's just like there are week-to-week different challenges and this is one with Georgia Tech. Their running backs are really good so just got to hone in on the game plan and just do what we can to shut it down."
The sixth-ranked Tigers better be ready for the Jackets, because they will be motivated to try to make fans forget about the embarrassing loss to NIU and last year's 73-7 thrashing at home to Clemson.
Never miss the latest news from Clemson Sports Talk!
Join our free email list