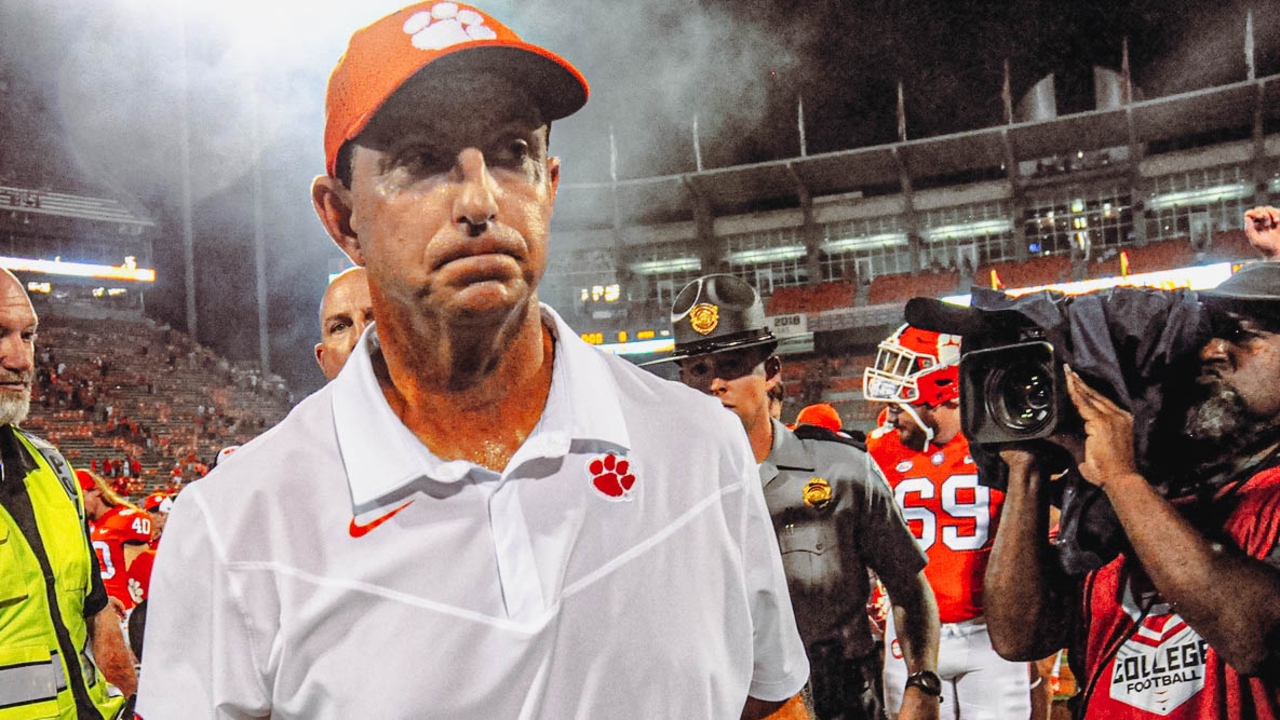 Photo by Ken Ruinard / staff via Imagn Content Services, LL
Clemson Football
Dabo Swinney: 'There's gonna be a lot of things on tape that we got to clean up'
---

Feel the difference - The MOST DIGITAL CONTENT covering your CLEMSON TIGERS! Avoid clickbait and sites bloated with advertising! Support a 100% Clemson-owned business.
---
Opening statement:
"Unbelievable effort by our guys-- tremendous heart. We're getting better, but we're still a work in progress. Tonight was an incredibly strange game-- unbelievable situations that came up in the game. Offensively, they absolutely lined up in nothing that we prepared for. They decided that they were going to just play all odd-Double Cloud, play corners up, play overhangs, and make us go everything in between the tackles and give us the opportunity there to do that and just not let us have the big play."
"We only had eight possessions, and six of the eight were eight plays, or more, three of them were 12 plays or more, but we got very few points. I think that was again a philosophy, let's just make them keep snapping it and see if they can finish the drives and we did a poor job of finishing it."
On D.J. Uiagalelei's fumble:
"There's gonna be a lot of things on tape that we got to clean up, some fundamental stuff, obviously, D.J. with the fumble, going to the left, the balls in the right arm it's something we've been trying to coach him out of, talked about it last week, and it cost us you know, get the ball out and all the defense is there. It was a critical, critical fundamental deal that we got to fix."
On the thought process of going shotgun in the endzone:
"Well, that's just what we do and that's what we've always done. We definitely thought about going under, but we've got a young quarterback- we just went with what what we're comfortable with. We had a good play. It's not like we didn't have a good play. We just dropped the ball. It doesn't matter if you're under center, or what if you drop the ball, you put yourself in jeopardy."
On beating the look that Georgia Tech was giving them:
"Yeah, you gotta run the football. Got to run the ball. We did good. like I said, we just didn't finish. They're just kind of making us put drives together, but you've got to finish. You've got to come away with a field goal or a touchdown. If we get 10 more points, that game's over-- in a game like that. So now you're taking time off the clock, and not getting points-- that's a double-edged sword. Just frustrating, but we did what we needed to."
On running D.J. Uiagalelei as a necessity late:
"Well, we always, have run our quarterbacks, but that's what we had to do to win the game. I mean, again, just their style of play and the structure of their defense tonight-- that was the weakness. I guess they just didn't think that we could do it, or would do it consistently, proud of our guys for doing what they had to do to win this game."
Never miss the latest news from Clemson Sports Talk!
Join our free email list
PRESENTED BY