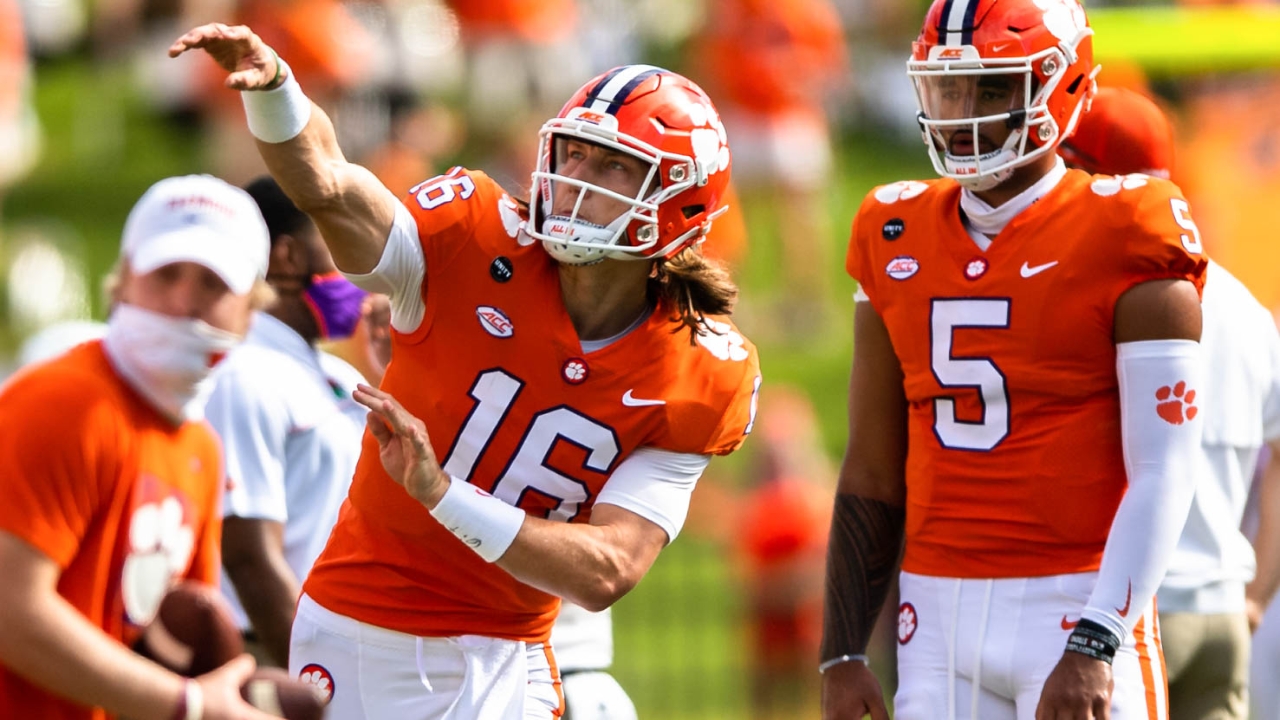 Photo by Courtesy of ACC Media Portal
Clemson Football
Tony Elliott addresses issues and responds to analysts questioning quarterback development
---
When Clemson lost 27-17 to No. 23 Pittsburgh, it was more of what has plagued the 2021 version of the Tigers. The offense struggled to score and the defense fought hard to keep them in the game. On Saturday, there were also more injuries another recurrent issue for the team this season.
The Tigers were down 17 scholarship players during Saturday's game. The offense in particular without scholarship receivers Joseph Ngata (Covid-19 protocol), E.J. Williams (knee), Brannon Spector (Covid-19), Will Taylor (knee), and Frank Ladson, Jr. (groin). Taylor is out for the year and head coach Dabo Swinney announced after the game that senior offensive lineman and team leader Matt Bockhorst (torn ACL) and senior tight end Braden Galloway (shoulder) both suffered season-ending injuries.
With an offense already dealing with depth issues and generating only 20 points per game, offensive coordinator Tony Elliott received more bad news on Tuesday when Swinney announced that running back Kobe Pace, the team-leading rusher, would be unavailable due to Covid-19 protocol against Florida State (3-4) on Oct. 30.
"You know there's things that you want to be able to get to, but you understand, kind of who you're working with, to and where they are," Elliott said when asked if the injuries are hindering his play calling. "So you're more trying to put together a plan based off the personnel that you have available to make sure that you put them in position, and not overwhelm them. So by the time we get to Saturday, it's not as much of a challenge as long as we know kind of who we have throughout the course of the week. But it's been a good challenge week in and week out just kind of figuring out which personnel is going to be. So it's been an interesting challenge."
The offensive line has improved since the early season inconsistencies despite a lack of chemistry and continuity due to the shuffling of players at center and left guard.
"And then upfront too, just trying to mix and match and find some continuity," noted Elliott about the offensive line. "You hate it for those guys because, at that position, that's where you need the most time together to create the chemistry and the continuity. And man we've had a bunch of different lineups but uh, proud of the kids."
The rash of injuries and lineup changes could be reasonable excuses for the Clemson offensive struggles but no one is cutting the Tigers any slack in the media. Instead, Elliott, the coaching staff, and quarterback D.J Uiagalelei are the subjects of discussions after every game, win or lose, and that continued when former NFL quarterback and guru Trent Dilfer made an appearance on Outkick.
"What's going on with D.J. right now at Clemson, that's probably the most egregious thing I've seen," Trent Dilfer, the former No. 6 overall selection of Tampa Bay in 1994 and head coach at Lipscomb Academy (TN) told host Clay Travis. "And I love Dabo, and I'll probably get a phone call. D.J.'s gotten worse."
Dilfer, who coaches at the Elite 11 camp quarterbacks competition, didn't hold back during the broadcast and even criticized the Clemson staff's handling of Jacksonville Jaguars starter and former Clemson All-American Trevor Lawrence.
"Trevor got worse mechanically," Dilfer implied of the No. 1 overall pick's development from high school through three years at Clemson. "Trevor has completely changed from the time he left Clemson to what he is now in Jacksonville -- Completely real, retooling. Much better. He's so talented, and they were rolling so much, that he got away with being sloppy. He'd be the first to tell you."
Dilfer even said if asked the difference between him today and his time at Clemson, Lawrence would say, "Oh, my gosh, it's night and day. Like, I had no idea this is what was happening to me." Clemson quarterbacks coach Brandon Streeter was also brought into the conversation, although Dilfer didn't know his name.
"I don't even know who the quarterbacks coach is at Clemson. I couldn't tell you his name," he said. "Colleges need to do a better job of understanding, it's a craft."
On the season, Uiagalelei has completed only 54 percent of his passes for a paltry 1,102 yards with four touchdowns in seven games. His passing efficiency rate of 102.90 is 107th of 109 amongst qualified quarterbacks per NCAA rankings.
"I look at it and I guess the way I convince myself is that I know they are paid to say some of those things, to create that," replied Elliott when asked about analysts questioning the program's development of quarterbacks though Dilfer's comments weren't specifically addressed. "But I also know too that we have always been in the situation where people want to criticize Clemson. Right, wrong, or indifferent, they want to criticize and they want to criticize Clemson. And we, with the success that we have had, we never felt like we should have been there. So, it doesn't surprise me.
"You get frustrated sometimes," he added. "I don't hear much of it, but there are some comments that people are making that you can tell that they are not educated on the comment that they are making. Those are the ones that frustrate you. At the end of the day, we gave them the ammunition to say it, so we got to own it and all we can do is go back. It's a 'what have you done for me lately' business. It is a 'what have you done for me lately' world, and right now we haven't done enough for them to say nice things, so I understand it."
"But some of the stuff about not being able to develop quarterbacks," Elliott said while repeatedly shrugging his shoulders with smiles and smirks, "Umh, "That is all I am going to say."
Elliott has probably found it harder to smile this season but ridiculous comments like those from Dilfer and Paul Finebaum, host of The Paul Finebaum Show, who proclaimed 'Dabo's dynasty is done' on ESPN's Get Up after the Tigers' 27-21 OT loss to N.C. State, elicit smiles that are likely suppressing laughter.
The negative comments are coming hard and fast these days and coaches have to be conscious of them to protect the players as much as they can. Quelling the outside noises from Uiagalelei and his teammates is easier but what about the 13 commits in the nation's No. 10, 2022 recruiting class and other potential recruits.
Finebaum also said on Get Up. "It doesn't look like Clemson is part of the cool kids anymore, and I think they're going to pay for it in recruiting...."
"Don't buy the lie," Elliott said would be his message to recruits. "You're going to get beat up in recruiting by all the other schools that are going to say things, and what I do know is that we got a proven formula, proven plan. Right now we're just, you know, we are going through a ton of adversity. But on the other side is going to be something really special."
Elliott's message can resonate with the recruits, but social media is a powerful vehicle for negative recruiting from overzealous fans of rival schools who send recruits direct messages and tag them in tweets regularly.
"Just weather the storm, don't buy a lie," Elliott continued. "You know, ask the questions you really want to ask, don't take anybody else's word for it. And then just do your research. Coach Swinney at 6-7 said what? Best decade in college football. And that was accomplished here. So we still have everything in place."
Elliott is referencing the 2010 season, Swinney's second as head coach, in which Clemson finished 6-7 after the 31-26 Meineke Bowl loss to South Florida. Following his first and only losing season, Swinney predicted he would lead the program to the best decade in the school's history. He did it and won national titles in 2016 and 2018.
Those national title teams were led by Lawrence (2018), the No. 1 overall draft pick for 2021, and Deshaun Watson (2016), the fourth highest-paid player in the NFL and three-time Pro Bowler. Each quarterback also played in two national championship games and won multiple ACC championships in three years.
Clemson is currently 4-3 and won't make the playoffs for the first time in six years, but it's still a program known for winning championships and doing it with highly, successful quarterbacks.
Never miss the latest news from Clemson Sports Talk!
Join our free email list