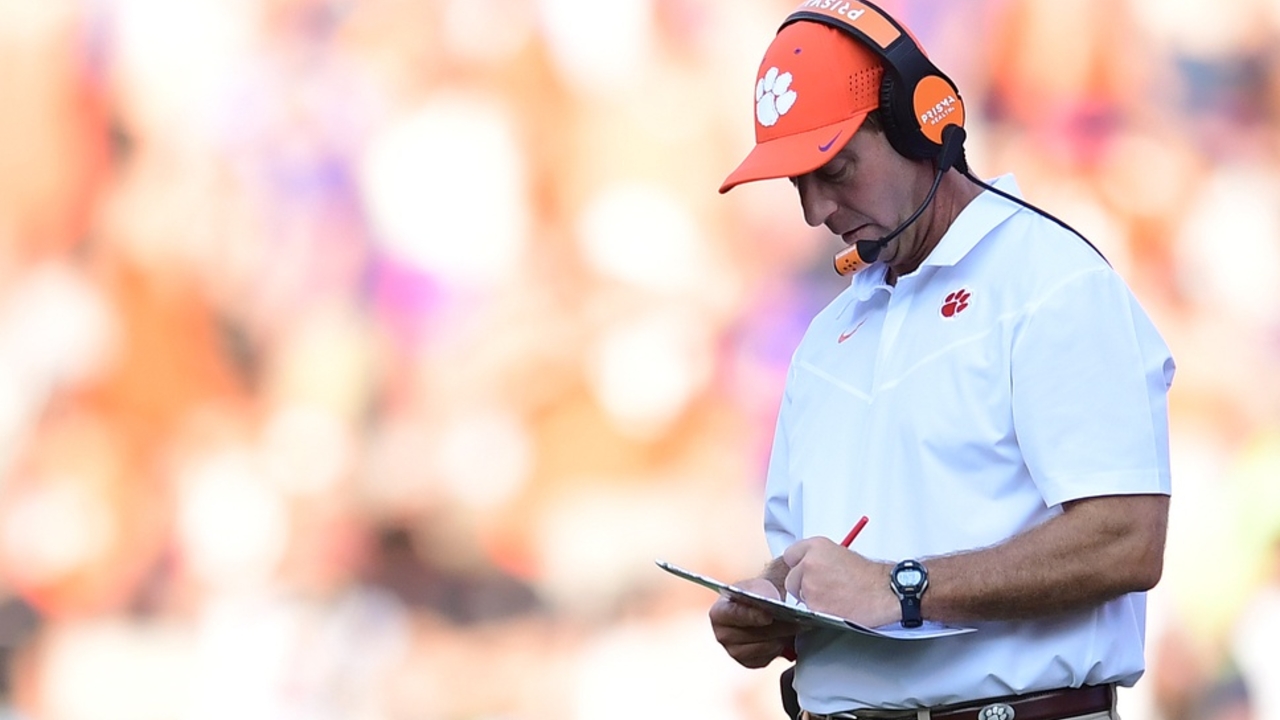 Photo by © Adam Hagy-USA TODAY Sports
Clemson Football
Swinney opens presser with condolences to family of decorated Army veteran
---
On the death of Walterboro native and 1938 Clemson graduate Ben Skardon, 104, who died on Monday. Skardon, a retired Army Colonel, will receive the honorary promotion of Brigadier General which was announced on Saturday at Military Appreciation Day:
"First of all, just want to offer up my thoughts and prayers for Colonel Ben Skardon and his family. I just heard about that coming out of a meeting here and didn't know that. But what a great man and unbelievable life and really just an honor to know him. So just thoughts and prayers with his family and, again, a life well lived for sure."
On the status of starting receiver Justyn Ross, who left the Connecticut game with a foot injury:
"Justyn's out, and probably going to go ahead and do surgery [on] Thursday."
"So, right before we played Georgia, I know there was a lot of rumors saying he broke his foot or whatever. And he didn't break his foot. He had a very slight hairline area near his fifth metatarsal -- not something like broken foot you go put it in a cast type of deal but he had a very thin deal. When I first heard that, 'I was like, oh man, that's not good. He's gonna be out for four or five weeks or three to five weeks. But he's like, 'I think I can play' and the doctors felt like he could play or at least try it.
"He was really only hurt in the Georgia game and South Carolina State game. And outside of that, he's had no problems. I mean, it's amazing. It is amazing that he was able to go play 10 games."
On players being able to enter the transfer portal without communicating with coaches:
"I've talked to all my guys. They just want a different opportunity and they want to have time to figure it out because they want to be somewhere in January. So that's going to happen every day between now and the end of the season. Somebody is going in the portal -- every day, somewhere, every day. And eventually, people going to quit just commenting on it. Because it's the norm. There'll be kids that will go in the portal after two games. There's gonna be kids that go in the portal that are [on] playoff teams. Just the way it is. It's an unintended consequence. But that's what we're dealing with."
On whether Wake Forest leading receiver A.T. Perry is comparable to any former Clemson receivers:
"Man, he's long, he's explosive. He's got a ton of wiggle to him. And he's got a little Tee Higgins in him. He's really developed, man. He is really a good player. Really good player. He was 89 last year and now he's in nine. We've had some guys that he's similar to in a lot of aspects, but he's just long, fast, excellent ball skills. But he's very maneuverable. He's got great quickness, great lateral ability, explosive out of his cuts. You don't see many big guys that can do that. I think he's an excellent player."
On if the Wake offense is the closest thing to a cutting edge offense:
"It's triple-option football that's all it is. I mean, it's just triple option. Their triple option like Louisville. Louisville has their own unique pistol, triple-option type of attack, and Wake has their own unique triple-option type of attack because there's a lot of decision-making going on. It's different, but they got all the spread components. They just do it in a way, and most spread teams have option principles built into it, especially if you got a quarterback that that can run, you know, because it's a handoff, it's run, its pull, its pass. You got a lot of things going on. And that's been going on for quite a while now but Wake is just unique in their approach."
Never miss the latest news from Clemson Sports Talk!
Join our free email list