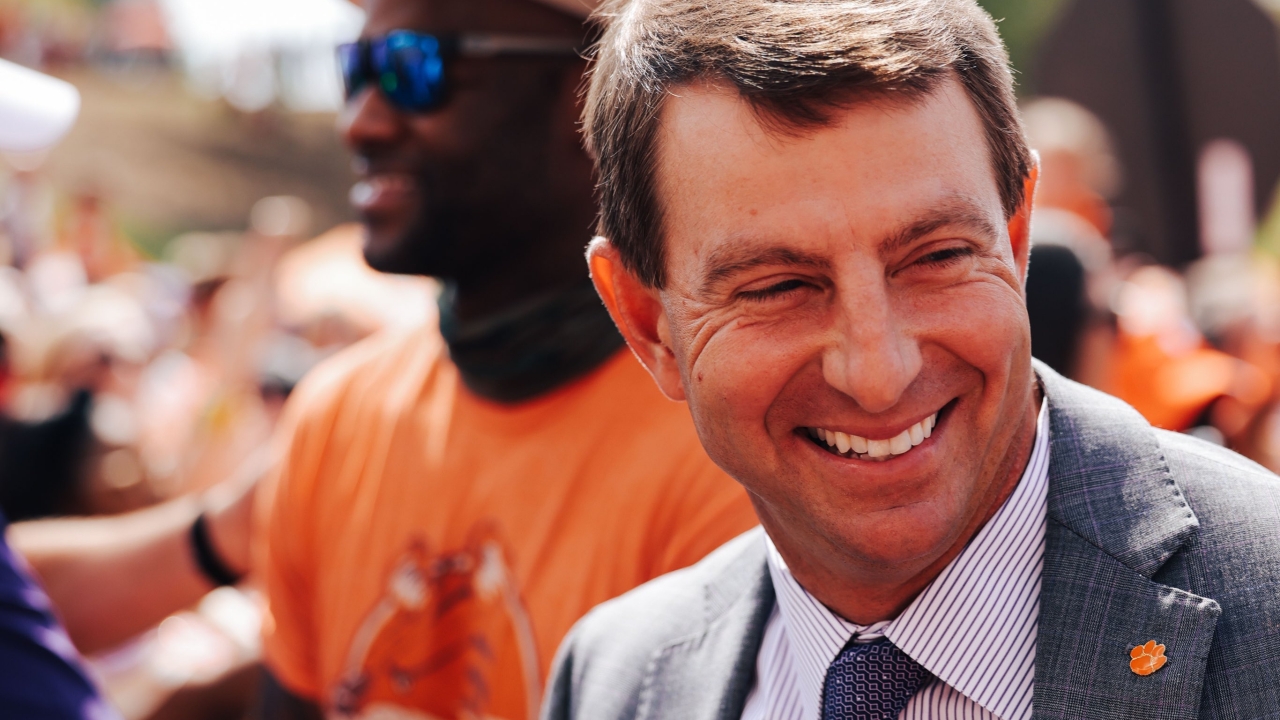 Photo by Clemson Football
Clemson Football
Swinney on getting up for South Carolina: 'Turn on the tape'
---

Feel the difference - The MOST DIGITAL CONTENT covering your CLEMSON TIGERS! Avoid clickbait and sites bloated with advertising! Subscribe to our site and YouTube Channel today!
---
On losing another player, defensive tackle Tre Williams, versus Wake Forest:
"So injury-wise, I think y'all saw Tre go out. He'll be done now for the season. It's been a miracle that he's been able to play all year. He's got to have shoulder surgery. He's got to have foot surgery. He's had a couple of surgeries scheduled, but he really wanted to try to play as long as he could. So really proud of him, in literally, how he played with both shoulders strapped in all year long, and then also with his foot. So, we'll have to finish out without him."
On the decision of graduating players with eligibility left:
Jaelyn Lay
Jaelyn Lay is going to graduate in May. And so, he wants to go ahead and finish up. He's gonna try to maybe go on and get a Master's somewhere else and play somewhere. So we'll try to help him find the best opportunity for himself."
Darnell Jeffries
And I think the same with Darnell [see Jaelyn Lay]. He's graduating in December. So really proud of him. And his commitment here for four years.
K.j. Henry
I don't think he's made a decision yet. Other than, he's not sure.
I think he's just trying to see what his evaluation is from the NFL guys.
Tayquon Johnson
He's declared himself as a senior back in the summer because he's graduating in May, He's actually got a job lined up already. He's going into law enforcement, and really excited about his path and what he wants to do.
Jake Venables
Jake is graduating in December. Jake has torn his hamstring eight times. He's just trying to get to the finish line.
I think he just is at a point where he's ready to move on to the next stage of his career and his body is just not holding up for him.
On whether he thinks the emphasis on making the playoffs, now for the elite teams in college football, has kind of set up coaches in some way for failure in that nine and 10 win seasons are no longer good enough to satisfy administrators, presidents, and fans:
"I don't think there's any question about that, that's just gonna get worse as the playoffs expand.
"So it becomes all about that, as opposed to, having a great [year]. There's only one team that can win. There are 130 teams. There's a lot of teams that are going to finish their season with wins that have a lot to be proud of. A lot to be proud of. But I think that's definitely a factor for sure."
On the play of the secondary against the explosive Wake Forest receivers:
"I was pleased with the fact that we made some really good plays on the ball."
"So, we got our hands on some balls. And we were positioned. So that was good."
"I thought we got a little sloppy toward the end, but I love how they competed. And I thought they set the tone early. But definitely, still, some things that we need to clean up on the back end for sure that we didn't get exposed for. But you best believe coaches will see it on tape."
On getting the guys ready to play the rivalry on the road in Williams-Brice Stadium:
"Oh, turn on the tape."
"They've got some good players. They're running the ball well. They've got a couple of really good skill guys outside. A big offensive line. Their D line is really good. It's a really good group. So, we just go back to work. Just like we try to get ready every single week. Go have good meetings and good practice. Get ready."
On has he noticed just a little more energy or excitement at practices during South Carolina game week:
"We always say South Carolina is a season and a goal of its own. I mean it's a standalone goal on our goal board. So everyone knows from the moment you get here that this is a very important game, to a lot of people. You're playing for a trophy on Saturday, a state championship, and we're excited about it. But a lot of these guys, because you live in the same state, you hear about the opponent a lot, and they hear about you. And as you said, a bunch of them know each other from high school, etc. So always, always a special week for both teams."
Never miss the latest news from Clemson Sports Talk!
Join our free email list