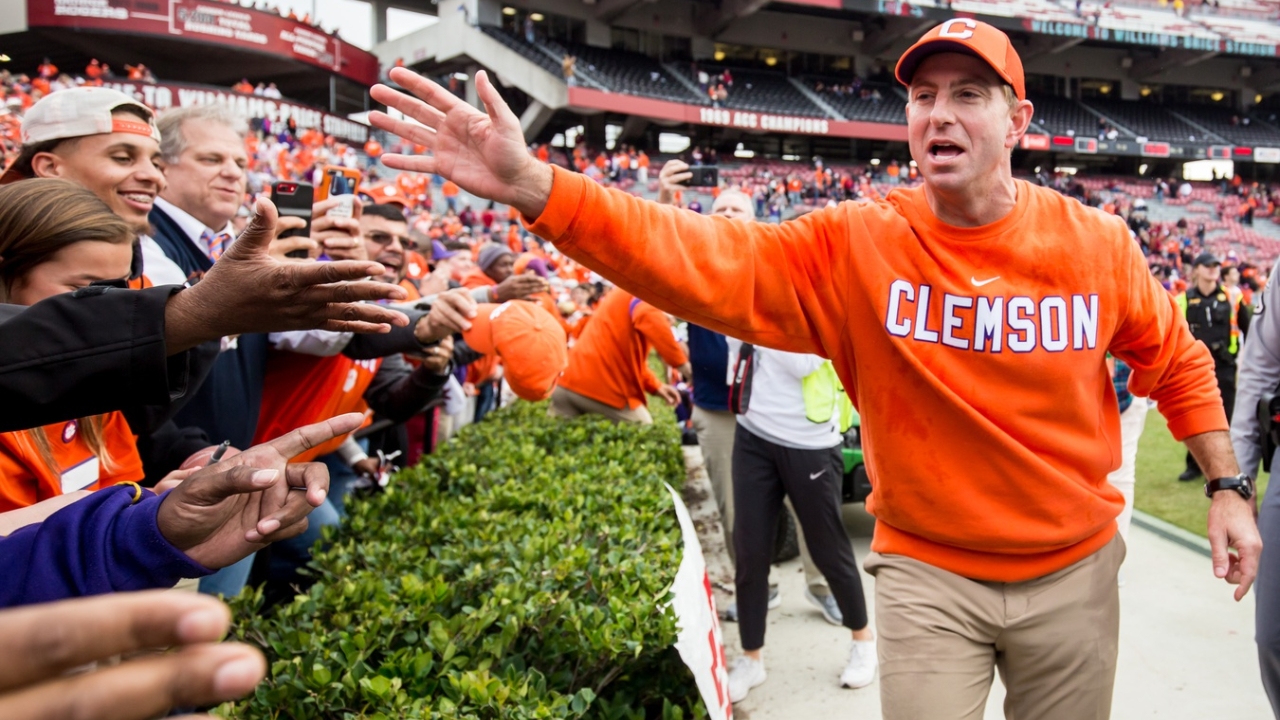 Photo by © Jeff Blake-USA TODAY Sports
Clemson Football
Rivalry Week: Dabo Swinney breaks down the Gamecocks
---

Feel the difference - The MOST DIGITAL CONTENT covering your CLEMSON TIGERS! Avoid clickbait and sites bloated with advertising! Subscribe to our site and YouTube Channel today!
---
As Rivalry Week in the Palmetto State rolls along, Clemson's Dabo Swinney gave his thoughts on the South Carolina Gamecocks. Shane Beamer's squad is surprisingly bowl eligible in his first year after knocking off Auburn 21-17 on Saturday.
The Gamecocks are 5-1 at home with wins over Eastern Illinois, Troy, Vanderbilt, Florida, and Auburn. South Carolina's lone home loss was delivered by Kentucky in late September.
On South Carolina's offense (111th Overall, 104th in Scoring Average 23.3 points):
"Man, they're running that football and is a very physical group, physical running backs. They got four guys. They play all those guys at different times. They've all had their moments throughout the year but No. 11 [Zaquandre White] and No. 20 [Kevin Harris] are the two guys that have kind of gotten them over the hump in a run game.
"I mean, [White] signed with Florida State, and he was a linebacker -- played as a linebacker, and then he went to junior college and then went to South Carolina. So, he plays running back like a linebacker. He has that type of mentality and you see that he's very physical.
"No. 6 [WR Josh Vann] has become a playmaker. They get him the ball in all kinds of different ways, whether it be down the field, double moves, screen game, whatever, but he has really become a great playmaker for them."
White leads the team in rushing yards (561) and yards per carry (6.9). He is also a major threat in the passing game (15 catches, 183 yards, 2TDS).
Harris is behind White but led the SEC in 2020 with 1,138 yards and added 15 touchdowns.
Vann is the team leader in receptions (39), yards (630), yards per reception (16.2), and touchdowns (6).
On the Gamecocks 48th ranked defense, which allows just over 23 points per game:
"They were doing some things structurally that I think they had some confusion and things like that and they gave up some big plays and got them behind. But they've really-- since the Tennessee game-- have kind of settled down and kind of settled in on what their identity is defensively as well. I think that's been a reflection of a great coaching job by their defensive staff.
"So, very good group up front. These are physical guys. No. 1 (Kingsley Enagbare) is a projected first-round draft pick. No. 6 (Zacch Pickens) is an outstanding player, No. 99 (Jabari Ellis)-- all those guys, they got a deep rotation. No. 15 (Aaron Sterling) is a great player. They play a bunch of guys up front. They've settled in on their backers and their secondary and again, they've created an identity and that's what's given them a chance to be successful."
Enagbare has 41 tackles, seven for loss, and 4.5 sacks from his defensive end position.
Pickens, a defensive tackle, has 32 tackles, 4.5 for loss, and 3.5 sacks.
Ellis, also a defensive tackle, has 32 tackles, four tackles for loss, and a half-sack.
Sterling, also a defensive end, has four tackles for loss and 2.5 sacks.
On the play of Gamecocks quarterback Jason Brown:
"I'm impressed with him. I'd never heard of him. I didn't know who he was. I obviously knew about Doty and the unbelievable story about the grad assistant coach going into quarterback -- that's amazing.
"And I mean, you just see some good things. I see what they like about him because I think Zeb's [Noland] back, but they've kind of stuck with this guy. And I think he's taking advantage of his opportunity. He's got good poise. He can throw the football, and he's got a good understanding of what they're doing. But he's settled them down. He's made some big plays."
In six games, Brown has a completion rate of 58.4 with 654 passing yards, eight touchdowns, and four interceptions.
On his relationship with South Carolina head coach Shane Beamer:
"Oh, it's great. I've known Shane a long time. Always had great respect for him. I mean that's not ever gonna change. That's [the] unfortunate part of this business, is there's a lot of people that hate me and they've never met me. They don't know me from Adam, because I wear a Paw on my shirt. You know? And that just comes with it.
"But from a professional standpoint just because somebody wears a logo, that doesn't mean I can't like them anymore. I've always liked Shane. He's a great coach. He's a great man-- love his family, love his dad. I've always had a great relationship with his mom and dad. And so I got a lot of respect for him. I compete against a lot of friends.
"So that doesn't change just because he's the head coach of South Carolina now. I got a lot of respect for him."
Never miss the latest news from Clemson Sports Talk!
Join our free email list
PRESENTED BY