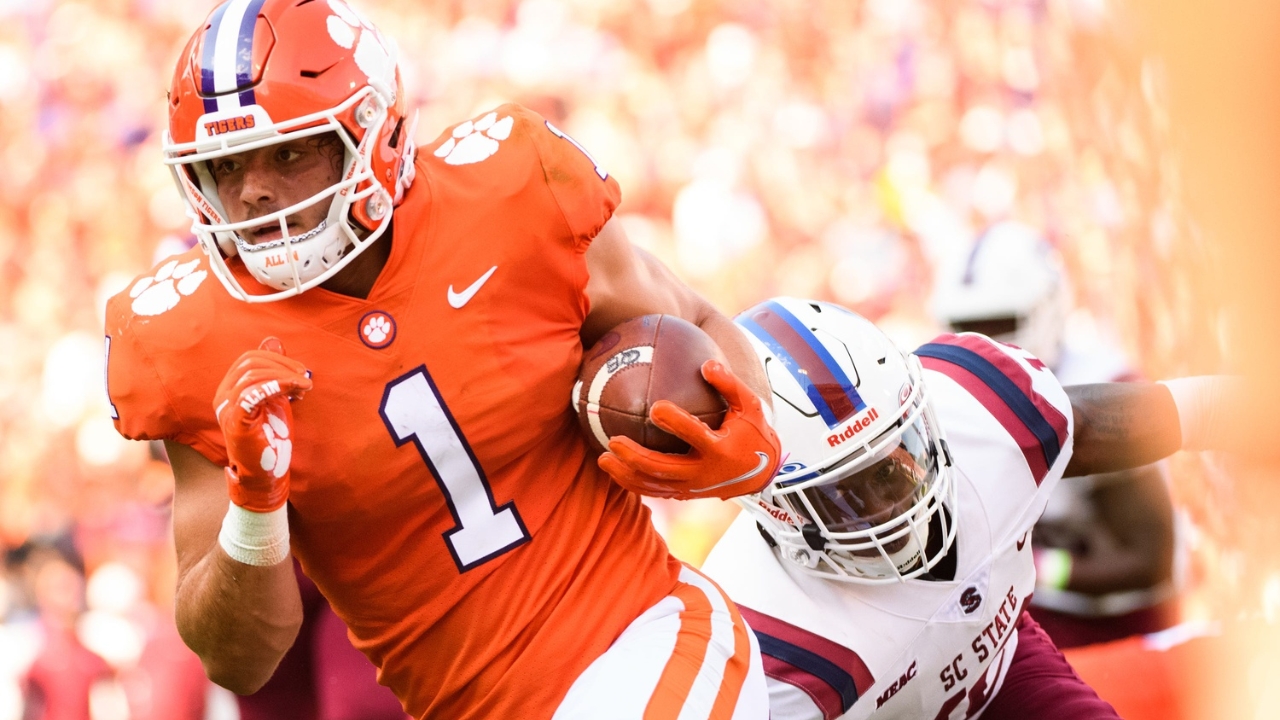 Photo by © JOSH MORGAN/Staff via Imagn Content Services, LL
Clemson Football
Shipley says Clemson's running back room 'much closer as a group' as rivalry approaches
---

Feel the difference - The MOST DIGITAL CONTENT covering your CLEMSON TIGERS! Avoid clickbait and sites bloated with advertising! Subscribe to our site and YouTube Channel today!
---
On the Palmetto State Rivalry and what it means:
"I know that it has a lot of meaning behind it. Already this week there's kind of word going around and I definitely understand the importance. Even being recruited, it was a huge thing in my recruitment-- big reason why I came here as well so I'm really ready for it, it's gonna be a fun week."
On Williams-Brice Stadium and the environment:
"Actually during my recruitment, I went to a South Carolina game against UGA in that stadium-- it was a night game, and it was probably one of the craziest experiences I was a part of. I know how crazy it gets. I know the fans are kinda all over the place. I'm really looking forward to it. I really am, I think it's gonna be a great experience, something I'll remember for sure."
On routine and watching film:
"Yeah so I watch it pretty consistently throughout the week, I just get in there as much as I can. Kind of starting off, it's something I never really did too much of in high school. I would watch the other team, but I really had no intention. When I got to the college level, I quickly realized that's one way to get a step up on the opponent. It helped me get a better understanding and make me so much better of a player-- even if it's just one little thing. It's a great feeling if you're in a game and you can see something before it happens and after the play you sit there for a second. It's just a great feeling to know you prepared and you know the moment was there and you made the most. I'll shoot [Tony Elliott] a text whenever I got a question or two but yeah, I just watch as much film as I can definitely."
On role with Kobe Pace:
"Oh, it's so much fun. We're still talking about it, we kind of need to put it in the past. But it's a ton of fun you know just to know that they put the trust in us to combine for 43 carries and for us to produce the way we did. I think it just goes to show how much we've improved over the season. You know you go back to the Georgia game what I think we combined for under 10 carries and not very many yards either. To see that improvement and the relationship we've been able to create and just how happy we are for one another. I think it's a great sign of how our room is. I think there was a lot of jealousy and just a bad makeup in our room earlier in the season-- just the happiness we have for one another is just great. It's great to know that you know someone else can prosper and someone else is happy for him rather than wishing on his downfall in the background."
On how the running back room has changed:
"The obvious way we've lost a couple of soldiers, but I think what it's done is just made us so much closer as a group because you know we've had so much adversity with guys transferring out. The past couple of weeks, Kobe out with Covid, me kind of facing my injury, Phil Mafah kind of fighting through an injury. Darien Rencher just being that leader for us. It's just like I said made us so much stronger, and when one guy goes down, another guy steps up. We can trust each other with our lives, and you know kind of a silly term to use. But you know I really trust every single guy in that room with anything and just to kind of knowing that and having that knowledge is great."
Never miss the latest news from Clemson Sports Talk!
Join our free email list