Photo by Ken Ruinard / USA TODAY NETWORK
Clemson Football
Swinney on Mario Goodrich sticking it out at Clemson: 'This is a winner. He's equipped.'
---

Feel the difference - The MOST DIGITAL CONTENT covering your CLEMSON TIGERS! Avoid clickbait and sites bloated with advertising! Subscribe to our site and YouTube Channel today!
---
As Mario Goodrich heads to the NFL, Dabo Swinney noted after the Cheez-It Bowl that the Kansas City, Missouri native was 'equipped' after staying in Tiger Town through early adversity. Watch the full postgame press conference above and subscribe to our YouTube Channel and ring the bell to know when we go LIVE.
DABO SWINNEY: First of all, just really appreciate the Cheez-It Bowl, all the people who worked so hard to make this a great experience. We had a blast. We had a great week. That is our eighth Bowl win in our last ten attempts. The reason is, because we got good players, but they got to buy into how we prepare. Those guys, they did an amazing job of just getting ready. We had great preparation in Clemson and we had great preparation down here, and we had a lot of fun, too.
Just really proud of the team for getting ready. It was an awesome experience for us. Congratulations to Iowa State. That's a good football team. They were exactly who they have been all year. You just know it's going to come down to a possession. They are a scrappy team, but man, the credit belongs to our players.
I don't know if y'all heard me out there, but we had 28 scholarship players unavailable tonight, 28. And, then two more, Booth and Skalski, they are pretty good. They go out, so 30. 30 scholarship players unavailable, and then some pretty good coaches that are no longer with us, and an AD sitting on the beach under an umbrella right now.
That's a lot that's gone on around these guys in the last few weeks. I just couldn't be more proud of our staff. That's a lot of players, nine guys that went in a portal somewhere between September and whenever, and then 19 guys out with injury, and we had three guys in the COVID protocol. Most of them have been out all year.
For these guys to just continue to hang in there, the coaches continue to hang in there, and just find a way, all kind of musical chairs up front. I'm just really proud of this team.
To be sitting here 10-3, after starting 2-2 is just incredible. It just speaks to the leadership and the character of the young men in our program, the culture of our program, the heart of our coaching staff as well and the foundation that we have at Clemson.
So man, it was just an amazing, amazing experience out there tonight. I appreciate our fans, an awesome crowd, and it was a great environment. Orlando is amazing. This is a great place to host a game.
So just again, overall, awesome game. A lot of big plays in the game, ebbs and flows, and none bigger than the pick-six that we had and big touchdown by Shipley and a huge kick by Potter as well.
Just proud of the team and the staff for getting it done. And 11 straight years of 10-plus wins, I mean, there's only a couple other teams in the history that's done that, so that's not easy to do.
That's what we set out to do back in 2009 -- was to become a consistent winning program. Not going to win the National Championship every year. We're not going to win the league every year, and we are not going to the Playoff every year, but if we can be a consistent program on and off the field, then we'll have those special moments.
The best thing about this team is all of the stuff that they had to deal with this year. We set a school record. 84 guys made a 3.0 or better. 84 guys. 29 graduates. A bunch with master's degrees. 84 guys with a 3.0 or better in the midst of our "worst" season in a long time.
I'm thankful and grateful and just really proud of a great group of young men.
Really proud of Mario [Goodrich]. I was talking to the team about Mario a week or so go about this young man, because he didn't get off to a good start. Like a lot of 18-year-olds, a little immature, not quite as focused, a little distracted, in my office a couple times when he didn't need to be in my office. Got my foot in his rear a few times and, you know -- but you don't know what you don't know.
And now, here he is. First Team All-Conference. Had his best semester academically in his whole career, 3.46 GPA in the fall. He was voted team captain by his team. Going to the Senior Bowl. That's what is great about coaching, is seeing transformation, seeing young men buy in.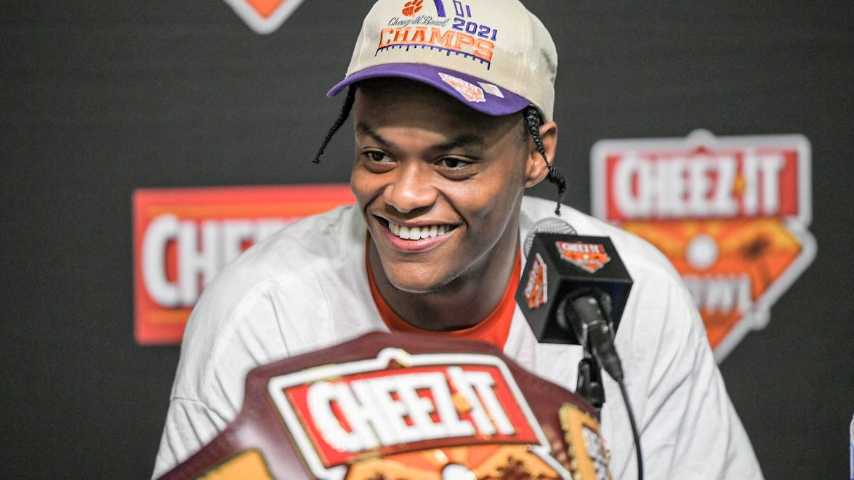 Ken Ruinard / staff, Ken Ruinard / USA TODAY NETWO
He'd have probably been in the portal if the portal had been around in his sophomore year. But to be up here in this moment with this guy right now, he knows. This is a winner. He's equipped. He's equipped. Whoever gets Mario, man, this dude right here. He's a grown man, and he gets it and he's equipped because of what he's been through and because he hung in there.
I'm just so proud. Nobody deserves it more than this guy. He's been amazing, and, again, to see him voted captain.
Then DJ [Uiagalelei], what he's been through this year is going to make him better. His last four or five weeks. He's been at his best. He hasn't complained one time. Seven scholarship receivers. Who can survive that? Who can survive seven scholarship receivers out three games in a row and just keep finding a way? This guy here, he's got the heart of a champion, unbelievable character, and just really, really proud of him.
We weren't very good around him early in the season. Because of that, his mistakes as a young player were magnified. Every young player at quarterback I have had has made mistakes, but we weren't quite as good around him as we were with those other guys.
But, his process has been sped up because of that. His process of becoming a leader, his maturation, his toughness, his preparation, his attention, everything, man, I just am really proud of where he is and how he led and how he never flinched.
He's been in a skillet, in a frying pan all season long. And I've been right there with him, and he hasn't flinched. He's a winner. Just appreciate his leadership.
So wanted to make sure I said that about these two guys.
Q. It's not often you see a defensive player getting a Player of the Game award like that. What does that say about your defense? And what lessons perhaps from Coach Swinney have you learned to get to that point?
MARIO GOODRICH: It means a lot about our defense. Everyone counted our defense out, because they thought Coach V [Venables] was going. But, we have Wes [Goodwin] and Coach [Mickey] Conn, and they know what they are doing. They have been here awhile. Everybody just has faith in them. To go out there and play our hearts out meant a lot to us, and we wanted to leave it all out on the field for them.
And the Coach Swinney question, it just means a lot. We have been through a lot. I was in his office a couple times, and I greatly appreciate him and the rest of the coaching staff just pushing me to become a better man on and off the field and just in my daily life, really.
Q. What message do you think Mario's journey of staying at Clemson when he could have chosen to go somewhere else?
DABO SWINNEY: I'm not a big fan of the easy way out. I can just tell you, if it had been around his sophomore year, he would have been in it [transfer portal]. Ain't no doubt. He's a perfect example of -- and not that there's not good, legit reasons from time to time, but he's a perfect example of what happens when you grow through adversity.
You know, adversity is good for us and it makes you depend on God. Makes you dig deeper. And the biggest thing in our program, our goals are to graduate our players, to equip them and develop them as men, to have a good experience and win a championship. He's the epitome of all those things. He's equipped. He's developed, and he's transformed.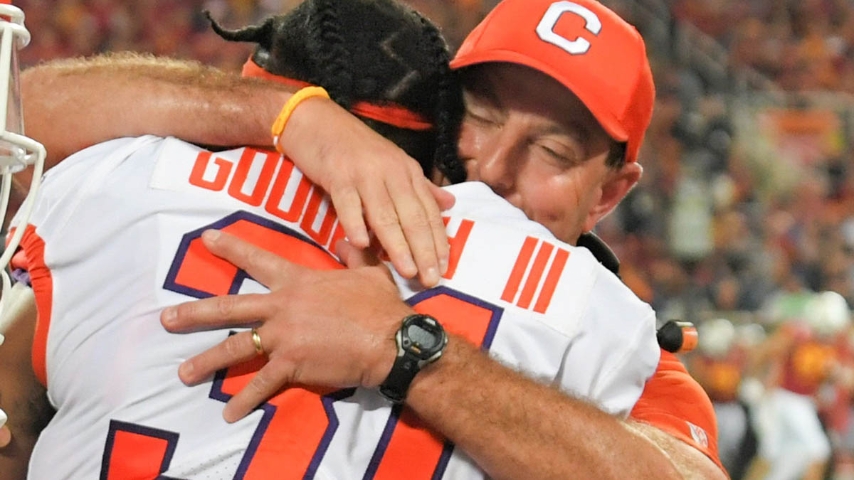 Ken Ruinard / USA TODAY NETWORK
Then learning to be committed to excellence in everything you do, not just football, not just having your identity in football. Football is so fleeting. If he's playing football at 27, he's an old man.
College football should be about developing men. That's what I'm passionate about. That's what I've always been passionate about. That's what I'm going to always be passionate about. This is what coaching is all about to me.
He's got an unbelievable family, and they have been pushing on their end and pushing on his end. But at the end of the day, you have to grow. Young people need guidance. Young people need accountability. But you have to have to buy into that.
He's special, he really is. He went from the bottom of the accountability teams to the top, to being voted by his team as a captain, permanent captain. That's all you need to know. To me, there's no greater compliment than to be voted captain by your team, because they know. It's just awesome to see how he's grown and matured.
Again, excellence in the classroom, excellence in his social life, excellence in his football, excellence in his preparation. When you are 18 and 19, most young 18- and 19-year-olds are usually irrational, emotional and usually not very mature. And they should be. But when you're 22 -- how old are you now?
MARIO GOODRICH: 21. 22 in a week and a half.
DABO SWINNEY: Thought you got here when you were 17. But when you're 22 years old, you have a different perspective on things. You have been through some stuff and you have made it through and it makes you a little more confident.
When he has challenges – he will have more challenges along the way, but he is prepared. He is equipped to go deal with them, and he'll push right through.
Q. How do you characterize the 2021 Clemson Tigers?
DABO SWINNEY: I'm as proud of this team as the 15-0 team when we held up the trophy in -- wherever the heck we were, Santa Clara, wherever that was. I'm as proud of this team as I was that team. That team stayed healthy. We didn't have anywhere near the challenges that this team had. It's incredible what they had to deal with this year.
Then you have criticism and negativity and all that crap, and they never flinched. They kept fighting. They kept the faith, and they finished. They finished.
Just really, really proud of them. As I said earlier, man, I look at every team like one of your children, and if you have children, you know -- I have three boys, and they are all different. If you have any kids, they have different personalities and different journeys and different challenges. I love that about starting over every year, because you truly start over. Because it is, it's new leadership, new challenges, new struggles, new journey.
Man, I love this team. Very similar to our 2014 team that we had. Actually, ironically, right here in this Bowl game -- that was one of my favorite teams as well. I have never judged a team based on a championship, never, ever. Because you know what, there's a lot of things that go into winning a championship. Just because you don't win the championship doesn't mean this team was any less committed than our 2018 team that won it all. This team was just as committed, just as passionate, unbelievable group.
I judged him based on their commitment to excellence, how they handled themselves off the field, what type of teammates they are, how they respond, how we practice, the camaraderie and chemistry, the development of the leadership, their passion, their toughness. That's how I judge these teams.
This team is right there with any team I've had. And yeah, wish we'd have won them all. We didn't. Sometimes you are not quite good enough. That's okay. But, they have laid it on the line every single week, and I'm just really, really proud of them. There's not many programs out there that could have done what this group did this year.
Q. Another guy that's come under a lot of criticism, most of it undue, is Robbie Caldwell, and he gets Gatorade bath out there and a lot of love and seemed very emotional. Was there any significance to some of that?
DABO SWINNEY: Yeah. Don't act like you don't know. I know you know. But I appreciate y'all kind of respecting the process with Robbie, because, man, he deserves it. He's coached -- I wrote his name down right here, so I appreciate you asking about him.
That was a special moment on the field, and we had a special moment in the locker room. He's been coaching 40-something years. He's been leading young people. Man, I love Robbie Caldwell. He's 68, and, you know, this was his last on-the-field game tonight. The team has known that.
Again, I'm sure y'all have probably known that, so I appreciate y'all and how y'all handled the process, allowing this to play out the way it has.
But, man, he came here in 2011 and has had 11 straight 10-plus win seasons and a couple of National Championships and a bunch of ACC Championships and a bunch of big wins along the way.
But he and I talked about this last year, and he really wanted to go one more year. And man, I am so thankful that he did, because there ain't many people that could have handled what we had to handle in that offensive line this year.
It took a dang salty, savvy veteran like Robbie Caldwell to be able to hold it together the way we did this year with such chaos up front. I love him, he and his wife, Nora. He's not -- the good news is he's not going anywhere. He's going to transition off the field and going to run our high school relations and sophomore transition and work on some scouting as well. I'm really thankful that he's going to be with us. But, it's time, and he's excited about a new role and an opportunity to impact the team.
So Thomas Austin will be moving into our offensive line job, and then Crowder is moving into Thomas's analyst role. And Brandon Thomas, who just retired from the Jaguars, is coming to be the offensive line grad assistant. We are going to have BT and big Thomas Austin taking the reins for Robbie Caldwell and going to be coaching those guys on the field.
It's going to be a great transition, man. I'm super excited. We knew this was going to happen. That's why I went and got Thomas last year from Georgia State and brought him on in, so we could have a smooth transition.
But just appreciate Robbie and who he is. He's an unbelievable person of character, will do anything. He'll pick up trash. He'll clean the bus. He'll wipe the tables down. Every year, when we go through job responsibilities and descriptions -- he always puts on there, look for work.
This guy drove the bus at 16. He drove the bus -- can y'all imagine that? At 16 years old, he drove the bus, did the route, picked them up, brought the bus home at night, drove the bus to play baseball. He was the bus driver at 16 years old -- 15 years old. Yeah, it was a different planet. But. he's amazing. It was awesome being able to give him a game ball.
Q. How nice was it to get him off to a good start as the defensive coordinator, and how do you feel like the defense will be moving forward under him?
MARIO GOODRICH: It means a lot. Like Coach Swinney said, we had two weeks of good preparation when we were at Clemson and here. I just feel like all the guys bought in. They really respect him and Coach Conn.
They just want to see -- they just want to see the next team do better. Like the seniors. We just -- we want to leave it all out there and make a statement for the next team that comes in.
Q. Who was the one in the locker room --
DABO SWINNEY: Y'all got a show. It was right there. We were a little loud.
MARIO GOODRICH: Coach Swinney is in charge of the music.
Q. Not trying to pick on the negatives, you obviously put together a phenomenal game, but start of the second quarter, Xavier Hutchinson ended up catching a 34-yard catch. You were able to recover and make the tackle, but what kind of happened there?
MARIO GOODRICH: We were in Cover 4. I just jumped outside. Got a little too heavy on his outside. He came back inside, and just made a good play.
People make plays, and, luckily, we were able to stop him, and I think hold him to a field goal -- yeah, hold him to a field goal. But, our offense lived, lived another play.
Q. This was a milestone win for you, number 150. That's a pretty big deal. Can you just elaborate on how you're feeling after all this?
DABO SWINNEY: I can't even -- I really can't process that, to be honest with you, and I actually forgot until Woody reminded me after the game.
I can't process that. But it's not about me. I mean, I've got 150 wins because of a bunch of great players, a bunch of great coaches, a bunch of great people and the good Lord.
I try to do my part, but I can tell you this, I've got a lot of guys on our staff, former players, that were a part of the first win. It was pretty cool to be here tonight and be a part of the 150th win -- that was a pretty cool moment.
Credit goes to the players. This game is about players. It's about players and players buying in. I'm incredibly blessed that I can't even really process that, but the same things that won the first game are the same things that won the game tonight, same exact things: Effort, toughness, physicality, no-quit attitude, discipline, belief in self and team, and just, you know, uncommon effort.
I'm just really thankful. It's really cool to be a part of something like that. But again, I can go on and on about all the great players that we've had all the way back to that very first win November 1, 2008, at BC, to where we are right now in 2021. It's been an amazing blessing, amazing journey. And, you know, I know, good Lord willing, keeps breath in my body, we'll have a lot more to come.
Q. DJ, what did you think about the way that Brandon Streeter prepared you for this game and what your offensive identity is going to look like going forward?
DJ UIAGALELEI: Coach [Brandon] Streeter, man, I feel like we had a great week of practice the last two weeks, and didn't skip a beat with Coach Streeter being named offensive coordinator. Hats off to Coach Streeter. He's done an amazing job being offensive coordinator, and also excited to have him offensive coordinator being he's my quarterback coach. Being moved up to the offensive coordinator job, I know he's going to do an amazing job.
We didn't miss a beat. He came in, he's brought energy, and he's done it his own way. That's the biggest thing, him coming in as our coordinator, coming in after someone that leaves like Coach Elliott, someone that was an amazing coordinator, after all these years that he's been, you don't want to be compared or you don't want to kind of be like that same person. You want to be able to have your own identity.
Coach Streeter has been doing that. I'm super excited Coach Streeter is offensive coordinator, and I'm super excited for him.
Q. Wanted to ask you about the interception. What was going through your mind, seemed like Purdy batted it forward. Were you surprised?
MARIO GOODRICH: I thought he was going to catch it or something. I don't know what he was thinking honestly, but once he did, I was happy. I was excited. I started pointing -- saw my D-Linemen out front and shout-out to them and the linebackers, but happy to get one.
Q. DJ, we heard Coach talk a lot about the importance of personal development on and off the field. How do you feel you've developed on and off the field this season for 2021?
DJ UIAGALELEI: I felt like going through the season, my word for this year before this season even started was "faith." And to be able to pick that word, and just to be able to go through the whole season, after going through this season, I know exactly why that word, why God gave me that word.
Faith is something that you don't know, you can't see, but you know you believe in your heart. Going through it, I know Jesus put me in this position to be able to go out there this season and put me through these trials and take me through these different struggles and just different challenges, and I thank Him for that. I accepted the challenge and he's made me a better person going through the season and learning the different life lessons going through it. It's made me a better person and I know exactly what He's did for me, so I'm thankful for that.
Q. With this being your son's last game, just overall, what would be the one take away you hope he gets from his time at Clemson?
DABO SWINNEY: Man, you know, Will, these guys can tell you, Will loves every bit of it. Like, he loves mat drills; he loves practice; he loves Tiger walk; he loves weight room; he loves running in the summer. Like he loves every ounce and he has truly squeezed everything out of his experience here.
The biggest thing is just belief in himself and just he's a grinder. He's a grinder. He started the last three games, took seven scholarship receivers to go down, but he hung in there. He became a starter his last three games, had a huge third down conversion, the 31st drive to lead us to points, and man, he's a great young man. He's won the Spiritual Leader Award voted on by his team in his time here. He's won the highest academic award in his time here. He's a great student.
What I love most about Will is just he loves to work and that's probably -- I've said this a few times, like I said this on Senior Night, I got emotional, but my kids have grown up a lot different than me, a lot different than me.
And that was a goal of mine, I want my kids to grow up different than me, but I also worried a little bit about, you know, I guess -- I guess I would say one of my best accomplishments in life is my kids. They have that same grit, that same work ethic, that same toughness, that same will to just be successful, even though, they have grown up different. I'm proud of that.
So special night, special time. One of the greatest joys of my life has been the last five years watching my son just grind and just be a great teammate and do whatever you asked him to do. I've loved every second of it. I mean, he's stayed healthy. He's never missed a game. He's played -- he and [Will] Spiers and [James] Skalski have played in the most games in Clemson Football history. I can't imagine anybody has held for more points than Will.
I'm thankful he was able to come and be a part of this program because it's so much more than just me, the people that pure into these players that shape them and develop them and I'm so thankful that he got that, and he will -- he will use it wisely as he moves forward with his life.
And just all these seniors. Let me tell you something: Will is a senior -- Clemson is better, because these seniors were here. Our program is better because these seniors were here. And tonight, they passed the torch and what an unbelievable job they did in finishing.
Q. What's ahead for you with your knee? And Coach, what kind of grade do you give your rookie coordinators in their first time out in the spotlight?
DJ UIAGALELEI: Not sure right now. Probably have to sees it after the game, but for the most part, I think just PT [Physical Therapy], just continue to keep healthy and just rehab, I feel like that's the main thing right now.
DABO SWINNEY: A plus. Because we just beat a good football team, and we had 30 scholarship players unavailable. I don't know what else you can ask. It's just amazing what these guys have been able to do. So really proud of Wes [Goodwin]. Mike Reed stepping in as special teams coordinator; Todd taking on a new role; Mickey stepping in with a different role as co-coordinator and Wes calling the plays and leading the room; those guys were awesome and did a tremendous job.
We had one mistake down there on the touchdown, and I love the call, he brought the house, went after him and we had a young guy out there that thought he had inside help on Cover 0, so we'll get that right. But I just -- it was an awesome job. A couple unfortunate -- it was a tough call on the rough -- on the receiver, that was a tough one, but just made some good plays. Streeter was awesome. The art of coaching is taking what you have and trying to find a way. So, we found a way.
But, we are going to get a lot of guys back. We're going to get -- 19 guys out with different injuries or whatever and then two more went out tonight. We have a lot coming back. We have some mid-years coming in and I thought the staff did an amazing job, truly.
Q. You talked a lot about how consistent a program Clemson is and how that's allowed Clemson to achieve the milestones that it has. Looking forward, what needs to be fixed, and what's the focus for the off-season?
DABO SWINNEY: Yeah, just get back to work. Start over. We have to go recruit. Obviously we have to fill a few holes and got to complete our '22 class. We have to get guys healthy. We have some surgeries and things like that. We have some guys coming off of surgeries. Take some time off.
School starts on the 12th. Next team meeting will be the 14th. Our banquet will be the 15th. But just get everybody back, that's the No. 1 thing and complete our roster the way we need to. We have a few moving pieces. We have to go get a running back and we have to get another corner. We need another safety. We need another linebacker.
So, we have kind of got a few holes on our roster. We have always gone into the summer and the season, we usually try to be around 80 to 82 and that's where we need to be. Then I usually will keep about three or four to take care of some guys that deserve it, like your starting snapper, you know, people like that.
So got to complete our roster, get guys healthy and then get back to work. Then, we'll study everything from this season and kind of reset with new roles. Got to finish up some staff stuff that I got to get done.
So got a lot to do but you know, just keep learning, keep growing.
Never miss the latest news from Clemson Sports Talk!
Join our free email list
PRESENTED BY