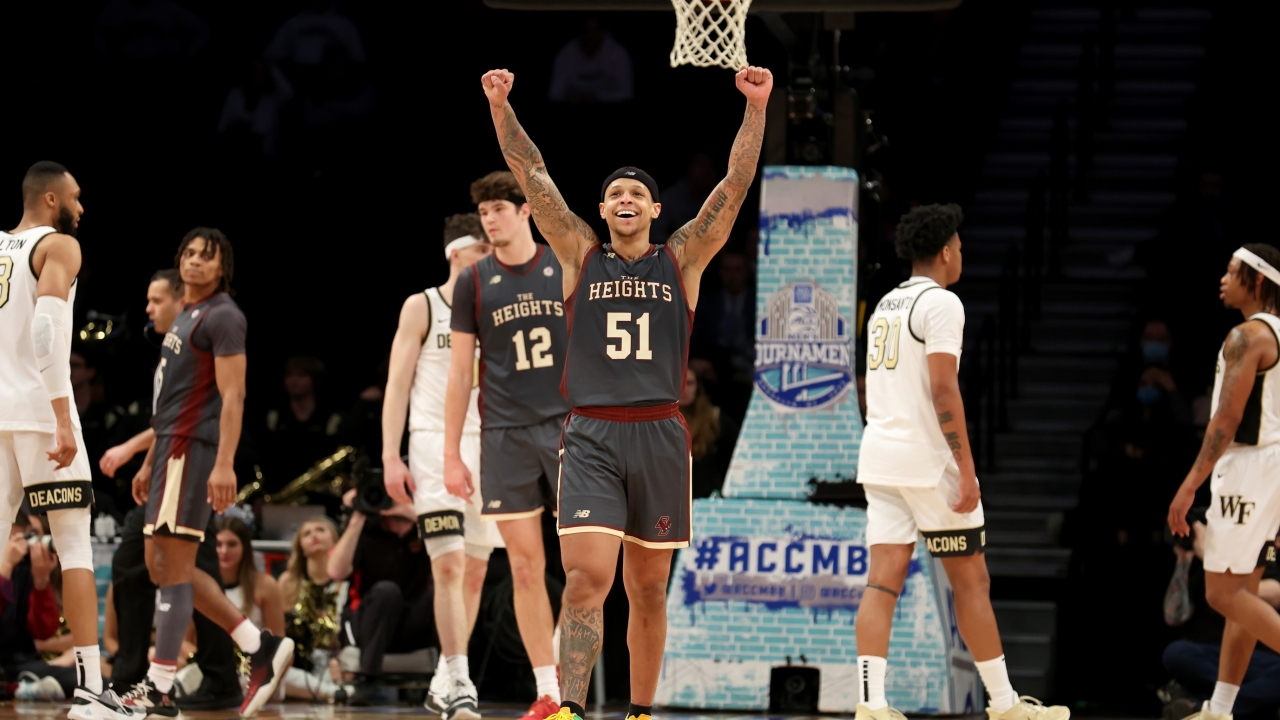 Photo by © Brad Penner-USA TODAY Sports
Clemson Basketball Recruiting
Brevin Galloway on coming to Clemson: 'I can't wait to get back home'
---

Feel the difference - The MOST DIGITAL CONTENT covering your CLEMSON TIGERS! Avoid clickbait and sites bloated with advertising!
---
On Jan. 15 at Littlejohn Coliseum, Brevin Galloway nailed a three-pointer to give Boston College their first lead, 69-68, over Clemson with just 26 seconds remaining in the ACC basketball contest.
That bucket was an exclamation point on an improbable 23-point comeback and sensational homecoming for Galloway, who was born in nearby Anderson, SC.
The 6-foot-2 shooting guard finished the game with a season-high 18 points and five three-pointers.
Galloway enjoyed playing in front of friends and family and beating the home team 70-68 on that day but now instead of snatching a victory from the jaws of the Tigers, he can't wait to maul opponents while wearing a Clemson Tigers jersey.
The 2021 All-ACC Academic Team member committed to Clemson on Tuesday evening as a graduate transfer. He is scheduled to earn his Master's of Science in Sports Administration in May and already holds a master's in communication and a bachelor's degree in psychology and sociology.
Galloway averaged 8.3 points in his lone season at BC after playing three years at the College of Charleston for Eagles head coach Earl Grant, a former Clemson assistant coach under head coach Brad Brownell.
Clemson Sports Talk was recently able to speak with Galloway about his decision to leave chilly Chestnut Hill, MA, the transfer portal, his younger brother, Braden Galloway, a former Tigers tight end with hopes of playing in the NFL, and more.
CST: Brevin. Welcome back home -- back to Tigertown.
BG: Man, I'm extremely excited. I can't wait to get back home. I miss the 8-6-4 bad. I miss it bad.
CST: Well, your story is so interesting, obviously, with your connections to Clemson growing up going to Seneca high school, being a kid from the Upstate by way of now College of Charleston with Earl Grant, and then up to Boston College. I mean, in a nutshell, how do you explain sort of this transition to end up back at Clemson?
BG: It's crazy. That's really the only word I can really put to describe it - the whole experience is just crazy. The thing about me going to the kids' camps. I went to Coach Brownell's Kids Camp since I was like eight or nine years old with my brother [and] to see him playing college football at Clemson, to me playing in the ACC, hitting the game-winner at Clemson, to now playing for Clemson. It's just crazy.
CST: What has this build-up for your brother been like when you kind of look at the potential that he could play in the NFL? And where's he been working out? How's that been going for him?
BG: Yeah, obviously, it's been an exciting time for him. I'm really excited for him. He was training in Miami, I believe for the little pre-draft session and obviously, at his pro day, he put up great numbers. So, I was really proud of him for that, because I know he was working very hard for that.
CST: And of course, being the older brother of the two, you sort of have your eyeballs on everything that's going on when you watched him develop growing up. When was there a point where you guys were like, oh, man, you know what, we both have a chance to play collegiately, [and] potentially at the next level?
BG: So that was kind of instilled in us at a young age. My mom played volleyball at Georgia. My dad played basketball at Lander and he has the three-point record there. My mom's in the Hall of Fame at her high school and the same deal with my father. So, it was just kind of born in us.
Donna Carr/Instagram
CST: What has the experiences in Charleston and Boston College helped you with, to lead you to the point where now you feel like I can come in and make an impact for this Clemson Tigers basketball team?
BG: I think the biggest thing is just knowing what I want. I've been through adversity, I've been through a lot of hardships in my career. At this stage, I know exactly what I'm looking for. I know exactly what I want -- and that's to be happy, to be at home, and at Clemson. I've never been more excited for an opportunity. Um, to be at home, to be able to play at a high level in front of my friends and family. It's just an opportunity that you really can't just let go.
CST: After losing Antonio Reynolds Dean and Coach Kareem Richardson. Reynolds Dean goes to Georgia and you got a pretty unique connection to Antonio, tell the folks at home how you're connected to him?
BG: So that's my mom's fiance. He actually proposed to her, I want to say within the last month. It was around her birthday. So yeah, man, he's a part of the family now. So that's a big deal. Obviously. I wanted him to be at Clemson for my last year. Obviously, I know he's happy to be at Georgia, that's where he's from. So, I'm happy for him. I'm happy for my mom. My mom graduated from Georgia. She played volleyball there. So everybody got their little homecoming.
CST: Outside of just being back home. What is it about Clemson that made it the place to pick over -- say South Carolina?
BG: I think honestly just the toughness and being in the ACC. Obviously, I'm familiar with that conference [from] this past year. I want to be in there again. I felt like I was never healthy this past year, and I want to be able to prove that I can play in the ACC at the highest level and do what I do at an elite level. So that's one of the biggest things, -- they're in ACC.
Never miss the latest news from Clemson Sports Talk!
Join our free email list
PRESENTED BY