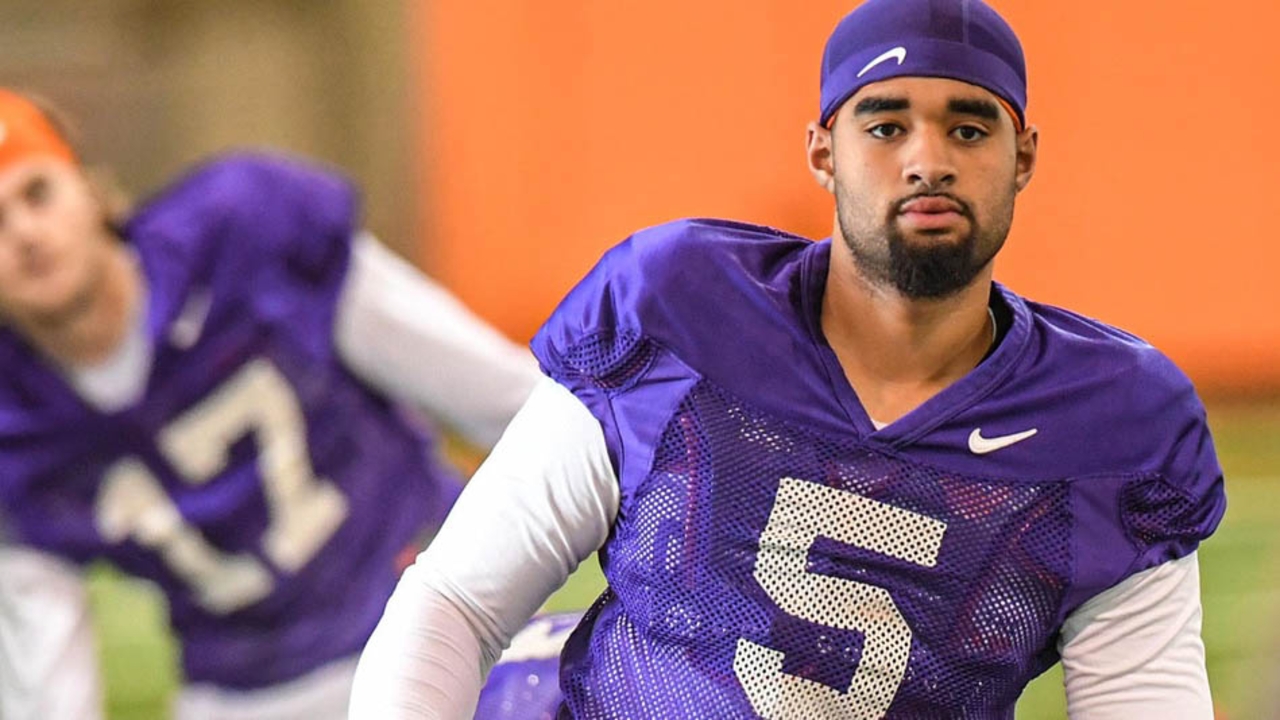 Photo by Ken Ruinard / staff / USA TODAY NETWORK
Clemson Football
THE ROAR: D.J. Bounceback, Portal Watch, Fireflies
---

Feel the difference - The MOST DIGITAL CONTENT covering your CLEMSON TIGERS! Avoid clickbait and sites bloated with advertising! Get THREE MONTHS of coverage for just $1.
---
We are excited about the return of THE ROAR and our lead writer Trey Stewart coming back to the team after a brief stint in Wyoming! In fact, we are so excited about Trey's return we are running a brand new deal-- call it the "Trey Special" if you will-- THREE MONTHS of coverage for just $1. We hope you will take advantage of the deal and then stay on board as loyal supporters of our site!
LISTEN. Take a moment to check out yesterday's show. Clemson Sports Talk can be heard around the world on the iHeart Radio App or streamed online. Listen to Fox Sports Radio 1400 from 4-6 PM daily! Subscribe to our podcast if you enjoy the show!
DJ BOUNCEBACK. There's no question that Clemson quarterback DJ Uiagalelei had a disappointing sophomore season. What began as a year full of national title and Heisman aspirations turned into Clemson missing the playoffs for the first time since 2014, with Uiagalelei taking much of the blame.
However, as we head towards the 2022 season, there's at least one person who believes the rising junior is about to bounce back in a big way. Fox Sport's betting analyst Jason McIntyre has Uiagalelei going #4 overall to the Carolina Panthers in next year's NFL draft.
"This highly rated QB struggled last season on a bad Clemson team, but the tools are all there for the 6-foot-4, 240-pounder to be one of the best pro prospects, in the Daunte Culpepper mold."
Obviously. if this were to happen, that means Big (slim) Cinco will have bounced back in a huge way during the 2022 season. Injuries to himself and other key pieces of the offenses hampered Clemson all season, so it will be interesting to see him a year older. Hopefully, the offense is healthier this season as it would increase the chances that Uiagalelei has a breakout season.
We've seen what he can do when he's fully healthy and has some help, as he lit up Notre Dame in 2019 passing for the most yards ever against the Fighting Irish-- as a true freshman.
Can Uiagalelei make a push to the top of the draft boards next year? The odds seem slim, but if he does, it's safe to say the Tigers will have a great 2022 season-- call him D.J. Bounceback if you will.
Swanny talks about the topic in the second hour of the show yesterday. Check out the audio at the top of THE ROAR.
PORTAL WATCH. Former Clemson point guard Al-Amir Dawes has announced a transfer to Seton Hall. Dawes, who is originally from New Jersey, returns back home to play for new head coach Shaheen Holloway, who recently guided Saint Peter's on a cinderella run to the elite eight. Dawes averaged 11.3 PPG and shot nearly 40 percent from three for the Tigers last season.
In more positive news, Wichita State graduate transfer Dexter Dennis announced that Clemson is a finalist for his services, along with Vanderbilt, Indiana, Georgia Tech, Kansas State and Texas A&M.
Here's what 247Sports had to say about Dennis:
"While Dennis may not be an offensive spark plug, he is considered a strong defender that can guard multiple positions on the court thanks to his size and length. He had 24 steals and 24 blocks last season. In 2020-21, Dennis started 22 games and averaged 9.6 points and 4.4 rebounds per game and initially declared for the NBA Draft before returning to the Shockers. He was also voted the defensive player of the year by Wichita State's coaches and his teammates."
FIREFLIES. The Fireflies are hosting their annual Clemson Night out at Segra Park on Thursday, May 19th at 7:05 pm. It's also "Stand Up to Cancer Night" for all who attend. Tickets are $10 each and a free Fireflies hat is included according to the release!!
I've been out to Segra Park multiple times for games, including Clemson Night and it's an incredible experience. I've got to check my schedule, but I'm hoping to go out there in a few weeks to hang out with some fellow Tiger fans!
SONG OF THE DAY. I know Swanny will appreciate this pick, as it's been a staple on Clemson Sports Talk for years. It applies to me as I work through these 12-hours shifts.
- "I Don't Get Tired" - by Kevin Gates -
OFF THE PATH. There was a strange moment in MLB yesterday, as Diamondbacks pitcher Madison Bumgarner was ejected for...something.
First-base umpire Dan Bellino went to perform a check on Bumgarner's hand for any illegal substances, which is standard procedure. However, it appears that Bellino simply stands there and stares at Bumgarner, not even looking down at his hand. This goes on for way longer than is comfortable before Bumgarner notices that Bellino is staring directly at him, instead of actually checking his hand. When Bumgarner says something, he is quickly ejected from the game.
It appeared to me that Bellino was baiting Bumgarner into saying something so he could eject him. Why? Who knows why MLB umpires do anything these days. What I do know is that officials across all sports need to start having their power checked-- it's getting out of control.
As always, thanks for catching up with us on THE ROAR.
See y'all tomorrow!
---
Let us know what you think about THE ROAR! If you liked it, make sure you SHARE! Don't forget to sign up for our special! Get THREE MONTHS of coverage for just $1.
Never miss the latest news from Clemson Sports Talk!
Join our free email list
PRESENTED BY