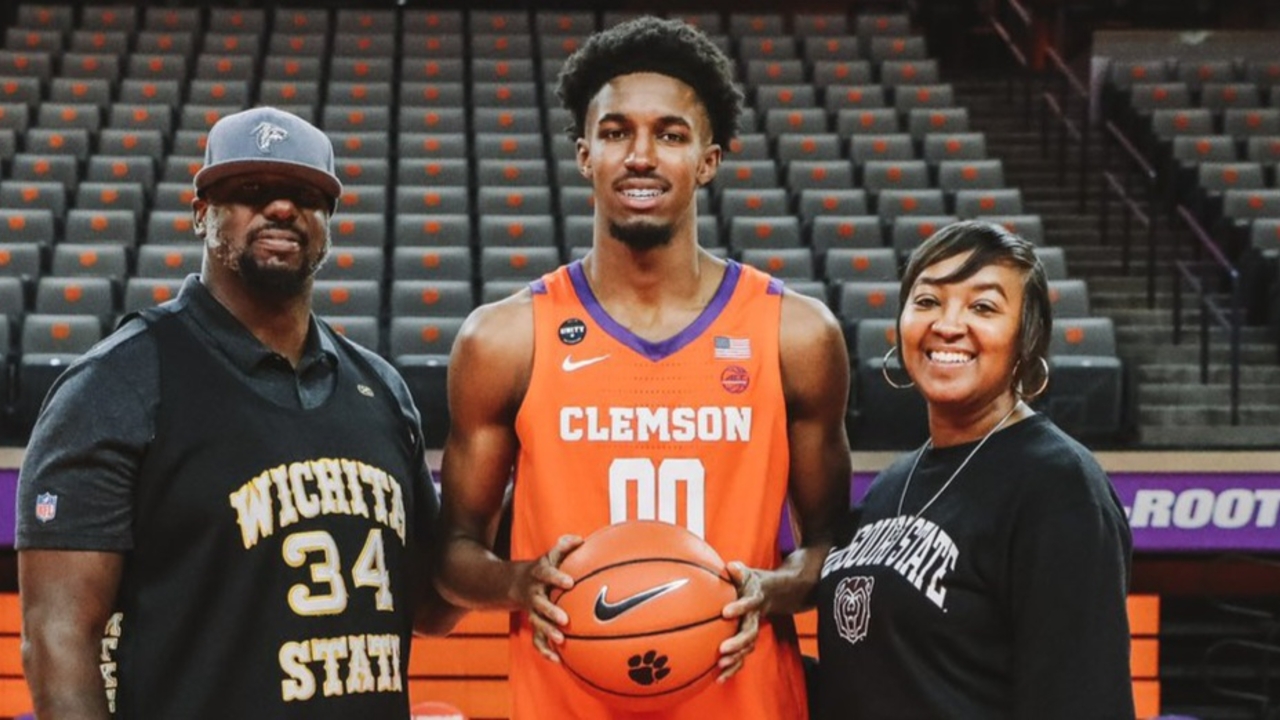 Photo by Chauncey Wiggins/Twitter
Clemson Basketball Recruiting
Grayson High product brings size and shooting to Clemson frontcourt
---

Avoid clickbait and sites bloated with advertising!
---
Dillon Hunter‍‍ verbally committed to play basketball at Clemson on April 20. Hunter, the younger brother of junior Chase Hunter, is expected to be the final member of the 2022 freshman class.
Clemson head coach Brad Brownell signed Hunter, Chauncey Wiggins‍, Randall Godfrey Jr‍, all from Georgia, and Chauncey Gibson‍ from Texas.
Wiggins (Grayson High, Loganville, GA) became Brownell's first 2022 commit on Sept. 24, 2021, and he brings much-needed size to the Tigers' frontcourt.
At 6'10, and projected to play power forward, he's taller than returning starter Hunter Tyson (6'8, 215) and reserve Ian Schieffelin (6'7, 225). Moreover, he's equal to centers Ben Middlebrooks (6'10, 232) and P.J. Hall (6'10, 240).
Wiggins has closely watched the development of Tyson and Schieffelin and what he observed played a significant role in his decision to sign with the Tigers over Georgia, Maryland, N.C. State, and USF in November.
"I saw what they did with Tyson over the past four years and Ian this year," he said of the progression of Tyson, who averaged 10 points and 5.5 rebounds in 2021, and the body transformation of Schieffelin, his former Grayson teammate. "He [ Schieffelin] was 240 and went down to 220, lost 20 percent body fat, and gained 20 pounds of muscle. So the development in the weight room and on the court caught my eye."
Tyson and Middlebrooks have also noticeably benefited from the strength program. Tyson weighs 215 pounds significantly up from 190 as a prep senior and Middlebrooks is 22 pounds heavier.
Wiggins said he tips the scales at around 200 pounds and 210 is the optimal weight before school starts in August.
The second team All-State performer averaged 16 points, 8.5 rebounds, and four assists after averaging 12.1 points, 6.6 rebounds, and 2.3 assists a season ago while playing with Schieffelin, the 2020 Region 4-7A Player of the Year, Robert Cowherd, a classmate also offered by the Tigers, and Taje Kelly (Charleston Southern).
"Chauncey is probably the most skilled basketball player in the state," Grayson head coach Geoffrey Pierce told Gwinnett Daily Post after Wiggins helped lead a talented Grayson team to a Region 4-7A conference title game win over No. 1 seed Newton. Wiggins had 15 of his 21 points in the first quarter.
"As long as he's aggressive, I don't think anybody can guard him 1-on-1," continued Pierce. "We kept going to him (in the first quarter) and even when he missed, he kept his head up. He just played the entire game."
Earlier in the season, at the Chick-fil-A Classic Tournament (Dec. 27-30) in Lexington, SC, Wiggins had his most impressive game of the year. He scored 18 points and grabbed 17 rebounds in a 65-58 win over then-nationally ranked Carmel Christian (NC). Carmel was led by Cade Tyson (20 points), a Belmont signee and brother of Hunter.
Wiggins has a college basketball connection as well. As a matter of fact, two.
His father, Michael Wiggins, played forward for Wichita State from 1990-93, and his mom, LaWaynta Dawson Wiggins, center at Missouri State from 1989-91, and she is a member of the Hall of Fame.
So has he been able to use their experiences to help him transition to college?
"I just try to listen to them both, because they played at the level that I want to get to," Wiggins noted. "My mom also played overseas. So, I just try to listen to them a lot because they know what they're talking about. I try to take that information and use it."
In basketball vernacular, Wiggins is a stretch four, defined by Wikipedia as "a player at the power forward position that can generate offense farther from the basket than a conventional power forward."
He stretches defenses with his smooth jump shot and above-average athleticism.
Shooting is a strength for him but where can he improve?
"Now, I would say getting the rebound and pushing it down the court," replied Wiggins. "Sometimes, I rely on my shooting too much since I've been shooting all of my life. So instead of pulling up from mid-range, I want to take it all the way."
Clemson fans will get an early look at Wiggins and a preview of the 2022 team when the Tigers travel to France this summer for a preseason international tour beginning on Aug. 3 until the 13th.
Never miss the latest news from Clemson Sports Talk!
Join our free email list
PRESENTED BY