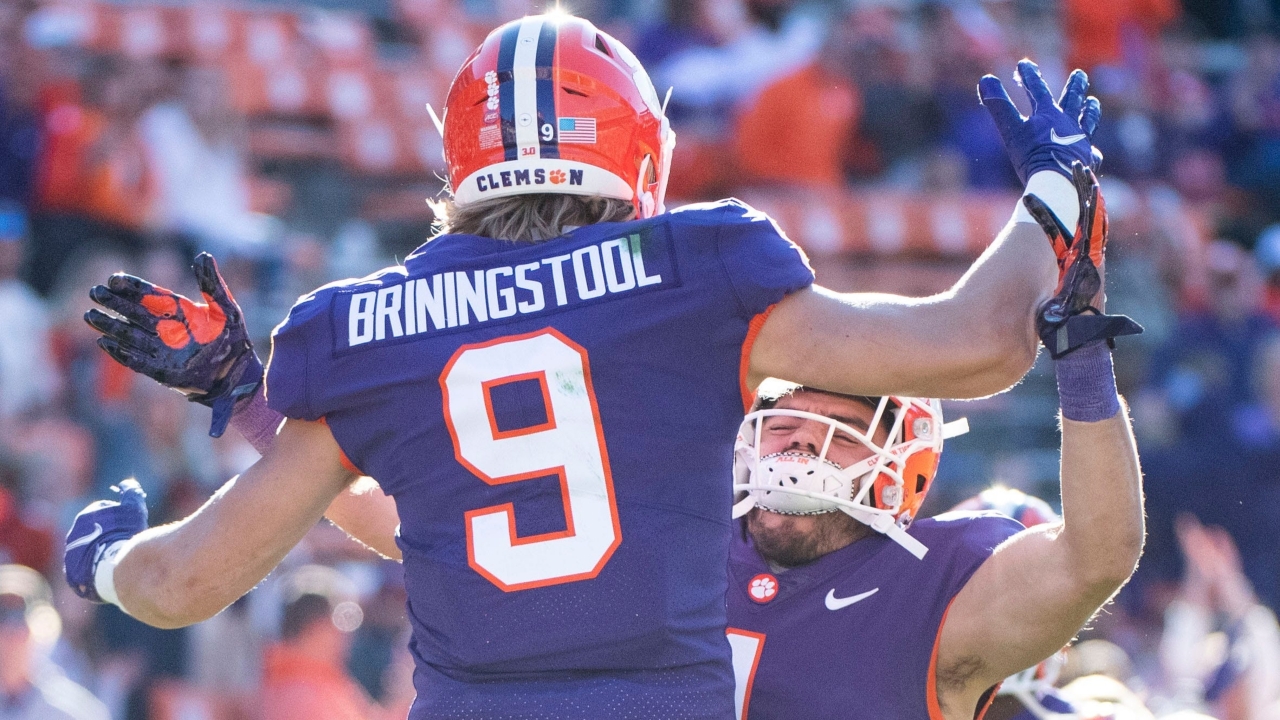 Photo by © JESSICA GALLAGHER/ Staff / USA TODAY NETWORK
Clemson Football
With a Hollywood nickname, Jake Briningstool may be ready to shine for Clemson
---

Avoid clickbait and sites bloated with advertising!
---
With Clemson trailing Florida State 10-13, quarterback D.J. Uiagalelei completed an 11-yard pass to Jake Briningstool to give the Tigers a first down at the FSU 27. The second-quarter catch was the first of the 6-foot-6, 234-pound freshman's career.
"It was definitely good to get the first one under my belt," said Briningstool. "I thought it was no better place to do it than in Death Valley in front of the home crowd. So, I thought that was really cool, and I was glad I got the opportunity to do it."
Two games later, he scored on a 25-yard touchdown reception against Connecticut and finished the game with two catches for 56 yards. To date, it's the best career game for the former four-star Ravenwood High (TN) standout, who was a consensus top 5 tight end in the 2021 class.
"This was the guy man, this was the guy for us and we're thankful that we were the program for him," said Clemson head coach Dabo Swinney after Briningstool signed on Dec. 16, 2020. "He's a great player. I mean a lot of people have him as the best player in the state of Tennessee. He's easily one of the best tight ends in the country. He's long, he's dynamic, he can do it all. I mean, he's got toughness. His dad was a great player at Michigan State."
Jake Briningstool/Twitter
Even with his top-tier status, Briningstool was expected to be behind starter Davis Allen, the leader in receptions (28) and touchdowns (3) in 2021, senior Braden Galloway, and redshirt sophomore Sage Ennis on the depth chart.
In eight games, Briningstool played 102 snaps and finished with three receptions for 67 yards.
Springing into the Fall
Entering the spring, Allen (shoulder) and Ennis (knee) were sidelined with injuries, leaving only Briningstool and graduate senior Luke Price available for new offensive coordinator Brandon Streeter and passing coordinator/tight ends coach Kyle Richardson on the spring roster.
Briningstool made the most of his opportunity and it showed in the Orange and White Spring Game, where he led the White team with a game-high seven receptions for 58 receiving yards.
"For me really, I just wanted to come out here and be a better tight end - all around, and I think I was able to do that throughout the spring," said Briningstool following the game. "Especially coming out getting some balls and showing what I can do in space, I think really helped out, too."
Allen and Ennis are both expected to be healthy this fall and Briningstool, Price, and freshman Josh Sapp will be backups.
Swinney was adamant about Ennis's position in the lineup when asked if Briningstool was close to supplanting him for the No. 2 slot, "Sage is our No. 2 for sure. He's done a great job," he said in November.
Has Briningstool, who offers more size and the ability to stretch the field, made up ground on Ennis after the spring?
Drago! Drago!
At Ravenwood, Briningstool was given the nickname "Ivan Drago" by a friend for his resemblance to the chiseled, 6'5, 251-pound Russian opponent of boxer Rocky Balboa in the movie "Rocky IV."
Drago was played by actor Dolph Lundgren who studied Chemistry at Clemson, according to Dolph Lundgren Official.
Briningstool would prefer the path of Lundgren, who catapulted to stardom after his role in the film, to the fate of Drago, who was left battered and bloodied in his native Russia by Rocky.
The 19-year-old may have to remind the Gen Z fans of the 1985 classic, though they may be more interested in Jordan Leggett's performance in the 2016 National Championship game.
The former tight end and two-time John Mackey Award finalist caught seven passes for 95 yards including his 17-yard redzone reception that helped set up Hunter Renfrow's game-winning two-yard touchdown reception.
Leggett is a Clemson legend and the tight end position has not produced anywhere near his averages of 43 receptions, 630 yards, and 7 touchdowns over two years (2015 and 2016) since his departure.
Allen is the clear-cut leader of the tight ends but could Briningstool steal some spotlight?
Will the college football world know the name -- Jake Briningstool next year? And will there be chants of "Drago!" when he snags his next touchdown pass in Death Valley?
Eventually, questions will be answered and the future realized, but for now, Briningstool is excited about what transpired in the spring and what the fall may bring.
"I felt I got a lot better from the spring until now. I'm excited [about] how the spring went, and I'm excited about the fall."
Never miss the latest news from Clemson Sports Talk!
Join our free email list
PRESENTED BY