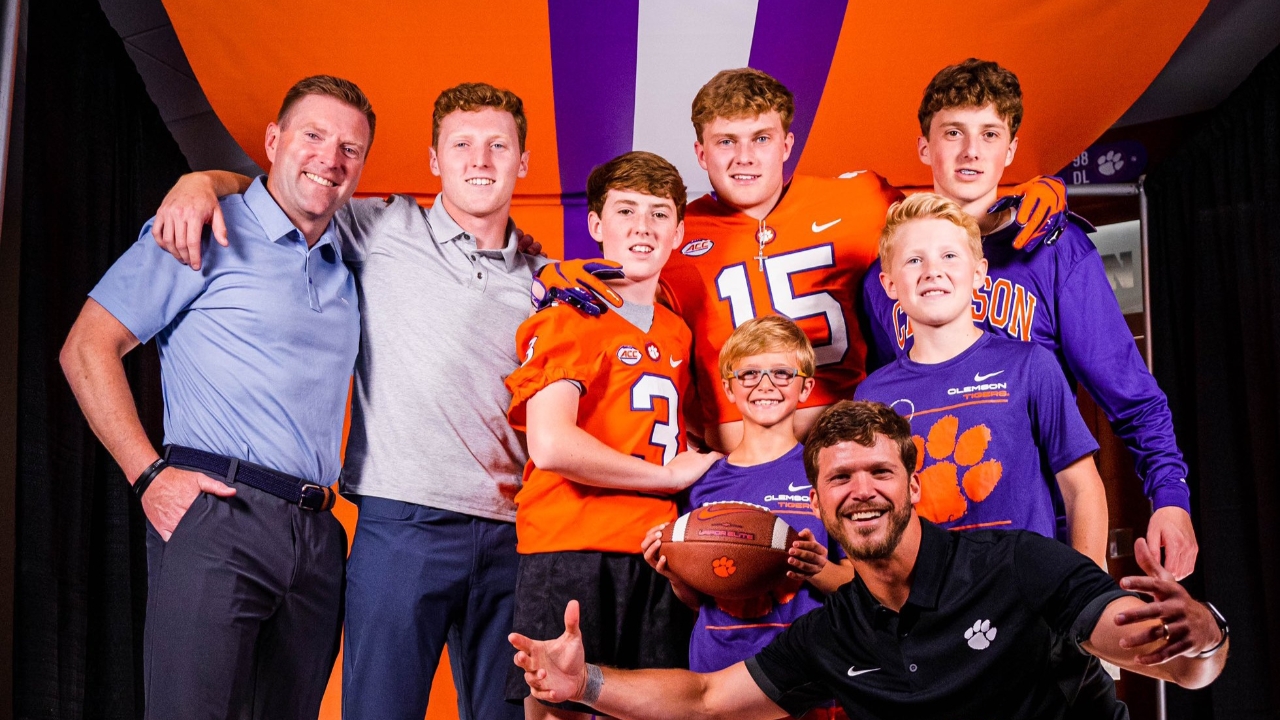 Photo by Ronan Hanafin/Twitter
Clemson Football Recruiting
Massachusetts athlete had an 'awesome' official visit in Clemson
---

Avoid clickbait and sites bloated with advertising!
---
Ronan Hanafin‍ (Buckingham Browne and Nichols School, Cambridge, MA) was among the over 30 visitors on June 3-5 official visits. He arrived on campus on June 3 after traveling by automobile more than 15 hours from Cambridge, Massachusetts.
"It was an awesome visit," the 6'3, 205-pound wide receiver prospect said. "We had a great time. There were a lot of kids there and they [coaches] made a very good showing. All the coaches did a great job hosting so many kids. It was a great time to be able to get down there. We had to drive down there so it was a bit of a long hard drive, but they made it worthwhile."
The Tigers were given the privilege of being Hanafin's first host for an official visit. Notre Dame was second on June 10 with Alabama (June 17) and Boston College (June 24) to follow. He is undecided on whether he will take a fifth visit.
"They kind of laid it all out - like a red carpet," he added as he further recapped the weekend. "It was my first official visit. It was definitely cool to be able to have that at Clemson."
So which player was tasked with hosting Hanafin on the 'red carpet' tour?
"My host was Cade Klubnik. He's a great kid, a great football player, and an even better person," he noted. "We rode around campus on scooters. He toured me around and showed me what his day-to-day processes were in the football world and just school in general. He did a great job."
Klubnik was a fierce recruiter and unofficial leader, last year, within the 2022 class. If Hanafin signs with the Tigers, he would catch passes from the former five-star Texan. So were there any discussions about the potential connection?
"Yeah, a little bit," said Hanafin, the 34th-ranked athlete in the 2023 class. "He said that'd be really cool if we could make that connection and have that chemistry going early. Same with Christopher Vizzina‍. He's committed there, so that gives them another great quarterback. They have a great quarterback room right now."
Hanafin is also being recruited to play safety by a few schools and had conversations with safeties coach/co-defensive coordinator Mickey Conn about playing the position at Clemson, but Tyler Grisham has the upper hand here and the two-way standout spent the majority of his two days with the wide receivers coach.
"We got to talk a lot and I was kind of hanging out with him all day for the two days that we were there," he said of his time with Grisham. "We watched some film and he showed me a bunch of my film matched up with their players and some NFL players from Clemson. So we made some similarities in how I play and how he thinks he can use me in the offensive scheme.
"So, I think I'd rather play wideout because I feel more comfortable there right now."
Hanafin was accompanied on the visit by his parents and four brothers, and his parents were present on the first campus visit on March 31 when he received the offer.
"I think it's very helpful to have my family there because it's not just me making a decision," he replied when asked about his family's role in the recruiting process. "It's me making it for my family too, as well. They have a big say in it and know that likes and dislikes will help me make my decision."
He has 26 schools to choose from with Georgia being the most recent to offer on June 8.
Alabama, Oklahoma, USC, Virginia, Virginia Tech, Miami, Michigan, Notre Dame, Ohio State, Penn State, Tennessee, and Wisconsin have also offered.
Although Hanafin had a great time in Tigertown, he said a pledge to the Tigers or any other school is not expected until all visits are made. The ideal plan for him is to commit before his final year at BBN.
Never miss the latest news from Clemson Sports Talk!
Join our free email list
PRESENTED BY