Photo by © Ken Ruinard / USA Today Network
Clemson Baseball
Erik Bakich: 'I feel very fortunate to only be a part of the Jack Leggett Coaching Tree'
---

Avoid clickbait and sites bloated with advertising!
---
We recently caught up with Clemson's new baseball coach, Erik Bakich, in a wide-ranging interview. Take a few minutes to hear what the Tigers' new skipper has to say about the future of the program-- or read through these unedited notes from our time together.
When he fell in love with baseball:
"I was one of those kids growing up my favorite sport was whatever sport I was playing at the season. I think as I got more into little league, around 10,11,12 years old, that you know, started to talk in a different way about baseball, like that was my favorite sport. That was the sport I really loved the most. It's, in the blood. I knew even when I figured out really quickly after college, I wasn't good enough to play in the big leagues-- I just knew I had to stay connected to baseball in some way, shape, or form. Very lucky to start a coaching career at such a young age with such a tremendous staff and group of mentors."
On coaching and past experience
"Well, I've said this before, I feel very fortunate to only be a part of the Jack Leggett Coaching Tree and his tree has a lot of branches. One of the best moves I could have made was leaving California and going out to East Carolina. I just heard something different from the head coach at East Carolina, Keith LeClair. What I didn't know at the time was that Keith LeClair had played for Coach Leggett at Western Carolina and coached with Coach Leggett at Western Carolina. That was the connection to the Coach Leggett Coaching Tree. Then when LeClair basically called in a favor to Coach Leggett-- and put in a good word to be the volunteer coach in 2002-- It was just like these light bulbs going off of just seeing the other side. I've had the players' perspective, but then to see the coaches' perspective of that coaching tree and make those connections and connect those dots (from) Keith LeClair's program at East Carolina as a player to Coach Leggett and Clemson and then obviously, with Tim Corbin and Kevin O'Sullivan and myself sharing an office that just accelerated the learning curve. Then Coach Corbin allowed me to go with him and be his recruiting coordinator at Vanderbilt and build something special. So it's only been that tree."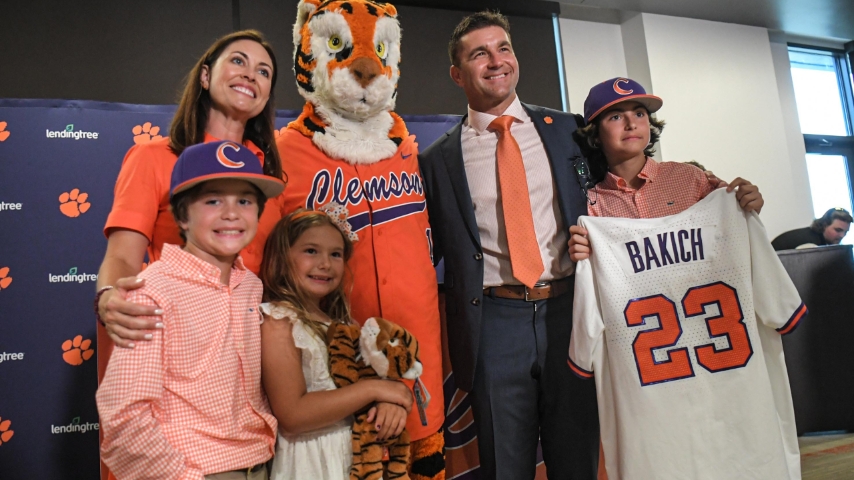 © Ken Ruinard / USA Today Network
On coaching baseball in 2022:
"There's a lot of different ways to do it. Some people roll the balls out there recruit good players and just play. But the Jack Leggett coaching tree Coach Corban, Keith LeClair-- it's just tremendous attention to detail, fundamentally sound instilling character values, toughness, being aggressive, discipline, but more importantly, it's just the care level of the human being, and developing the total person-- not just the baseball player. The future husband, the future father, the future community leader, and building that within the program, and integrating our family and our children, Jiffy, my kids, what Tim and Maggie did would what Coach Leggett did and Karen and his kids Tanner and Colby. It's just you just knew the whole family. They were around. It was really, really special. I saw it at East Carolina with Coach LeClair's wife Lynn and his kids J.D. and Audrey. It's just continued it with Jiffy and our three kids, where it's just one big family and it's treated as such."
On preparing for the upcoming season
"A lot of dialogue, a lot of conversations with everyone from our administration. The former coaching staff has been awesome, they've been super helpful. And I continue to be incredibly appreciative of their help in transitioning. Watching video, just gathering information to do a true needs assessment. And that's really the first week and a half has been just creating that needs assessment and what are the priorities in the first couple of weeks and you're really trying to do everything, you're trying to return every single text message and every single phone call and connect with every single former Clemson baseball player while hiring a coaching staff while getting in touch with not just the current team but the recruits in the pipeline and figuring out the transfer portal. I mean, it is a lot, I felt like the first few days I was like, oh my God, I'm totally underwater. I can't get my text messages under 300. I send one and two more come in, but I think I think we're making our way to the more sturdy ground now a lot and we're getting there. We're not quite there yet, but we're getting there for sure. But it has been a whirlwind in the most awesome way possible."
On NIL and the 11.7 Scholarship Limit
"I understand the pay-for-play. There's some deals being made where student-athletes are making a lot a lot of money and that's wonderful, good for them. I think for college baseball, my thoughts on subsidizing the 11.7, and helping players out is to eliminate the cost of attendance. It's not as much as it is trying to pay players an exorbitant amount of money as to just eliminate their expenses, eliminate the bills. College Baseball forever and ever has been a student loan sport, where guys are walking out of college as College Baseball players with a high level of debt. I think if we can bridge that gap to where that's no longer taken place, and they can almost become a headcount sport, where they have just the cost of attendance covered that would be fantastic. Then NIL, it becomes a meritocracy of pay, good the really, really high-level players are being compensated because of some deals that they can negotiate on their behalf and then great, but I this is where I think Graham Neff has been an incredible leader because he has looked at all different avenues to help us stretch those 11.7, whether it be NIL and the buckets that we're finalizing, and to create those opportunities for our players to bringing back academic common market, to approving the Austin money to be available for scholarships student-athletes, to finding creative ways through summer school to help players financially, make progress towards their degree and Clemson be able to cover it. So I think when you put all of those together, you have some creative solutions to really eliminate that cost of attendance for our players."
On Nick Schnabel joining the Staff
"Nick is an extension of the Jack Leggett coaching tree as well, having played for Keith LeClair at East Carolina, we were teammates at East Carolina together. We are both originally from California, played against each other in high school and in junior college, but never knew each other. We didn't actually meet until we went on our recruiting visit to East Carolina, but, became very close friends and obviously stayed connected. He played professionally making it up to AAA with the Expos, then started his coaching career back at East Carolina, and had stops along the way at Chipola Community College, at West Point, at Liberty, back to East Carolina as the recruiting coordinator again. We were able to convince him somehow to come come to the frozen tundra for 10 years, and he was absolutely instrumental in helping build Michigan baseball and construct a roster. He's just got a recruiting acumen that is off the charts. He knows what players are supposed to look like. He's an elite infield and hitting instructor and just someone that was just as vital to building Michigan into the program we were able to build it into as anyone so it was very important. I knew he was going to have an opportunity to take over Michigan as the head coach. And so to be able to get him to come to Clemson and be the assistant head coach here was a huge get for our program."
Never miss the latest news from Clemson Sports Talk!
Join our free email list
PRESENTED BY