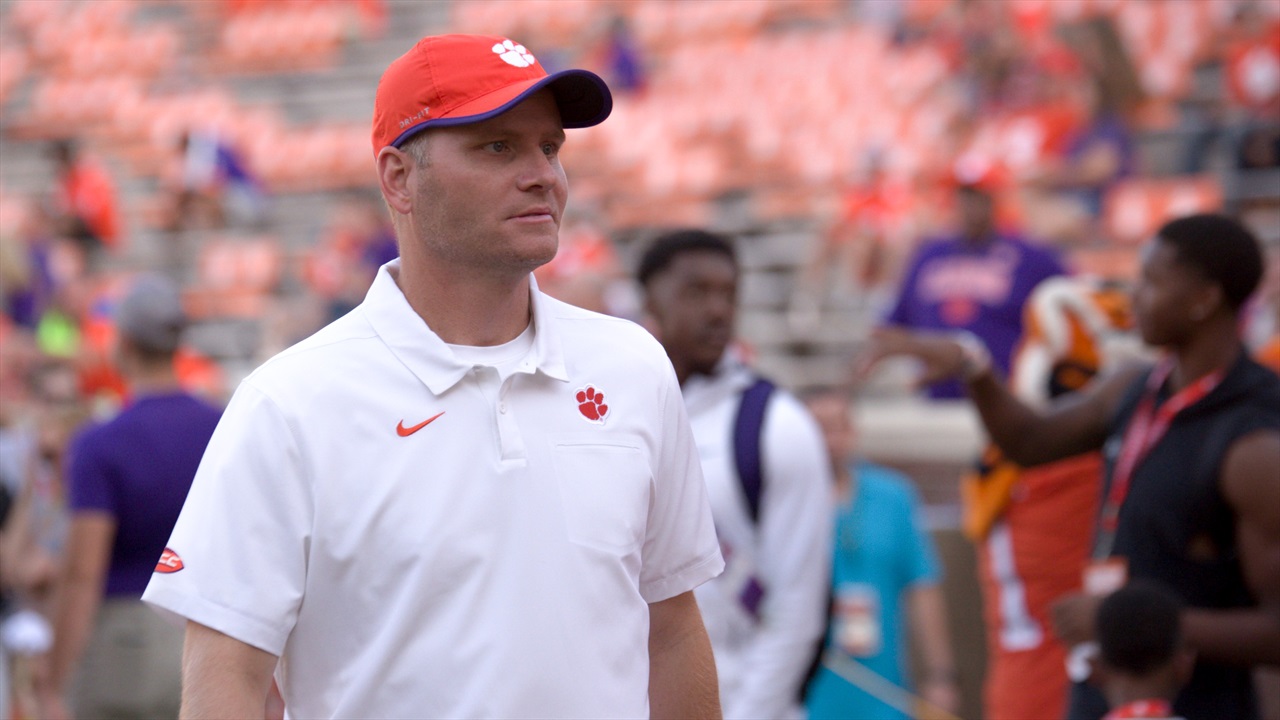 Clemson Football
Streeter says offensive line making strides, Goodwin updates Thomas' injury
---

Avoid clickbait and sites bloated with advertising!
---
Clemson offensive coordinator Brandon Streeter and defensive coordinator Wes Goodwin spoke to the media following this morning's practice session. Streeter elaborated on competition at quarterback and the offensive line's recent growth. Goodwin gave an update on Xavier Thomas' foot injury and discussed Cade Denhoff's development this offseason.
OC Brandon Streeter
On his excitement about the offensive line:
"Oh man, I'm so fired up about these guys. Number one, the character that they have and the passion that they have. They all have the want-to. We've been talking about toughness and mental toughness for a long time- that's what these guys have. There's no doubt we got that position really, really good."
On the offensive line's scrimmage performance:
"Especially in the running game, our offensive line did a really good job- really covering people up and being physical. That's what our guys are- we got some tough, tough guys up front, and I love coaching those guys because they've got that mentality that you really want."
On the competition at QB:
"Right now, DJ is our starting quarterback. He's been solid this whole camp- he's moving so much better, he's just doing a great job of leadership- we talk about that all the time. These guys really want to follow him. Cade has done an awesome job; he's done nothing but continue to get better, and better, and better. There's no doubt there's competition. There is definitely competition. But DJ, man, he's the guy right now. He's our guy, and he's got to stay consistent and keep playing and get better."
DC Wes Goodwin:
On Xavier Thomas' injury timeline:
"He has a foot injury and is out 4-6 weeks. He's in a good positive state. Life is tough and unfair at times, but he's in a great mental state right now. He's very positive and really excited to get back to where he was. It's really unfortunate for XT- and he was having a great camp, he was at a great physical standpoint. I'm excited to see those younger guys get opportunities to go out there and show their summer of work and growth and potential- let them display it out there on Saturdays for everybody to see."
On DE Cade Denhoff's growth:
"He had a great summer in the weight room. He improved his strength numbers, flexibility, bend, get-off, and is playing physical- that comes through knowledge and understanding as well."
"I was excited to see where he was starting out Day 1 – and every day, he's continued to get better and better."
On Trenton Simpson's improvement:
"From a knowledge standpoint, he improved tremendously from the spring to Day 1 of training camp. Definitely, all his hard work in the film room, and learning the position, run fits, just knowledge and knowing where his help is – I was excited to see where he was starting out Day 1 – and every day, he's continued to get better and better."
On the middle linebacker spot:
"That spot will go all the way up until kickoff. Trotter has been really impressive, has really had a good camp, he's really productive in all our competitive work… From a knowledge standpoint of learning the scheme, more so than anything- I feel like he came in as like an old man from that standpoint, with his dad being a longtime NFL player- just really smart beyond his years."
Never miss the latest news from Clemson Sports Talk!
Join our free email list
PRESENTED BY