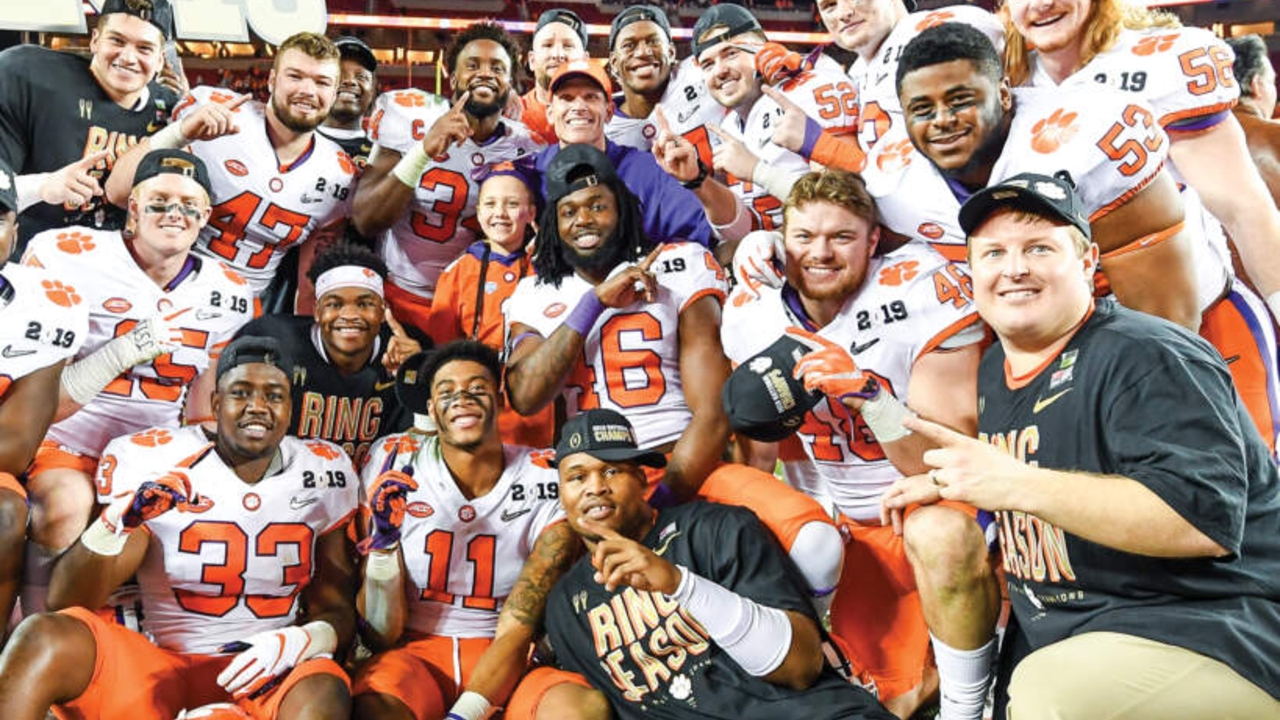 Photo by ClemsonTigers.com
Clemson Football
Wes Goodwin | by Tim Bourret
---
Note: The following article appears in the Furman football gameday program.
Wes Goodwin | by Tim Bourret
When Dr. Terry Don Phillips removed the "interim" tag from Dabo Swinney's status as Clemson's head football coach on Dec. 1, 2008, many prominent members of the national media questioned the move. Swinney had never been a coordinator at any level, an unusual move in this day and age.
Swinney has proven those doubters wrong 100 times over by leading the program to two national titles. His 80.7 winning percentage is first among active coaches, even better than Nick Saban.
Obviously, Phillips knew what he was doing when he hired Swinney.
Now, Swinney has made a staff move that has brought some questions from the national media. He named Wes Goodwin as his defensive coordinator without any previous experience as a full-time position coach. But a look at Goodwin's track record and testimony from his coaching superiors indicate Swinney knows what he is doing.
"All I can tell you is Wes Goodwin is special," said Swinney when he made the announcement of Goodwin's hire in December. "Everyone who has ever worked with him…they know who he is and what he is capable of doing.
"It is a blessing that I've been able to hang on to him. He's turned down three or four linebacker jobs in the NFL for the last three years. There is a reason those NFL guys have been trying to hire him."
One of the reasons Goodwin has such a strong reputation with NFL coaches is the testimony of Super Bowl champion Head Coach Bruce Arians. Goodwin served on his staff with the Cardinals for three years.
"Wes is one of the best young defensive minds I've had the opportunity to work with," said Arians. "I saw him grow defensively and offensively. He has a bright, bright future. One thing is for sure, Clemson is going to be an attacking type of defense, and he is going to do great things with this opportunity."
Goodwin learned a lot at the NFL level working for Arians.
"The profession is all about relationships, and I saw how important that is first hand from Coach Arians."
Goodwin has been a part of the Clemson program since 2009, Swinney's first year as full-time head coach. Goodwin served as a graduate assistant on the defensive side until 2011, then he became a full-time member of Swinney's staff as a defensive analyst.
Goodwin served in that role through the 2014 season. That year, he worked directly with Defensive Coordinator Brent Venables and helped the Tiger defense to the No. 1 spot in the nation in nine statistical categories.
He spent the 2015-17 seasons (including a 13-3 playoff team in 2015) with Arians before returning to Clemson to again work with Venables in the 2018 national championship season.
When Venables left at the end of the 2021 regular season, Swinney elevated Goodwin to the coordinator position. His defense had much to do with that victory over Iowa State in the Cheez-it Bowl.
Clemson allowed 15 points per game with Venables in charge during the 2021 regular season. With Goodwin in charge during the bowl game, Clemson allowed just 13 points. In terms of total defense, Clemson allowed 310 yards per game during the regular season, then gave up just 270 yards to Iowa State, a team that averaged 430 yards per game during the regular season.
Goodwin's unusual backstory dates to his beginning in college athletics. As a student at Mississippi State, he worked with the baseball program before he set foot on the Bulldog football practice fields.
"My youth minister's brother (in his hometown of Grove Hill, Ala.) was the pitching coach at Mississippi State."
Therefore, Goodwin met Russ McNickle, and he introduced him to legendary baseball Coach Ron Polk, who made Goodwin a student manager.
While Goodwin's undergraduate days were not spent in the football office, he certainly learned a lot about the coaching profession from Polk, who took Mississippi State to the College World Series eight times.
"I always wanted to work in college athletics, and I knew this would get me in the door.
"I learned a lot from Coach Polk, mainly how to treat people. He was a player's coach…a loving, serving coach. He still sends his former players, coaches and staff a card every birthday, anniversary and Christmas. I just got an anniversary card from him."
His unusual career path includes a move to college football thanks to a current South Carolina assistant coach.
"I competed in high school against Jody Wright. His grandmother lived about 15 minutes from my house. One day, my grandfather went to a baseball game and met her. They talked about her grandson being a graduate assistant football coach at Mississippi State under Sylvester Croom and Ellis Johnson."
When Wright moved to offense on the staff, it opened up a defensive graduate position under Johnson, who had been Clemson's defensive coordinator under Tommy West. Goodwin interviewed with the Bulldog staff and got the job.
One of the assistant coaches on the Mississippi State staff was Woody McCorvey. When McCorvey came back to Clemson under Swinney, he recommended Goodwin for a graduate assistant position on Swinney's staff.
"I told Dabo when I came back to Clemson, you have to hire this guy," said McCorvey. "He is brilliant."
Thirteen years later, that Clemson graduate assistant is now the Tiger defensive coordinator.
Never miss the latest news from Clemson Sports Talk!
Join our free email list