Photo by Adam Randall Twitter
Clemson Football
Adam Randall's dad tells him to 'block out the noise' ahead of return
---

---
Last Saturday night, No. 5 Clemson defeated Furman 35-12, and Death Valley was rocking as usual, but when the Tigers face Louisiana Tech on Saturday at 8 pm, the atmosphere should be significantly different.
First, it's a night game under the Upstate skies. Second, the stadium will be conceivably filled with many fans wearing hues of gray for brain cancer awareness to honor the life of Ella Bresee, the 15-year-old sister of defensive tackle Bryan Bresee, who died on Thursday after battling the disease. Third, the players and coaches will take the field with Ella and the Bresee family on their minds and in their hearts.
As for the game, freshman Adam Randall is set to make his season debut. The former Myrtle Beach High standout was the talk of preseason camp before suffering a torn ACL knee injury on April 1.
The 6-foot-3, 230-pound receiver is from an athletic family. His grandmother and great grandmother were basketball MVPs, his brother, Austin, the older brother that never let his younger brother win, is a safety at Coastal Carolina, and then we have dad, Jerome Randall, a former standout at North Myrtle Beach High and South Carolina State University (1988-92).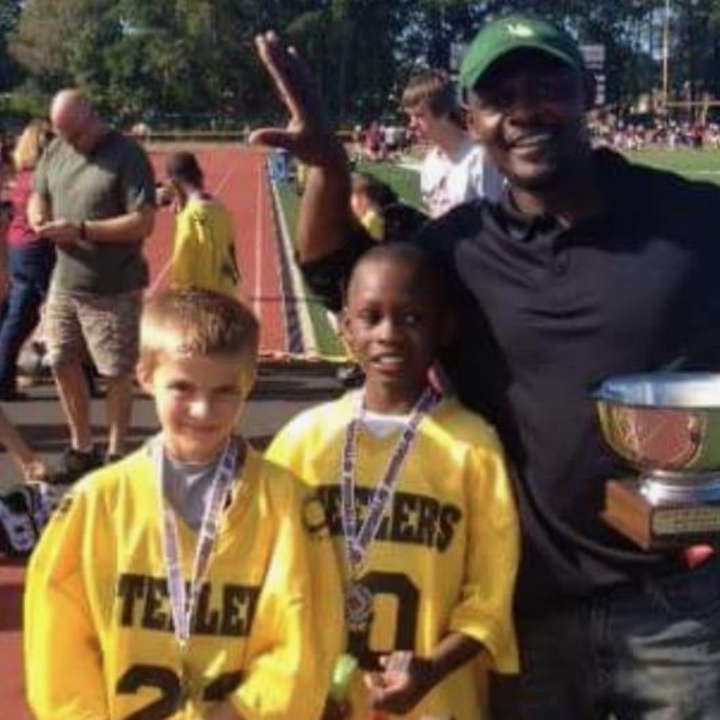 Jerome describes himself as "not bashful" when interacting with people. Seemingly, he wasn't shy on the basketball court at North Myrtle Beach, where three of his records are first to shoot a three-pointer, first to miss a three-pointer, and first to make a three-pointer. Yes, he has the trifecta of an unbreakable record established after the three-point line was added in 1987.
The former Sun News basketball Player of the Year was also an excellent football player with a school rushing game record of 305 rushing yards and four touchdowns against my alma mater, Pleasant Hill.
Jerome said he keeps reminders of his athletic accomplishments on his Facebook and Twitter pages, and when wife, Wanda, a guidance counselor at Horry County Schools, sees them, she has a reminder of her own for him, "You know your glory days are over,'' she says.
Today, Jerome serves the beach community as a 29-year tenured Chief Investigator of the Horry County Public Defender's office. He is also a volunteer football coach with the City of Myrtle Beach and Myrtle Beach High, and the owner and founder of The Randall Foundation.
We caught up with Jerome to ask about his son's road to Clemson and recovery.
Clemson Sports Talk: I know you have probably heard the devastating news of Ella Bresee's passing. Had you met her or the Bresee family?
"No. But my wife went to Dabo Swinney's Ladies Clinic where Ella was in attendance."
CST: Is there anything you want to say to the family or the team?
"Yes, stay strong for Ella. She fought really hard. So, we have to love one another, and we all have to be strong. And for the team itself, they actually have become stronger as well, because of such tragic events like this. A lot of kids have family members that have been touched by cancer."
CST: Now, Adam is about to play his first college football game after injuring his knee this spring. What a tough way to begin your college career, but tonight he will run down the hill and play under the lights at Death Valley. How hard was it to face that adversity as a family so soon?
"We come from a very Christian family. My grandmother was an evangelist and a holiness preacher. My mama-- she's not a preacher-- but she brought the word. We come from a family of faith.
When we got the call, my wife and I prayed. We know the lord has a plan for Adam. Adam has always been a special kid. When we got to Adam, of course, I'm trying to be strong for him. My wife broke down, and Adam said, Mom, don't do that I've already cried. He said it was going to be alright."
CST: By most standards, Adam has recovered remarkably fast. Fans are excited for him and ready to see him take the field. He's back, but what did it take to get to this point?
"When he was at Clemson, I tried to reach out to him every other day but not every day. He trained with Terrance Butler in Myrtle Beach, and he also spent some time with Bobby McGowens.
He started training with Terrance in eighth or ninth grade. That's something he wanted to do-- something I really didn't want to spend money on, but I saw the burning desire in his eyes. He always had the work ethic, but it got stronger working with Terrance. As it relates to rehab, I don't know anybody that rehabs better than Adam. I would have to tell him he's doing too much – take the day off.
I've coached him since he came out of the womb, so I think the relationship he has with someone other than daddy helped."
CST: Everybody talks about the Clemson family and we've seen how they embraced the Bresee family throughout Ella's fight. Were you able to see and feel the Clemson family through Adam's ordeal?
"My wife and I got in the car shortly after he called with the injury news, and we were able to get to his dorm room. We spent a night there and slept on a blowup mattress. We stayed with him to make sure his mind was right because he was devastated. The next morning we were met by the Clemson staff at the facility. They showed us nothing but love the entire time we were there, and they put their loving arms around him. They made all of us feel comfortable during a very tough time."
CST: Adam was a four-star recruit with offers from Georgia, FSU, LSU, Miami, and Oregon among his 23 offers, but as I understand it, Clemson was his dream school. What put the Tigers in that position?
"Well, he participated in Dabo Swinney's Summer Camp for a few years. He went there for the first time as a rising ninth grader. I believe he was 14 years old, and he could hang with the older kids. I asked him to go with the bigger guys. He said, Nah, dad, obedience is better than sacrifice. I will be obedient and play with my age group.
Jerome Randall
He played on a team with Clay Swinney, Dabo's son, as the quarterback. The next day Dabo was sitting on a cart watching the boys. I sat beside him, and to my surprise, he knew who I was. Dabo told me Clay came home last night and said, "Dad, I got this kid on my team from Myrtle Beach named Adam Randall. He said all I got to do is throw the ball up, and he'll go get it." Ever since that day, Clay and Adam have been real tight."
CST: So describe that moment when he finally got the offer.
"He always wanted to go to Clemson and he was waiting on that offer. It was Sept. 1 at 12:05 a.m. when it came in. He ran upstairs and my wife and I were sleeping. He yelled, 'Dad, Dad.' I thought someone was breaking into the house. He said Coach [Tyler] Grisham just made me an offer. He just started crying, and we all laid on the bed crying."
CST: Adam has waited longer than he anticipated to play college football. But It happens tonight. Do you think he's ready?
"He's ready. I'm sure he's probably a little nervous. If you're not nervous, you're not human. I told him just be smart when you're on the field. He's played a lot of football. Of course, with the injury, they're going to have him on a pitch count. I know Adam he is going 110 [percent] because that's the type of competitor he is.
I also told him to get his mind right. Block out the noise and focus on what's happening on the field. Just play football and go, be great!"
Never miss the latest news from Clemson Sports Talk!
Join our free email list
PRESENTED BY