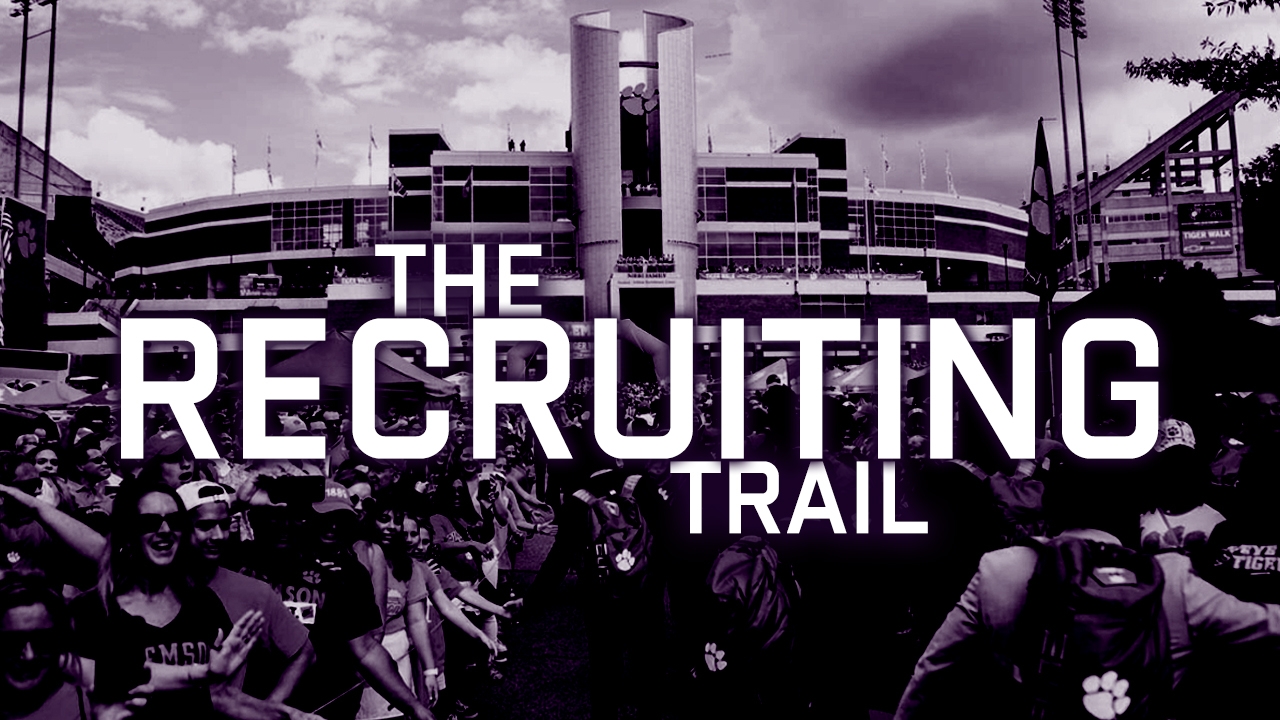 Clemson Football Recruiting
Three-Star Khalil Barnes says Clemson compares his versatility to Andrew Mukuba
---

---
We recently sat down with three-star DB Khalil Barnes‍. Watch our full interview with the former Wake Forest commit and hear how things are going as Clemson and other programs are in hot pursuit of the talented defensive back.
On how his season is going:
"This year, we started the season strong. 5-0 right now-- play another big region game tomorrow that could end up being the region championship. On the field wise, our defense is creating turnovers. Our offense is scoring points. We scored a season total and the school record 70 points last week."
On playing offense and defense in college:
"I did a little bit of everything with our offense. I play receiver, running back, and then we've got a formation where I played quarterback too."
On the difficulty of playing defensive back:
"You can never have any false confidence. You always have to feel like you're gonna be better than the guy across from you. Even if he beats you for a play. You've got to have a short mind at DB, especially because it's really hard to have a game where you give up zero catches or a game where even if the dude doesn't get the ball, he doesn't beat you on a route. At the end of the day, you've got to trust the technique. You can't go away from what you trained and what your body has kind of understood. You've gotta be tough-minded ad have a short mind too."
On being versatile:
"I talk to Coach Conn a lot. I just got off the phone with him an hour ago. He's the main recruiter. He literally said the same thing you just said. He looks at me the same way he looks at Andrew Mukuba. He said I'm a versatile guy. I've got good size. So he knows I could play a safety position or a nickel where I got to come down and make some tackles. He also likes my ability to cover man-to-man coverage. So just a versatile guy, like you said, but mainly safety."
On his commitment to Wake and subsequent decommitment:
"Well, the commitment one-- the recruiting process as a whole has now like kind of sped up with the transfer portal and everything. So you really want to make a decision-- and it's tough on a lot of guys now because you want to make a decision, but you don't want to make the wrong decision, especially with how the coaching carousel is now. So with the offers and things I had this summer, the place that I felt like was the most stable, and I had a relationship with the coach where they felt just like 'just because they wanted me,' they really wanted me to be a better man before it came to like the football type of stuff. I felt that connection with Wake Forest. I still feel that way. I still talk to the coaches a good bit."
"The way that their staff shows love, not just me with my family like all that. It just really played a big part too. They're not only trying to worry about me as a football player. They're worried about me growing as a man. That really helped that decision because way easier."
"On Decommitting...I told my friends-- it was a little joke in there, but seriously too-- I would rather tell a girl that did her wrong than ever have to make that type of call again. It's just tough with a guy like Coach Paul Williams, the corner coach there, and a guy like that. He's looked out for me, and we've built this great relationship with them. You can tell them you're wanting to reopen your commitment, and they can say one thing, but you never know how it's gonna go. You just don't want to ruin relationships. It was tough from that aspect, not wanting to lose the relationship we already had. Coach Williams, he's still cool with me, like he saw it 100% and fully understood that I was getting interest. I don't want to go behind their back. I wanted to be open and be able to establish relations without having to feel like I was hiding stuff from them. So he understood. We still talk a lot, and everything's good. So happy that all that kind of worked itself out."
On his Georgia headboard:
"Alright, so I'm not gonna lie to you; my family grew up UGA fans. I stay 10-15 minutes from the campus, but when I was younger, my grandma used to like cater for the team. When I grew out of my little twin-size bed, I was still a little kid at this point, so I was a big Georgia fan. So for Christmas got a whole little bed set. That's really it just had this since I was like 9 or 10."
On when he thinks he will commit:
"If it feels right, tomorrow, and I just know 100% without any doubt in my mind, I'll make it tomorrow. With the interests and the relationships that I'm starting to build right now, it is probably going to be-- if not signing day, like right there type thing. I do want to focus on my high school season and try to finish off with a ring. A lot of the coaches respect that. It all just kind of depends because if I really like one school, but I want to enroll early, and like they don't allow me earlier enroll, but another school that I like allows me to, that type of thing could speed it up. Whatever I feel right about, whenever I prayed about it enough. Just know that I have no doubt in my mind. That's where I want home to be."
On the pride Peach State players have:
"It's cool because I feel like every visit I've gone on, there's been a coach this like, 'oh, you from Georgia? You gotta be a dog.' You see so many other recruits from parts of Georgia and stuff. I personally feel like Georgia has the best high school football. We produce the best athletes. It's just cool to take pride in it, and when we go out and play. It's cool to be where football means so much to the state."
On what a typical Saturday is like for him:
"It's really been kind of simple. My friends kind of call me lame. I'm just a stay-at-the-house kind of guy. I'll wake up after a game on Friday night. I'll go downstairs. My mom will normally cook breakfast. I'll invite my friends over, and we'll just watch College GameDay because Coach Pollack-- he coaches our high school team-- he's on there. So it's kind of cool that the same guy there's coaching us on TV now. So I always watch College GameDay and give him a hard time about his suits and stuff. Then we just watch college football for the day."
On his biggest strength:
"I think more than anything; I'm instinctive. This is only my second year playing DB, but I trained at receiver before that. So I feel like I know a lot of receiver tendencies. That definitely helps my game. I just feel like I'm instinctive, and I'm versatile. I feel just as comfortable playing on the outside as I do on the inside. I'm just confident in my training and my film study and everything like that. I always feel like I'm one step ahead."
On what he needs to work on:
"Definitely bail man. I feel really comfortable in press man, when I can get up with a man, get hands on the line, run with him step for step. When I go bail man, at least for the high school level, the way we play it, I just don't feel comfortable with back to the sideline yet. It's still something I've got to work on. I don't trust giving up that blind spot. In college, most of the time, I'll be squared up and be able to kind of play catch technique, but just for at least high school season, and if I do have to play it in college, I need to get better bail man for sure."
On the difficulty of being recruited:
"It's definitely exciting because you don't just play football because you want to wear a jersey. Obviously, everybody wants to go play at the collegiate level. I feel like most kids that take it seriously want to play at the collegiate level. When you first get into it you are thankful; you are like really like into it. As soon as your phone goes off, you text the coach right back. When we got to spring practice and there weren't coaches at practice every day, it wasn't something I had to deal with yet, so I told my dad, the game wasn't full of fun anymore because it just felt like everything I was doing. I would go practice, and my coach told me after practice I've gotta stay in doing some drills or something-- or go and talk to a coach. It didn't feel like the same game that I played growing up. It was fun playing with my friends and it started to feel like more of a job type thing. That's where you gotta find your purpose and understand why you're playing the game. That kind of keeps your mind going. It's definitely hectic at times, especially when you're still just trying to be a kid, enjoying high school, but I'm blessed to be in this situation."
On the Clemson games he plans to attend:
"I've actually got two so far. So I didn't get to make the NC State game because I canceled that one because they sent the little (Hurricane) Ian thing early in the week that kind of threw me off. I wasn't trying to be in a Tsunami type thing. I will make an unofficial trip up there when they play Syracuse to get my first taste of Death Valley. Then I'm gonna take an official visit when they play South Carolina."
Never miss the latest news from Clemson Sports Talk!
Join our free email list