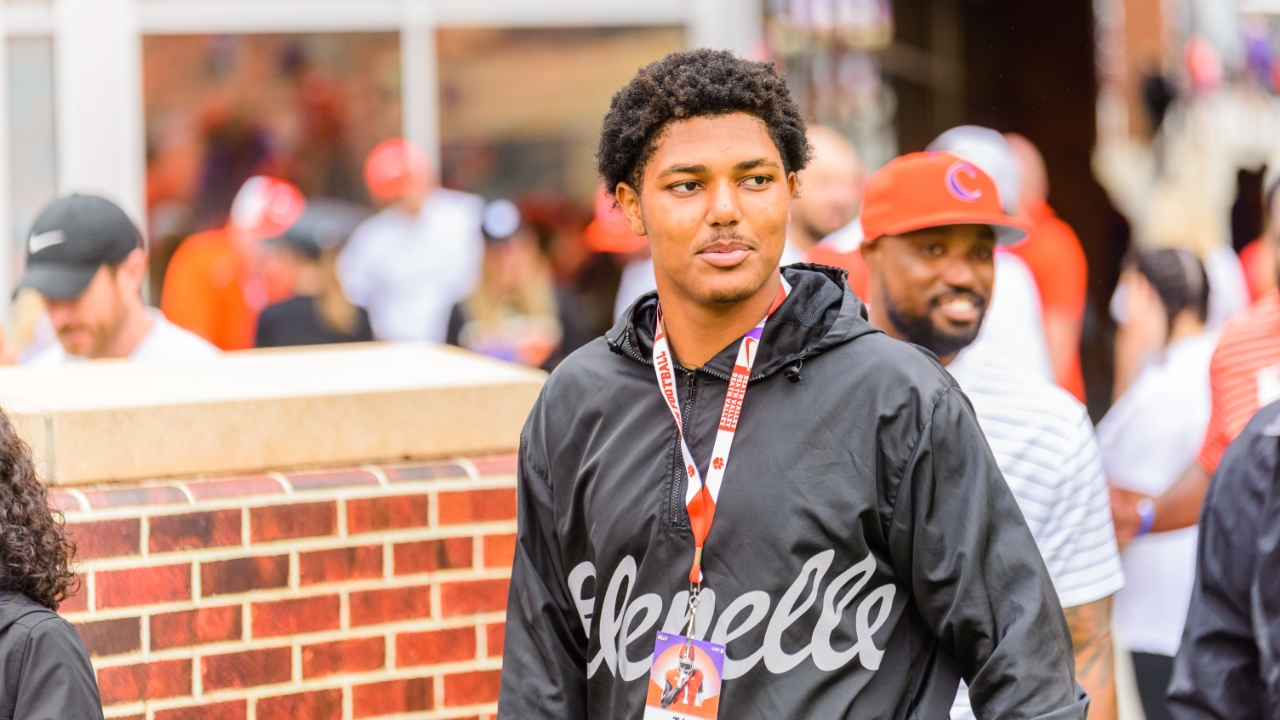 Photo by David Grooms
Clemson Football Recruiting
Dive Deeper: This weekend's recruiting visit list
---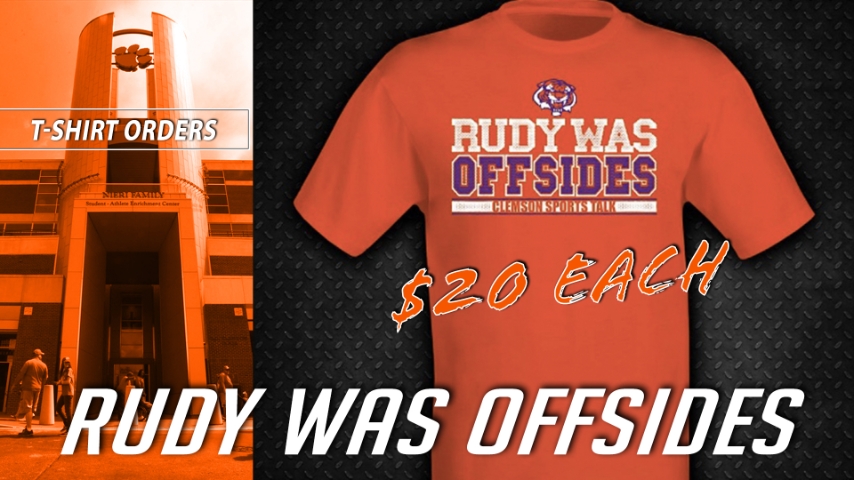 ---
Clemson is hosting over a dozen top national prospects Saturday for what will be one of the program's biggest recruiting weekends of the year. We look into some of the recruits who will be in attendance for the game against Syracuse:
2023 ATH Khalil Barnes‍ (three-star from Georgia)
Barnes is one of the Tigers' most important visitors this weekend. After recently de-committing from Wake Forest, Clemson quickly offered and became the favorite for his services. He told Clemson Sports Talk that Clemson compares his versatility to Andrew Mukuba, and this weekend will be his first taste of Death Valley on a gameday. If this visit goes well, it wouldn't surprise me if he eventually becomes a Tiger.
2023 DT Kayden McDonald‍ (four-star from GA)
McDonald has long been a Clemson lean. His commitment would be another massive defensive line win for first-year coach Nick Eason on the recruiting trail. As the 2023 class currently stands, Clemson is taking three defensive linemen and two EDGE players. McDonald is a playmaking four-star and would fit in well to the loaded group.
2023 DB Misun Kelley‍ (three-star from SC).
Kelly is a fascinating in-state prospect- and one of just a handful of South Carolina players the Tigers have targeted during this cycle. Clemson offered him on October 7. This will be his first visit since the offer.
2023 EDGE Tomarrion Parker‍ (four-star from AL).
Parker is taking his official visit to Clemson this weekend. Since de-committing from Penn State, he's been considered a Clemson lean. He had a spectacular visit to Tennessee last week, and the Volunteers are becoming one of the top challengers for Parker's commitment. Clemson can win back some momentum with a strong visit this weekend. With commitments from McDonald and Parker both possible at this point, I have to wonder how big of a class Clemson would be comfortable with taking at EDGE/DL or if they anticipate any de-commitments or transfers. If they snag McDonald and Parker, Clemson would potentially bring in seven players to fill the DL/EDGE spots. The Tigers will be losing plenty of talent to the NFL at those positions this offseason- but have recruited the DL and EDGE positions better than any other lately, except maybe quarterback. With a successful visit, Parker could be the next blue-chip recruit to announce his pledge to Clemson.
2023 RB Peyton Streko (three-star from GA).
He's friends with current Clemson commits Dee Crayton and Jamal Anderson. His running backs coach is a Clemson alum, Jeff Ragsdale. He hasn't been a heavily recruited player yet in Georgia but looks forward to talking with coach CJ Spiller this weekend.
2024 RB David Eziomume (four-star from GA).
He's been in contact with Clemson since September 1- when Brandon Streeter and CJ Spiller both reached out to him. He's part of a dynamic running back tandem at North Cobb High School in Georgia. There's mutual interest between Eziomume and Clemson - but he hasn't picked up an offer from the Tigers yet. He's an uber-athletic player that's had a strong season in the highest classification of Georgia competition- so I wouldn't be surprised if he lands an offer from the Tigers in the coming months.
2024 S TyShun White (four-star from GA).
He's a safety with a rare combination of versatility, range, IQ, and character. His coaches rave about him, and Power Five schools have recruited him since he was a freshman. White performed well in a key role during Buford High School's 2021 state championship season. He's earned a reputation as a hard-hitting safety that serves as an on-field leader for his team.
- 2024 QB Derek (DJ) Lagway‍ (four-star from Texas).
He's one of the most impressive quarterbacks in the junior class and is a consensus top-ten player at his position. Lagway and Jadyn Davis are the only two quarterbacks that the Tigers have offered in the class. He's a big priority for Clemson, who will need to continue building a relationship with the Texas native.
- 2026 QB Julian Lewis (from Georgia).
He's a young passer that is widely viewed as the top quarterback nationally in the freshman class. He's got five-star potential and is one of the most talented recruits I've watched this year. I went to watch him in person last week in Carrollton's game against Pebblebrook, where he went 22-26 for 368 yards and five touchdowns in a 42-12 win. I've seen him in person four times now since May, and it's safe to say he's the real deal. Lewis has thrown for 2,181 yards and 30 touchdowns in the first eight games of his varsity football career. The 2026 signal-caller plays in Georgia Class 7A, the highest level of Georgia football. Lewis is already one of the most hyped players in the nation - regardless of class. Clemson hasn't offered yet due to their policy of not offering players before completing their sophomore year of high school- but Lewis continues to create a relationship with the Tigers. He camped at Clemson in June and talked with coaches then. This weekend's visit to Death Valley will be key in building an early bond with the passer.
Other notable visitors:
- 2023 ATH Sawyer Deerman (three-star from AL).
- 2023 WR Tyler Brown (three-star from SC).
- 2023 WR Marek Briley
- 2023 WR/CB Prince Shepard
- 2023 OL Carson Powell
- 2023 FS/WR Malik Horry
- 2023 ATH Patrick Swygert
- 2023 WR/DB Malachi Gaines
- 2023 WR/FS Carmello Canty
- 2023 WR/FS Jaylen Brown-Wallace
- 2023 WR/LB Jace Kraftchick
- 2023 ATH Shaquil Good
- 2023 ATH Peyton Scott
- 2024 OL Blake Frazier‍ (four-star from TX).
- 2024 LB Andrew Hines III‍ (four-star from GA).
- 2024 OL Daniel Calhoun‍ (four-star from GA).
- 2024 DL Malik Blocton‍ (three-star from AL).
- 2024 OL Blake Franks‍ (three-star from SC)
- 2024 QB Jamar Graham (three-star from GA).
- 2024 K Jake Spadavecchia (four-star from SC).
- 2024 OL Aidan Banfield
- 2024 RB Kevon Rivera
- 2024 WR/OLB Ashton Drayton
- 2024 QB Andrew Attmore II
- 2024 WR/DB Zach Beatty
- 2024 WR Andrew McKibben
- 2024 ATH Correy McManus Jr.
- 2024 ATH Dakarai Anderson
- 2025 TE Brock Feinberg
- 2025 WR Nasir Newkirk​
- 2025 WR/S Jerron Blackwell
​​​​​- 2025 Ahmad Carwise
- 2026 RB/LB Jaylen McGill
- 2026 QB Josiah Oxendine
- 2026 ATH Shavar Young Jr.
- 2026 ATH Tristen Hill
- 2026 QB Nate Russell
Never miss the latest news from Clemson Sports Talk!
Join our free email list