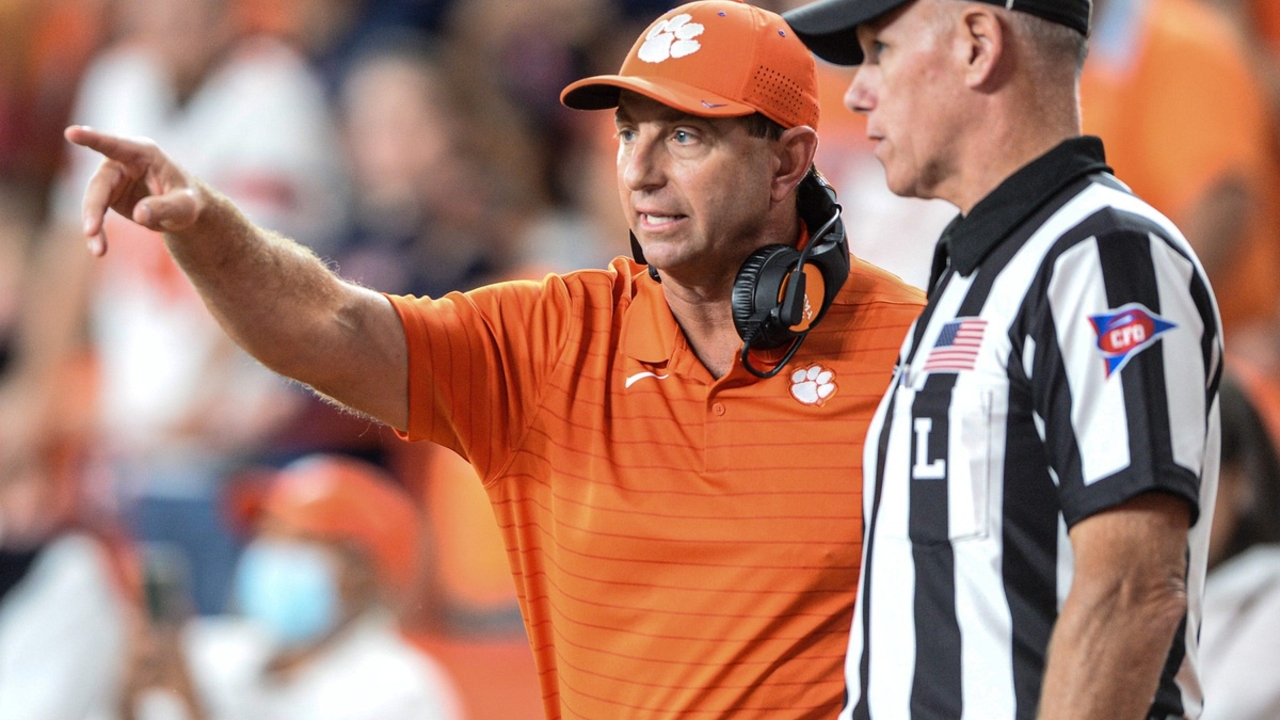 Photo by © Ken Ruinard-USA TODAY Sports
Clemson Football
Swinney: 'Nobody is satisfied with any facet of our game right now'
---

---
Read some of Dabo Swinney's comments from tonight's teleconference or enjoy the full audio above. If you enjoy this content, please take a moment and share it on Facebook or Twitter.
Opening comments:
"Very disappointed. Really didn't do anything that we needed to do to earn the win. The main two things-- in the element of the game-- we needed to win the turnover margin, or at least be even and stop the run. It's just that simple. Those are two things we needed to do. We didn't do either of them."
"They were the more physical team. We had some critical penalties. The critical play was the blocked punt. We lost the momentum, and we just didn't respond. The good news is that we are a better team than we saw last night."
"We've got to do a good job and own it. Learn from it and get back to work. That's what we've got to do. We can't do anything about what happened yesterday. That's where we are. We will get the team back in here tomorrow and see if we can really grow from this. A lot of ball left-- that's for sure. Lot of opportunity left."
On Notre Dame's scoring drive before the half:
"It was a long drive, and they just went right down the field. I think they only completed one pass. They just physically took it to us. Even that-- it's-- one score, and you are right back in the game. We never responded. Never got the turnover we needed. Never got the burst or spark. We did finish well, put a couple of scores on the board, not a lot of positive in the game."
On being physically overwhelmed:
"Just based on what I've seen. We've obviously played better this year. We shut out Syracuse in the second half, that's a physical team, and we did what we needed to do there. We've done it on several occasions. We've got to respond, and I'm confident because we've got good people. We've got good players, good coaches, and a lot of people who really care. We've just got to recommit to the standard and learn from it, own it. We've got to own it, and we've got to fix it."
On the defensive line issues:
"All of the above. They out-leveraged us a few times where we didn't line up properly. So we were beaten by alignment a couple of times. There were a couple of times we got knocked out of our gap. Then there were several times our backers didn't fit the gap properly, or they were late to the gap. It was just a combination of several things. It'll be a tough long day tomorrow for the Tigers. But you know what, it's unfortunate that you've got to have a game like that, but hopefully, it'll make us better. We'll respond like champions respond. We've done that for a long time around here. Hopefully, this will be a start this week of a good finish. A good fourth quarter of our year."
Never miss the latest news from Clemson Sports Talk!
Join our free email list