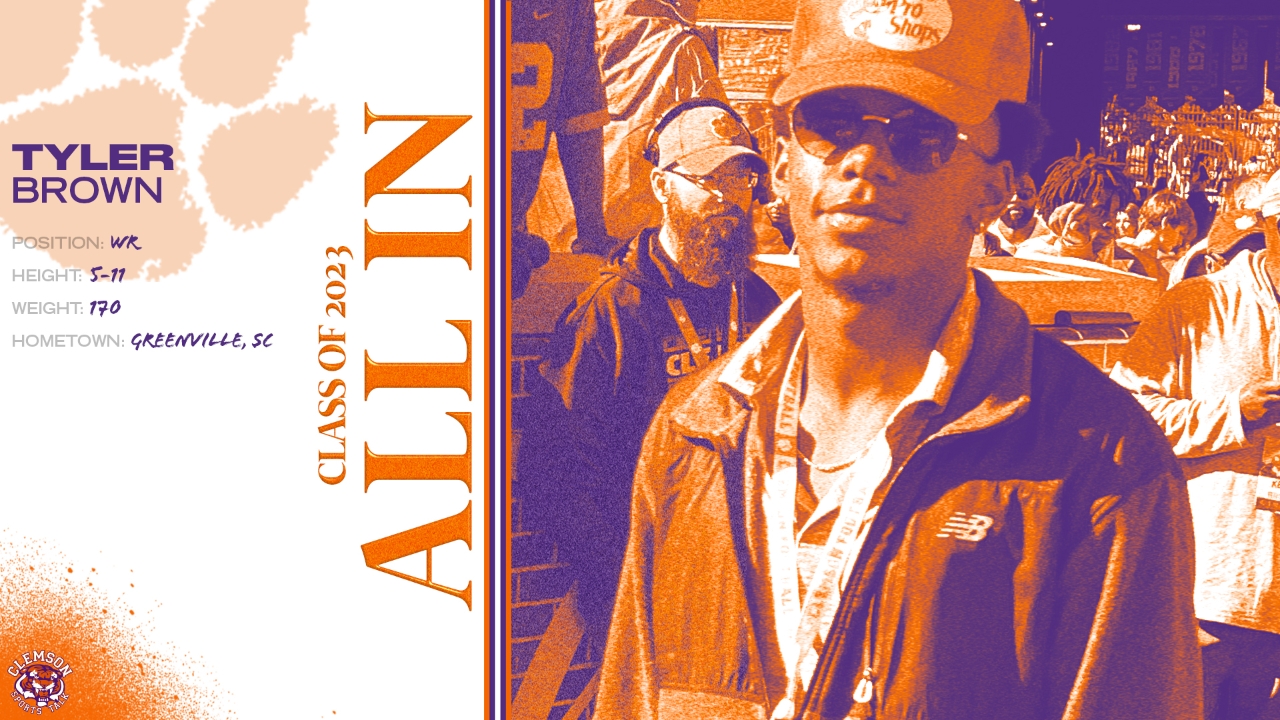 Clemson Football Recruiting
Four-star receiver Tyler Brown commits to Clemson
---
Tyler Brown‍ (Greenville High School, Greenville, SC) became Clemson's third wide receiver commit in the 2023 class on Thursday.
The 6-foot, 165-pound pass catcher, was named a four-star by On3 earlier this week. Brown is a reliable receiver with elite speed, explosiveness, and playmaking ability.
Brown de-committed from Minnesota in October- and Clemson hit the trail hard to snag him once he was back on the open market. Brown visited Clemson multiple times this fall. He came to Death Valley during a heavy recruiting weekend for the matchup against Syracuse and returned for the Louisville game, where he added a gameday offer from Clemson.
Shortly after receiving the Clemson offer, Brown announced his recruitment was shut down and would commit on Thanksgiving day.
Greenville High School (GHS):
Clemson has been successful in recruiting battles for in-state players. The 2023 class in South Carolina is not well-known nationally but has some Power Five-level athletes. Greenville High School has churned out top-level talent lately, and the Tigers have prioritized bringing those players to Death Valley.
Clemson took Collin Sadler‍ and Josh Sapp‍ in the 2022 class from Greenville High School. Brown became a significant target this fall after de-committing amid a dominant senior season. Additionally, Clemson is an early favorite for 2024 offensive line target Blake Franks‍ at GHS.
2023 Receiver Class:
Over the past decade, Clemson has produced dominant wide receivers. The program has even been called "WRU" because names like DeAndre Hopkins, Sammy Watkins, Mike Williams, and Tee Higgins were all selected early in NFL Drafts.
The position group has taken a step back this season. The Tigers have lacked the pure dominance and explosive play ability Clemson fans are used to from receivers.
With a four-star trio of Brown, Ronan Hanafin‍, and Noble Johnson‍ joining the team in the 2023 class - Clemson is adding more talent to bolster that part of the team. While Johnson is a bigger, physical receiver - Brown's game is built more off of speed and big-play ability. That duo complements each other, while Hanafin is athletic enough to play multiple roles in the program.
Brown is Clemson's 23rd commit in the 2023 class, ranked No. 9 nationally (On3). It is the top recruiting class in the ACC.
Never miss the latest news from Clemson Sports Talk!
Join our free email list