Clemson Football
Orange Bowl Media Day | Clemson Offense
---
Clemson Offensive Coordinator Brandon Streeter and select offensive players met with the media this morning at the Le Meridien Dania Beach Hotel in advance of the 89th Capital One Orange Bowl.
Clemson Offensive Coordinator Brandon Streeter
Q. On the opportunity to play at this level…
BRANDON STREETER: "I'm very excited. Just like our team, we're super excited about being here at the Orange Bowl. I had one opportunity to be here in the past in the 2015 playoffs and it was an awesome experience. Just excited to be part of this thing and it's been a great week so far still early in the week but just off to a really good start and getting ready to go on Friday."
Q. On the expectation to be in the College Football Playoff and staying motivated…
BRANDON STREETER: "Man our guys are very motivated because we got a lot to play for no matter what game we're in. We're always going to be very, very motivated that just kind of comes along with our culture. Just to have an opportunity to be in a New Year's Six bowl game and like I said, just excited about being here and the kids have done a great job of preparing so far. Just very excited and really taken on the challenge and we got a really good opponent that we're going against. It's going to be a fun matchup."
Q. On what stands out about Tennessee…
BRANDON STREETER: "They're very multiple and they're very big upfront. They do a really good job of starting and moving around and trying to create confusion. Then on the back end, they do a really good job of mixing up coverages and post snap recognition is going to be really important for the quarterbacks. Very active defense - they run well, got a lot of speed, so it'll be a big challenge for us. I mean, they're very good in tackles for loss. They're ranked very high in red zone defense, and rush defense, so we've been talking about it all week long, just about the challenge that we have against this Tennessee defense."
Q. On how they're staying the same without some key players…
CADE KLUBNIK: "I would say that it really starts off the field, for anything on the field. I am off the field way more than I ever end up on the field. Just trying to be who I am and just treat everybody the same and love on people. No matter where you are in the depth chart right, just treat everybody with kindness. I think that's just been one of my goals since I got here in January was just treat everybody the same whether I'm the starter or not."
Q. On Tennessee's defense…
CADE KLUBNIK: "Great defense, I think it'd be a great matchup for our offense. They've got a great, just a great overall defense, great D-line, great linebackers, great DBs and it'll be a really good matchup for us."
Q. On where the switch is from being a polite young man to being a fiery player…
CADE KLUBNIK: "Yeah, I would just say preparation. I love the game, so when I get out there and play the game I think another switch just kind of happens that I don't really have any control over. Just another part of me kind of comes out and I just go out there and play."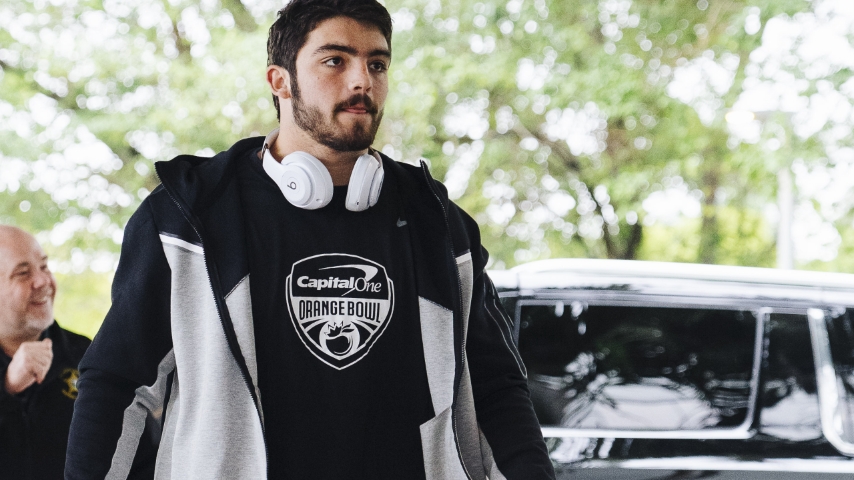 Clemson Sports Talk
Q. On Tennessee's defense…
WILL SHIPLEY: "Yeah, it's a great group. It's been fun watching them on film and just getting ready, but you know, they're really thick inside and they got some big boys. They like to stop the inside zone and they're really good at it. The backers move around and you kind of see two different skill sets within. Then you know, [Jeremy Banks] just opted out, I saw that. So, you know, we'd been planning for him, kind of got to readjust, but now they're a great group. It's something I'm looking forward to as a competitor."
Q. On hearing they were going to play Tennessee…
WILL SHIPLEY: "Yeah, you know, I was pumped. Especially you know, it just being the Orange Bowl I think it just kind of suits it really well, you know, so, yeah, I'm pumped. Pumped to be playing them – they're a historic program, so just to have the opportunity is a blessing."
Q. On how interesting Tennessee's offense is…
WILL SHIPLEY: "Yeah, you know, it's been fun to watch and you know you try to emulate in practice and getting the defense ready. You know, they've got a ton of speed. They play with tempo and you know, it's something that's hard to go up against, especially when they're really successful. So, you know, we got to kind of flip it on and try to get some three and outs to get the offense on the field as much as we can and keep the defense off."
Q: On his goals for the season…
ANTONIO WILLIAMS: "Obviously, I wanted to come here and prove myself and be a starter. That was one of my big goals, and once that happened, make the freshman team and stuff like that really just getting acclimated to college and having a great start to my career at Clemson."
Q: On what Klubnik brings to the table…
ANTONIO WILLIAMS: "They both have different playing styles. Cade is a little smaller and quicker, so I feel like he can extend the play longer when he gets in trouble and give the play a chance by scrambling."
Q: On the chemistry between Klubnik and the receivers…
ANTONIO WILLIAMS: "We have a lot of chemistry including Cade and the freshman receivers. I think we are going to be really good in the future. We have made a lot of plays already and as we get older and adapt to this plan, I think we are going to do some really good things."
Q: On the buy in coming naturally from the team…
DAVIS ALLEN: "Absolutely. Yeah. No, I mean, nothing's taken for granted. Coach Swinney makes sure that we know what it takes to win, and especially after what we went through last year and kind of went through a little struggle. You know, there's definitely appreciation for winning just the process of every day and not taking anything for granted."
Q: On what's in store for next year…
DAVIS ALLEN: "Yeah, this is going to be my last year. I just got engaged these past couple of days and I just graduated last week. So, I think it's time for me to move on and I'm excited for the new chapter, next chapter."
Q: On hearing they were going to play Tennessee…
DAVIS ALLEN: "Yeah, definitely excited. Tennessee is a great team and they're loaded with talent, and that's exciting. I like matchups like this, just two heavyweight teams going at it. But I think there's a huge challenge there just with how good they are and how talented they are. And so that's exciting to me."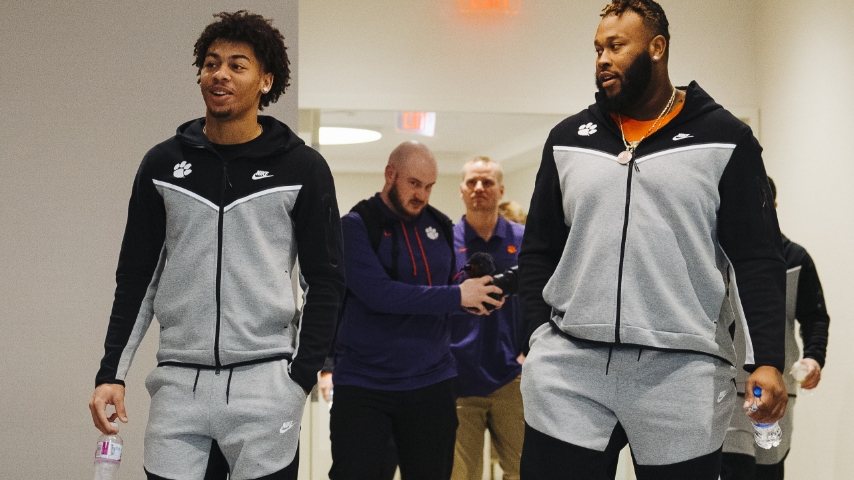 Clemson Sports Talk
Q: On how to stop the Tennessee defensive line…
JORDAN McFADDEN: "We have to be physical and make sure communication is great, be on the same page and really just trust our technique. We prepared all year and we're not finished yet. Our coaches have done a great job of putting us in position to win. So just trust them and trust ourselves."
Q: On how the offense changes with Klubnik at quarterback…
JORDAN McFADDEN "Cade is a great quarterback and he's going to be a great player. He brings a lot to the table; he's able to run and can obviously throw the football well. He brings more of a running aspect to us. He's ready for the role and he's going to do well."
Q: On the key to victory...
JORDAN McFADDEN: "The key is winning in the trenches. As an offensive line, if you can establish the run, that opens up a lot of other things, so I think the biggest thing for us is establishing the run because there's patches that can come off of that like play actions and different things like that. I would say that us five up front getting the job done makes everything a little bit easier on offense."
Never miss the latest news from Clemson Sports Talk!
Join our free email list